Downtown Frederick welcomes your four legged friends! In honor of this year's "Bring Your Dog to Work Day" (June 23), we put together an album highlighting the many shop pets of Downtown Frederick. So get ready to meet the many furry faces that are waiting to greet you and fido, as you shop, dine and play throughout downtown!
---
Head up to N Market St and meet Bailey (of Bailey's Treasures fame). When she's not busy restoring furniture, you can find her lounging behind the counter with mom and grandma.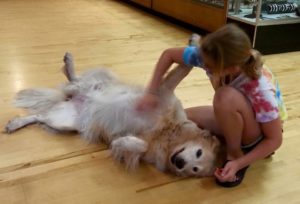 Joplin is the designated belly rub receiver of Baltimore Gold of Frederick. It's a ruff job… but somebody's gotta do it!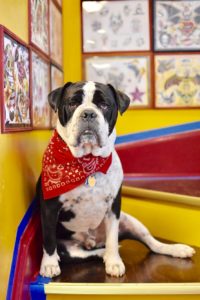 Say hello to Rudie, the official mascot of Classic Electric Tattoo & Body Piercing and a gentle giant who will melt your heart.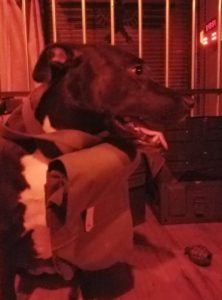 Clue Master Cora is waiting for you to visit Clue IQ. Don't ask her about the rooms though, she'll surely never divulge her secrets!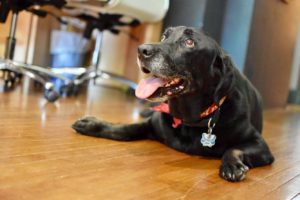 Just the sweetest guard dog you ever did meet! Stop in at Douglas Zaruba Gallery and Jackie Brown will be there wagging her tail.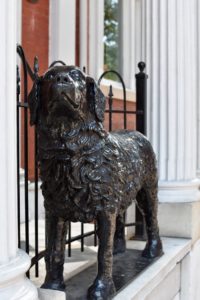 He may not be a real dog, but Charity will forever hold a place in our hearts! Find him on the front stoop of Federated Charities Frederick.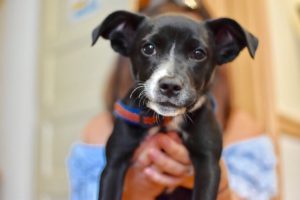 Little miss Mia has recently joined the staff at Ananda Shala Yoga, Pilates and More, so get to work on your downward dog and come take a class with Mia and her friends!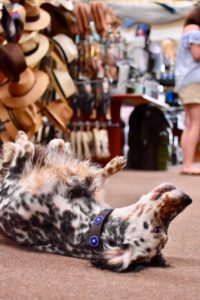 If you've ever been in Hunting Creek Outfitters (or even a neighboring store) you've likely met Maizey! The sweetest girl who's always looking for a head scratch or two.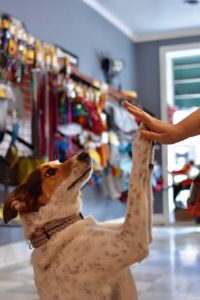 Paws up! The two-faced Harvey Dent will help you pick the perfect treat at Paws In The City-Frederick.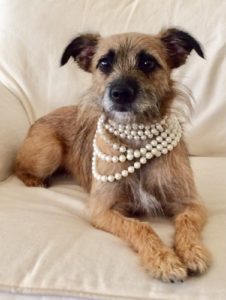 Excuse me dear, how do I look? Little miss Lula from Pearl Clothing Maryland is sitting pretty in her pearls.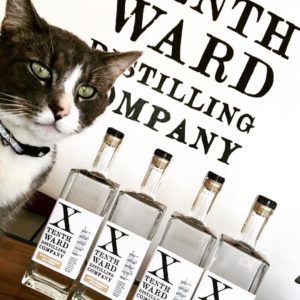 Stop by Tenth Ward Distilling Company for your daily dose of Verbal, resident shop cat and whiskey connoisseur (just kidding).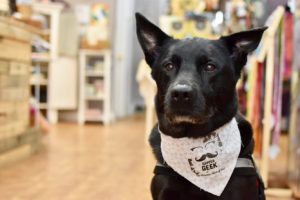 Just look at this face… a heartbreaker if we've ever seen one! Charlie is a dapper gent that you can find part-time at The Muse. You may also recognize him as the face of Dapper Geek USA!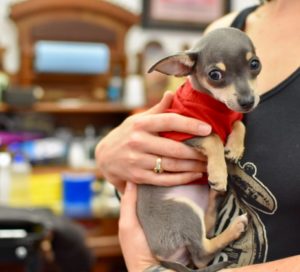 We had to wake tiny Lotus from her afternoon nap to get this adorable pic. What a tough job she has at Time Bomb Tattoos & Curiosities!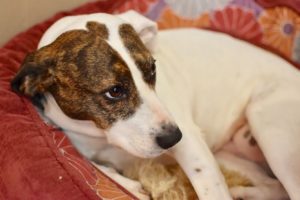 If you're looking for a suggestion on the perfect wine pairing, Riley is definitely your girl! Find her expert opinions at Viniferous Wines.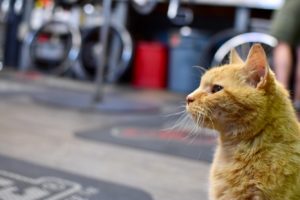 Got a question about bikes? Jimmy has been around the block a time or two and can certainly steer you in the right direction at Wheel Base Bikes.
---
To find a list of dog friendly business in Downtown Frederick, look for Woof! Find Dog Friendly on downtownfrederick.org.
---