Downtown Frederick boasts a walkable retail area filled with more than 200 independently owned shops, many housed in historic buildings. You'll find just what you want—home furnishings, fashion, outdoor gear, toys and antiques, unique dining spaces, comfort food and cutting edge cuisine, arts and entertainment venues and so much more. Supporting these businesses is of utmost importance to our organization and the Partnership has been building this community for 30 years.
The Partnership provides support to existing businesses that have been here for many years and to those businesses looking to call Downtown Frederick home. Our staff communicates daily with our businesses, answering questions about programs, providing technical assistance, adding jobs listings to our website, dropping off important literature to provide to visitors, celebrating grand openings and anniversaries and so much more.
Thirteen years ago, the Partnership launched Competitive Edge, a series of workshops focused on topics of interest to our entrepreneurs and their staff. This series provides valuable sessions to our entrepreneurs and their staff, to maintain and maximize their operations. The Partnership knows that small businesses do not have easy access to training to continually sharpen their competitive edge and this series helps to fill that gap. As part of this series, Partnership staff, board members, business owners and economic development partners travel to other communities to learn what fellow organizations (Main Street programs, Business Improvement Districts, etc) are doing in their communities.
Most recently in response to the pandemic, Downtown Frederick Partnership launched the Small Business Resiliency Series, a three month long intensive program that provides timely and relevant educational workshops and access to valuable professional support. The series is open to any business in Frederick County and provides access to webinars, professional support networks, small business cohorts, and a lending library.
This past December, the Partnership celebrated the passage of legislation that allows any restaurant, distillery or brewery to host live entertainment without a permit, enabling our businesses to offer many forms of entertainment (live music, trivia, yoga, etc) for all visitors to enjoy. The simplification of this process will be easier for our businesses to offer one of a kind, memorable experiences in Downtown Frederick.
Each month, the Partnership's Business Development Committee meets to develop and evaluate business programs and projects that support our retailers, restaurants and service businesses. The committee oversees Mission: Interior, a grant program that provides funds to businesses looking to improve their interior spaces. Twice a year, the committee also conducts business retention visits to our downtown businesses to understand how business is going and the challenges they are facing, and how the Partnership can help.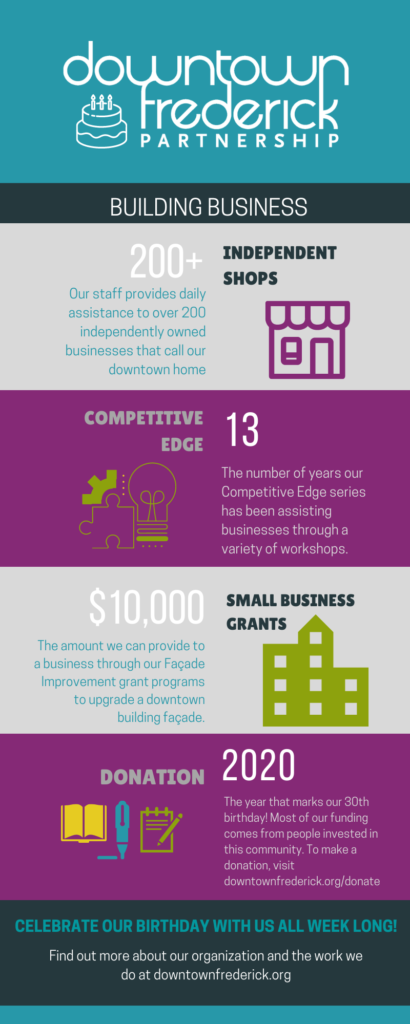 For more information about the Partnership's Business Development Committee, our Work Downtown initiatives and more, click here.