Downtown Frederick is a vibrant art community and is the perfect place for both artists and art lovers alike. We'd like to help showcase the incredible art that resides in our downtown by taking you on a walking tour of our galleries. Downtown Frederick is honored to be one of 28 Arts & Entertainment Districts designated by the State of Maryland. Americans for the Arts defines Arts & Entertainment Districts as "well-recognized, labeled, mixed-use areas of cities in which a high concentration of arts and cultural facilities serve as the anchor attraction." This designation ensures our downtown serves as an art-lover's paradise.
Navigate this self-guided tour on your own time, at your own pace — alone, or surrounded by loved ones. The beauty of a self-guided tour is found in the flexibility you have to create your own path and explore as much or as little as you would like. Below you will find the featured galleries on this tour and some information about each to keep in mind as you dive into the art Downtown Frederick proudly displays.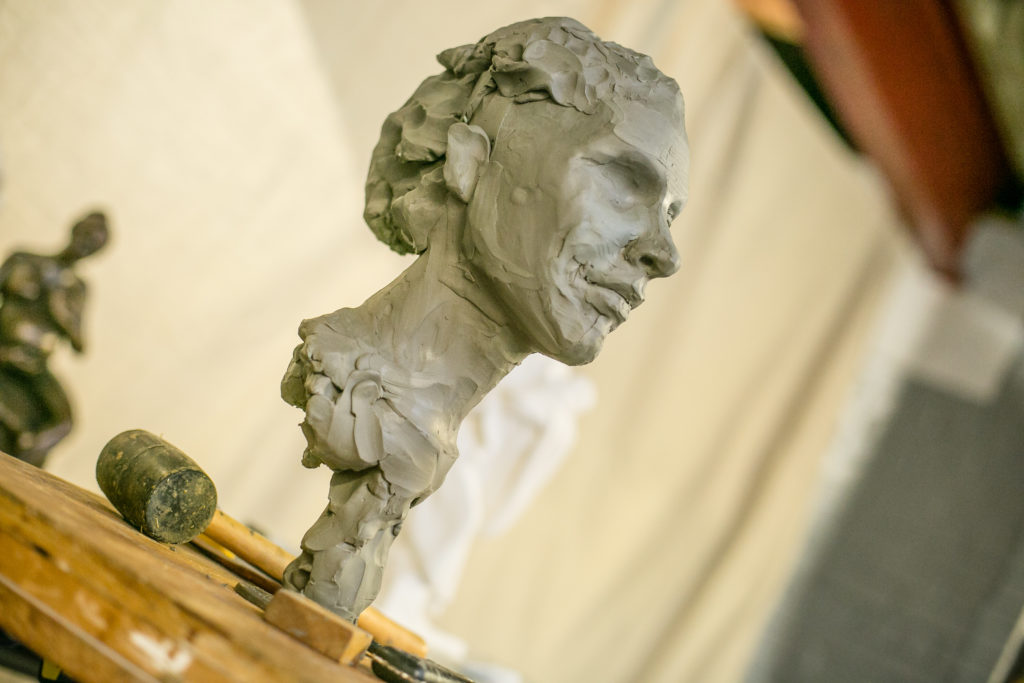 Eastside Artists' Gallery | 313 E Patrick St
The first place you will find yourself as you embark on your tour is at Eastside Artists' Gallery.
Virtual Sneak Peek: eastsideartistsgallery.com
What the artists want you to know:
Located on the East Side of Frederick, Maryland, we are steps away from beautiful Carroll Creek Park, and are affiliated with Everedy Square & Shab Row, Frederick's largest cluster of specialty shops, eateries and services housed in beautifully restored 19th Century buildings in Historic Downtown. With a variety of artists and a rotating monthly showcase, this gallery is sure to have something for everyone to admire. Eastside Artists' Gallery is a co-op gallery featuring painting, photography, bead making, jewelry, sculpture, fabric, mixed media and collage. For an extra local flare, local lovers will be happy to know that this gallery's twelve featured artists are all from in and around the Frederick area.
Current Showcase
If you are on the tour this month, you'll experience the excitement of their August Show, "Summertime Trio". This show is a shared show with not one.. Not two… but THREE gallery members! The featured members are Sonja Mishalanie, Kathryn Phebus and Lynn Hotes.
Sonja and Kathryn are showing acrylic and watercolor paintings, while Lynn is sharing pencil drawings of her beloved elephants.
Gallery Hours
SATURDAY – 1PM to 5PM
SUNDAY – 1PM to 5PM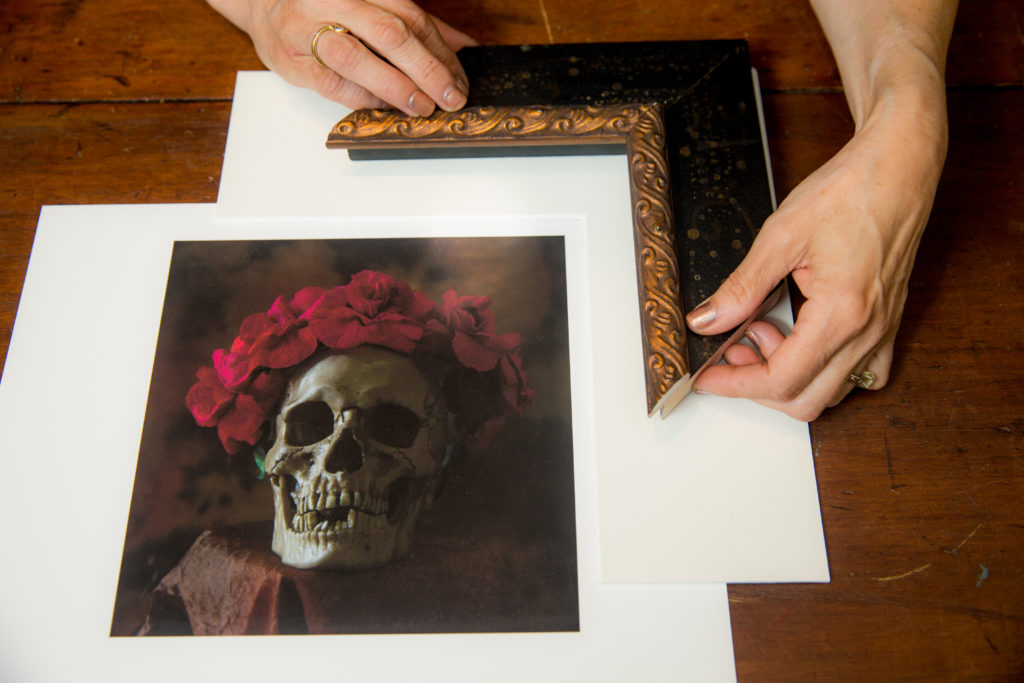 ArtistAngle Gallery | 124 S Carroll St
Moving over to S Carroll St, the second stop on your tour is the ArtistAngle Gallery.
Virtual Sneak Peek: theartistangle.com
What the artists want you to know:
Our ArtistAngle Gallery is located on the east side of historic Downtown Frederick on the corner of South Carroll and Commerce Streets. Once an old granary, the current gallery space is a masterpiece in itself. Beautiful beams and chestnut walls create a timeless exhibit space for all types of artwork. The gallery has become a showroom for presenting an ongoing collection of custom framed fine art pieces. Artwork exhibited includes artists from local, regional and international artists.
Gallery Hours
TUESDAY – 10AM to 6PM
WEDNESDAY – 10AM to 6PM
THURSDAY – 10AM to 6PM
FRIDAY – 10AM to 6PM
SATURDAY – 10AM to 6PM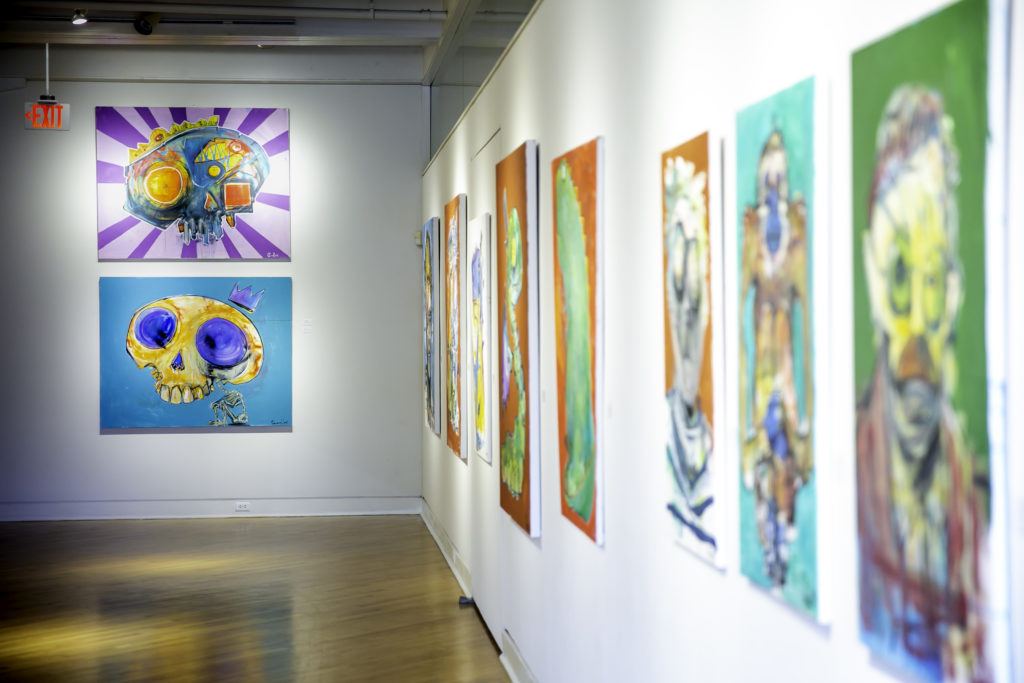 Delaplaine Arts Center | 40 S Carroll St
Your next stop is a several stop shop, all in one! This location contains a gallery, art classes for every age, a beautiful event venue and much more.
Virtual Sneak Peek: delaplaine.org
What the artists want you to know:
Serving the community since 1986, The Delaplaine is an award-winning art center offering three floors of galleries and classrooms; five exhibit spaces showcasing local, regional, and national artists; a gift shop of handcrafted works by local artists; and monthly, family-friendly events and activities for all ages. We are located on the banks of Carroll Creek in historic Downtown Frederick.
Classes are offered in an ever-growing list of media and subjects for all ages and levels of experience. The small class sizes are led by experienced instructors, who are also working artists. EVERYONE DESERVES ART.
Current Showcases
Contemporary Innovations: The new event debuts in September with an exhibition, Artist Talk, Art at Night, and workshop featuring the groundbreaking photography of artist Nakeya Brown!
Art at Night: X-pressions of Black Beauty: Artist Nakeya Brown and FCC assistant professor Shemica Sheppard lead a live YouTube discussion of Black beauty and hair on September 11!
Musings on Art Lecture Series: Dave Moreland, FCC Professor Emeritus of Art, leads a free weekly online series in October!
Delaplaine Arts Magazine: View a digital copy of the fall issue featuring a cover by artist David Betts!
Gallery Hours
DAILY – 9AM to 5PM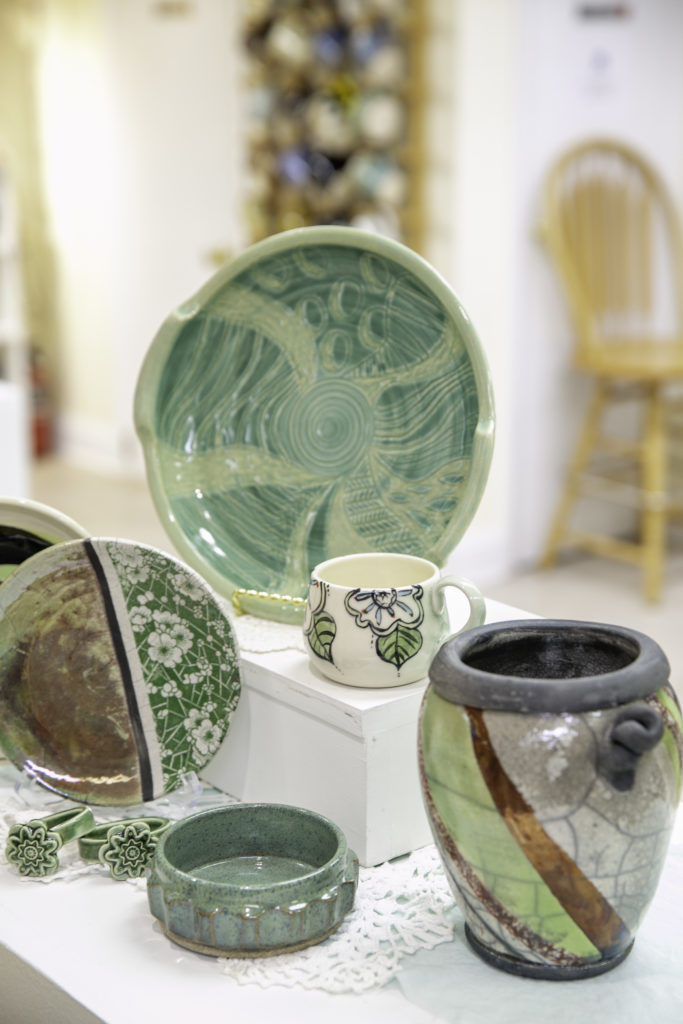 Potters' Guild of Frederick | 14 S Market St
Greeting you at your next stop will be walls lined with pottery of all different shapes and sizes. Enjoy this exploration as you head down the steps and journey into the creative world of these very hands-on artists.
Virtual Sneak Peek: pottersguildoffrederick.com
What the artists want you to know:
Treasures await you at the Potter's Guild of Frederick Gallery on South Market Street! Stop in to find that perfect gift or home decor created by our local potters and clay artisans. The offerings might be table, serving or cookware, jewelry, home decor items or planters.
For those interested in trying their hand in clay, the guild offers wheel throwing and handbuilding classes and occasional workshops. Come by the gallery and check out our latest ceramic work! We'll be looking for you!
Gallery Hours
SATURDAY – 11AM to 5PM
SUNDAY – 12PM to 5PM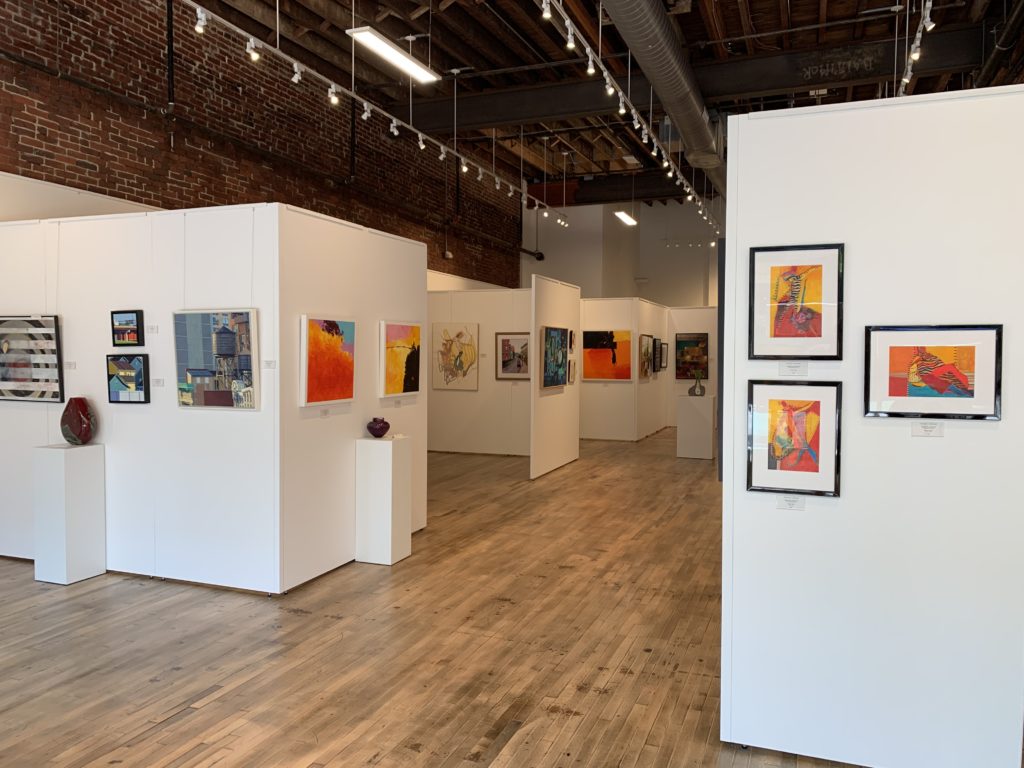 DISTRICT Arts | 15 N Market St
Amongst the shops and restaurants of Market Street there is a spacious gallery with lots to offer! Featuring artists from near and far, their art comes together in a beautiful display for the next stop on your tour.
Virtual Sneak Peek: districtarts.com
What the artists want you to know:
DISTRICT Arts is a contemporary art gallery in the heart of the historic district in Downtown Frederick, MD. The gallery features local, regional and nationally recognized working artists whose creations evoke the modern world through the dramatic use of color and form, reflect world influences and diversity, and inspire, challenge, entertain and educate.
Paint, ink, glass, clay, digital art, paper, wood, mixed media and sculpture are all represented. The juxtaposition of the designs and themes on our walls and pedestals with the surrounding centuries-old historic spires and buildings in Frederick illustrates that contemporary can honor tradition.
Gallery Hours
WEDNESDAY – 12PM to 6PM
THURSDAY – 12PM to 6PM
FRIDAY – 12PM to 8PM
SATURDAY – 12PM to 8PM
SUNDAY – 12PM to 5PM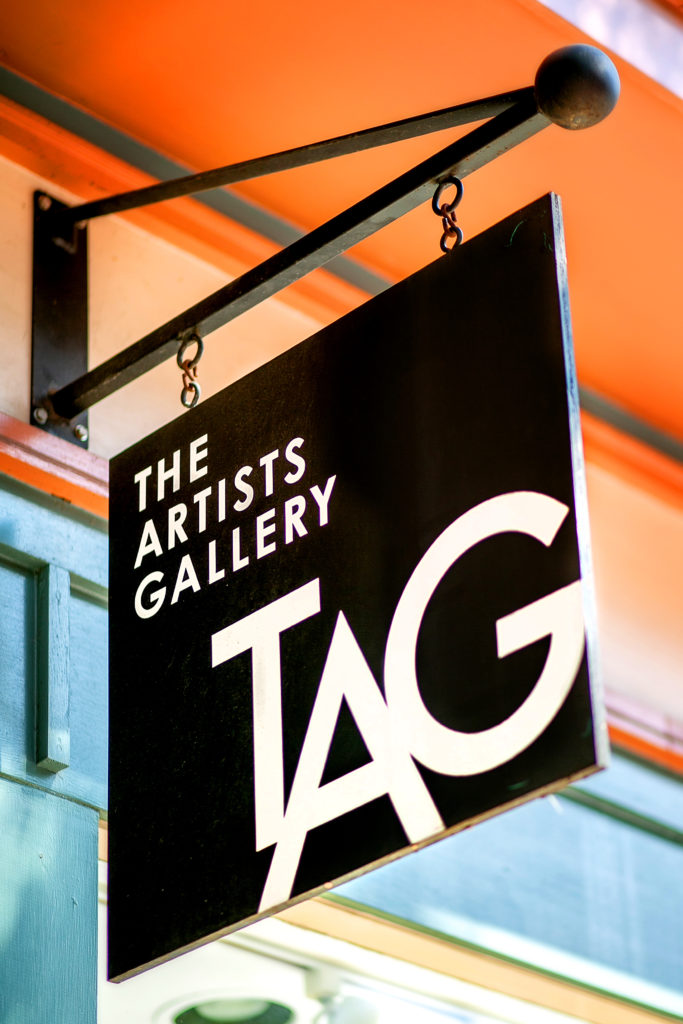 TAG/The Artists Gallery | 501 N Market St
Next up on your tour is TAG, short for The Artists Gallery. Nestled amongst the galleries of N Market St, a captivating gallery provides an incredible showcase for you to experience next.
Virtual Visit: theartistsgalleryfrederick.com
What the artists want you to know:
TAG/The Artists Gallery is an artist-owned organization established in 1990 and features high quality original art for sale in its monthly solo exhibitions by members, as well as ongoing group exhibitions. A rich variety of subjects and mediums is always on view, ranging from realistic to abstract, and traditional to experimental mixed media creations. 
Please visit us and discover the wealth of talent right here in Frederick! Every month, we participate in Downtown Frederick Partnership's "First Saturday," with an evening reception launching a new exhibit.
Our work currently includes mixed media, sculpture, painting, drawing, photography, ceramics, and other media. In the spring, we feature our popular Box Show. Gallery members make and invite artists in the community to make art from a box furnished by the Gallery.
Gallery Hours
FRIDAY – 12PM to 8PM
SATURDAY – 12PM to 8PM
SUNDAY – 12PM to 4PM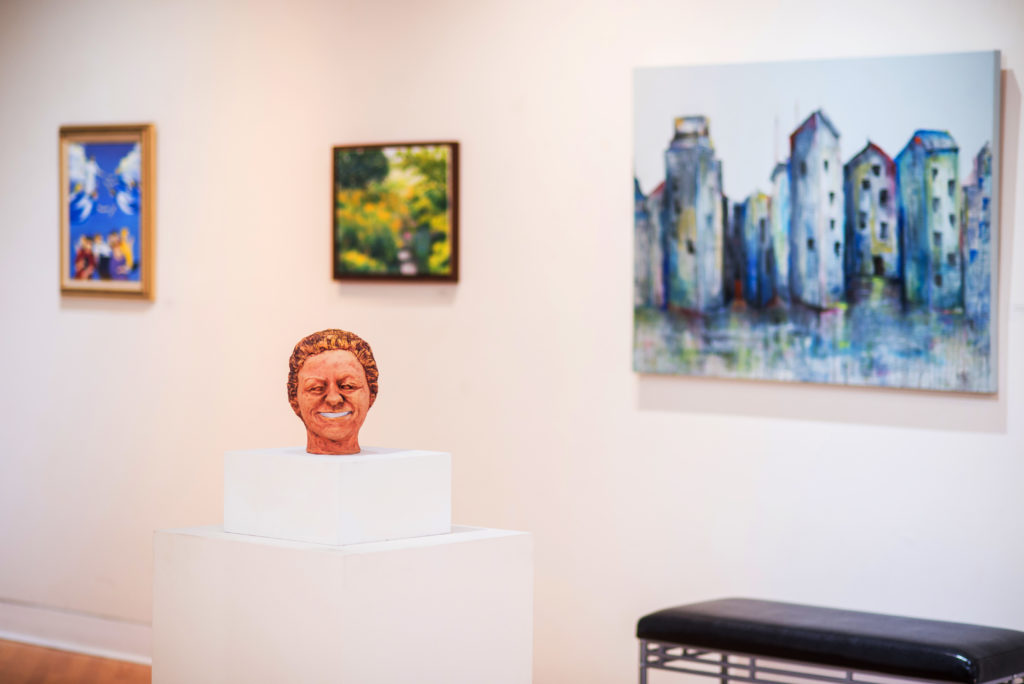 Gallery 322 | 322 N Market St
The next gallery on your tour offers two and three dimensional fine art you can enjoy up close and from a distance.
Virtual Sneak Peek: gallery322.com
What the artists want you to know:
Since 2009, Gallery 322 has occupied this charming, historic, light-filled building. The artwork encompasses a large selection of contemporary paintings, drawings, sculptures and assemblages, ranging from realism, to impressionistic, to figurative. to verging on the abstract. Many works focus on the urban and rural landscape of Maryland. The small group of Gallery 322 owner- artists and associates exhibit original fine art in all media, and at least one is usually on site to discuss the art with visitors.
Gallery Hours
FRIDAY – 5PM to 8PM
SATURDAY – 1PM to 5PM
SUNDAY – 1PM to 5PM
And by appointment*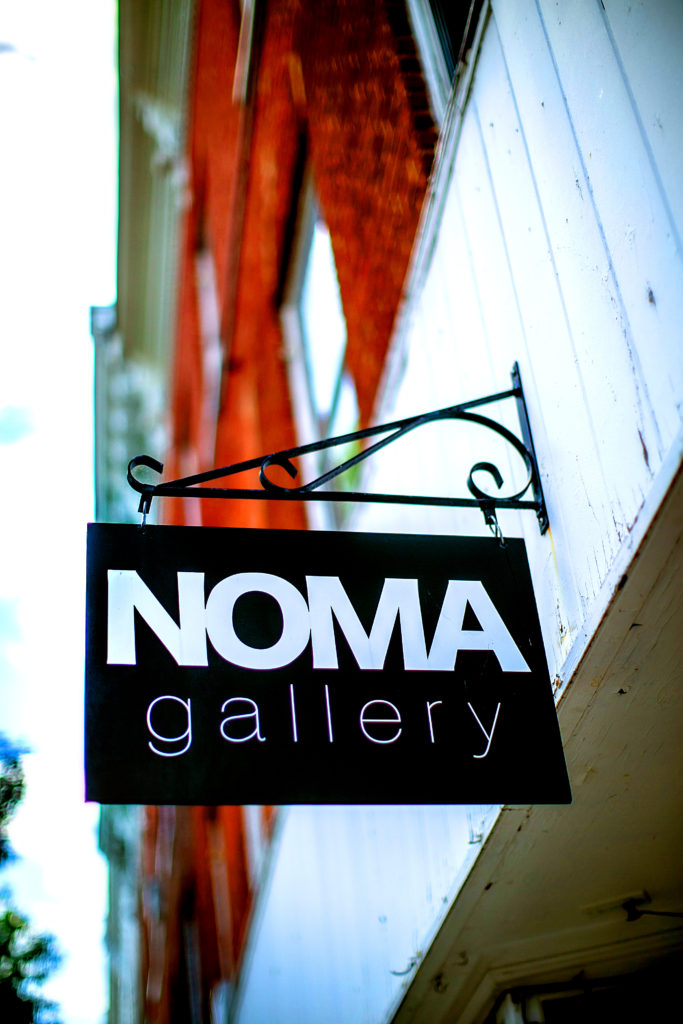 NOMA Gallery | 437 N Market St
At the top of Market Street, NOMA Gallery is the home to a unique showcase of artists' talents and creates an exciting next stop for you.
Virtual Sneak Peek: nomagalleryfrederick.com
NOMA, short for North Market, is a contemporary art gallery owned and operated by 22 accomplished local and regional artists working in a wide variety of media and styles, including painting, photography, printmaking, sculpture, fiber arts, mixed media, ceramics and jewelry. Our artists are well known locally, and some have exhibited nationally and internationally as well.
Founded in 2015, NOMA gallery hosts new exhibitions monthly, specializing in solo and duo shows alongside group shows representing all our artists. We've recently launched a Virtual Gallery as well.
Gallery Hours
FRIDAY – 4PM to 8PM
SATURDAY – 12PM to 8PM
SUNDAY – 12PM to 4PM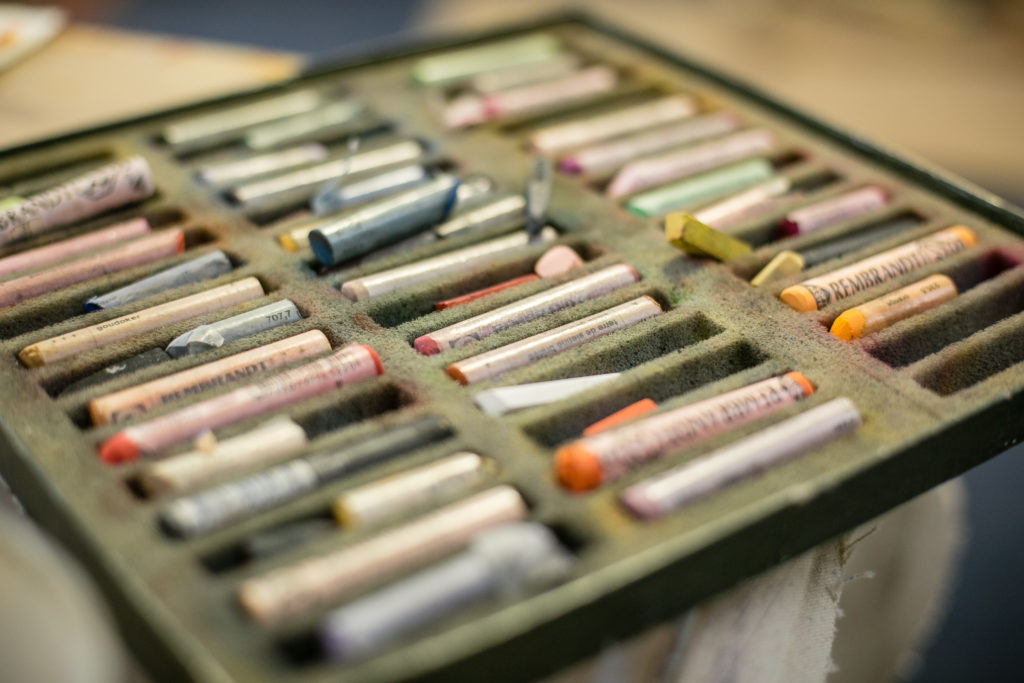 Griffin Arts Center | 4 W 5th St
The final stop to conclude your tour has everything from classes for the artist in you to four galleries for your art-lover side to explore.
Virtual Sneak Peek: griffinartcenter.com
What the artists want you to know:
This 13,000 sq ft Art Center is in the Heart of Downtown Frederick. 4 Galleries, 24 Resident Artists, Studio spaces for rent, Classes & workshops for all levels of ability in painting, sculpture, printmaking photography.
Gallery Hours
FRIDAY – 5PM to 8PM
SATURDAY – 3PM to 8PM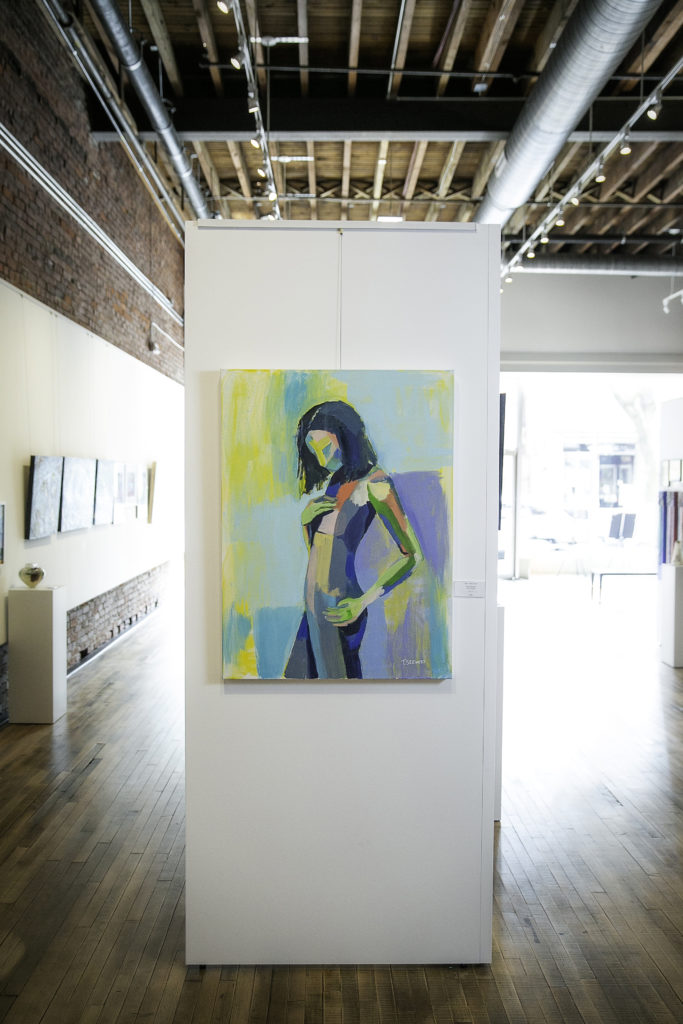 As you wrap up your tour in Downtown Frederick, we hope you'll wander throughout our town and grab a bite to eat or stop in at one of the shops that caught your eye on the way. We are proud to be able to offer such a rich experience in the arts here in Downtown Frederick and we hope you've enjoyed the results of many artists hard at work year-round. As the exhibits rotate monthly, your tour experience will too!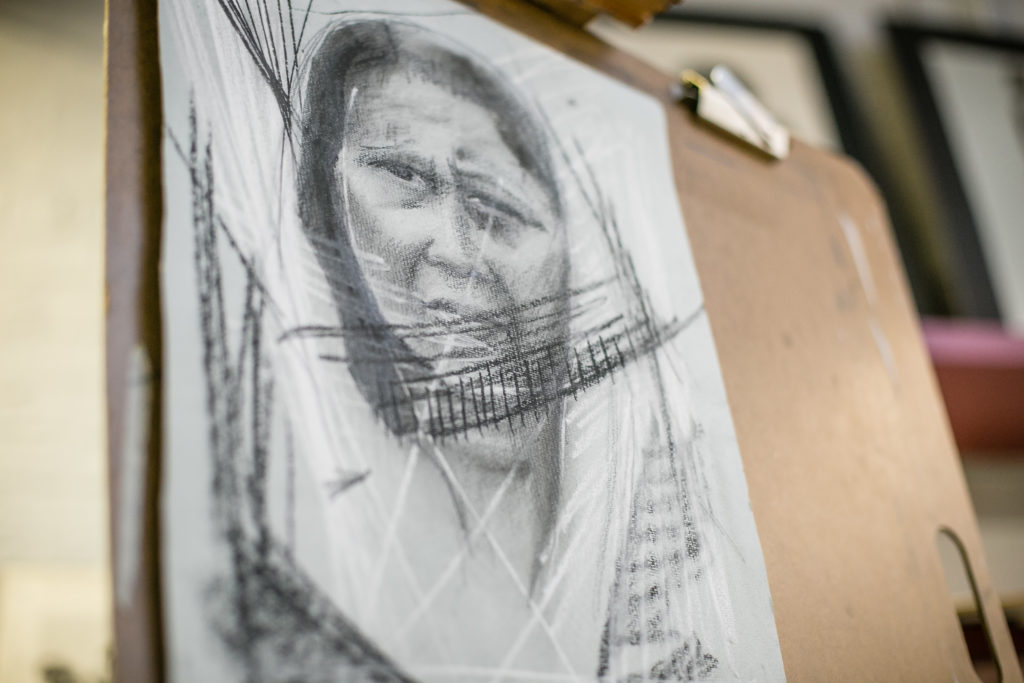 When taking your tour, please remember to keep a face mask on and remain at least six feet away from others. To download the tour and view the interactive map, visit downtownfrederick.org/gallerytour
Thank you for giving yourself the opportunity to experience why this Arts & Entertainment District is such a vibrant place to be.