Art, music and drag queens…oh my! It's shaping up to be a busy, colorful weekend in Downtown Frederick with tons to do. Here are the Top 5 events Frederick has to offer this weekend:
Frederick Festival of the Arts
Saturday, June 11 & Sunday, June 12, Free Admission
Carroll Creek Park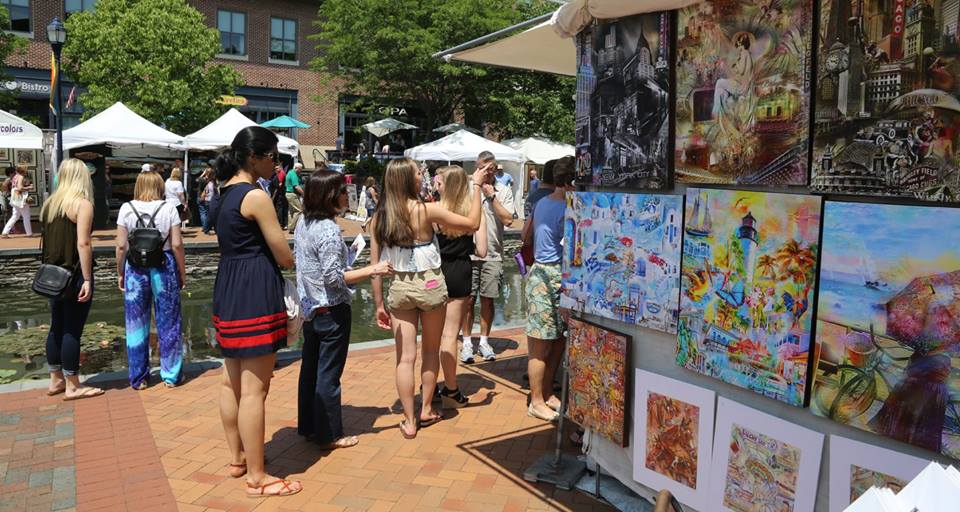 Carroll Creek Park will once more transform into an art and craft lover's paradise during the 28th Annual Frederick Festival of the Arts with Craft Marketplace. The free, outdoor event takes place June 11th – 12th from 10 am to 5 pm both days. The celebrated annual event features local and visiting fine artists and craft artisans in a prestigious showcase encompassing fine jewelry, exquisite works of art, and hand-crafted apparel and décor.
Residents and visitors will have the opportunity to meet each artist and to discover the inspiration and process behind each creation during the two-day event.
Festival at a glance:
Juried, first-class outdoor art gallery showcasing local and national artists
Original handmade artwork
100+ national artists and craft artisans
Artists hand-selected by independent panel of expert judges from hundreds of applicants
All artists on site for duration of festival
Vast array of artistic media including paintings, sculptures, photography, ceramics, glass, wood, handmade jewelry, collage, mixed media
Full green market and craft festival
Ample parking available
Presented by the Frederick Arts Council in partnership with Howard Alan Events (HAE), the Frederick Festival of the Arts with Craft Marketplace represents original, hand-crafted artwork selected by an independent panel of expert judges from hundreds of applicants. HAE's careful vetting process also ensures a wide array of mediums and price ranges will be offered during the event. Ample garage parking is available.
For additional information on the Frederick Festival of the Arts and other Howard Alan Events art and craft shows across the country, visit www.artfestival.com or call 561-746-6615.
FAME Open Mic @ FAC Sky Stage
Friday, June 10, 7pm-9pm, Free Admission
Sky Stage, 59 S Carroll St
FAME (Frederick Acoustic Music Enterprise) hosts Open Mic night at FAC's Sky Stage, every 2nd Friday from May-October, 7-9pm. Whether you are a pro or a novice, this is a welcoming environment for you collaborate, build your skills, and get to know other local artists! Please sign up with FAME prior to the event to participate as a performer (you don't have to sign up to enjoy the performances). Sign up information on FAME's page here: https://www.facebook.com/pg/FrederickAcousticFAME/
All-ages, doors open approx. 30 min. before start time, beer/wine may be available with ID. For weather/possible rain location updates, see the Sky Stage calendar or Facebook events pages.
The Artists Market @ Frederick MADE
Saturday, June 11 and Sunday, June 12, 11am-5pm both days, Free Admission
31 W Patrick St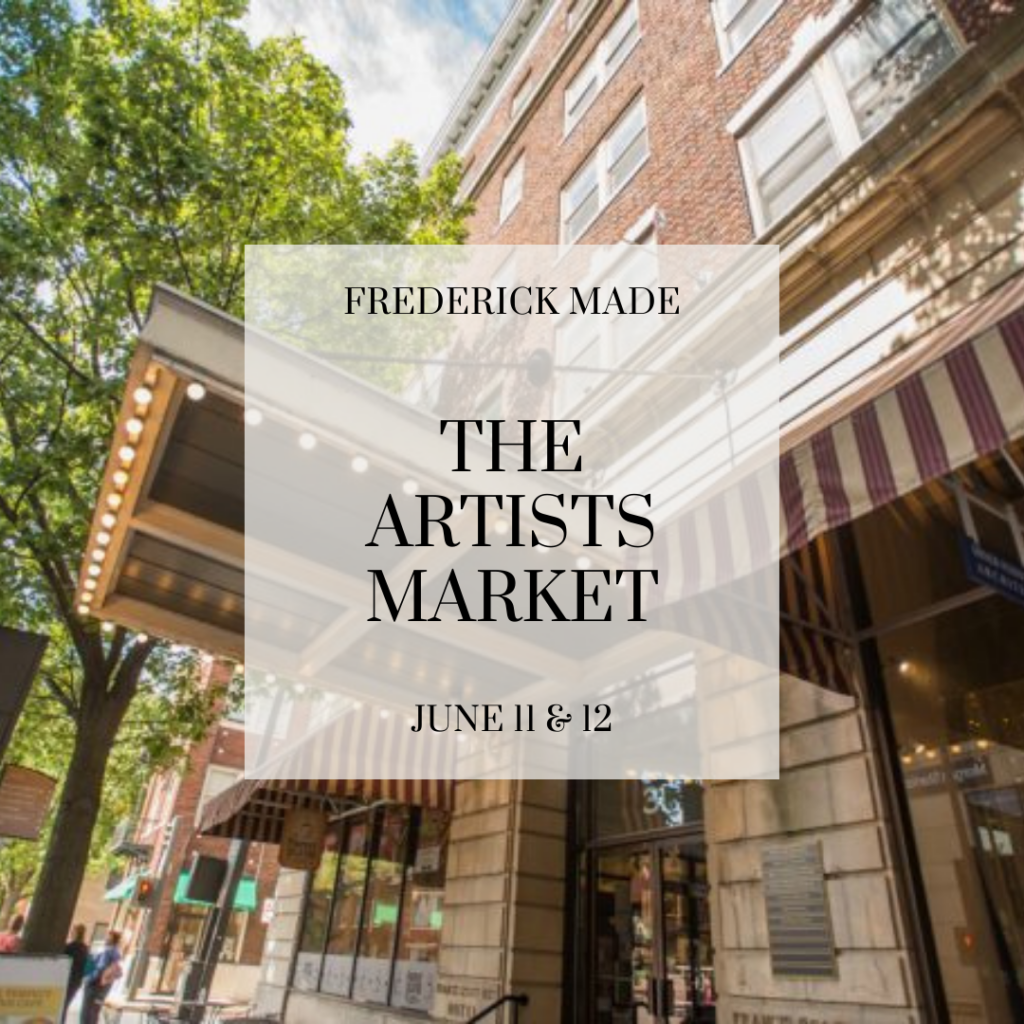 Frederick MADE is launching their new space with a Pop-Up Market!
Featuring ~20 local artists, including Rhythminroots, Jujuteh shoes, and Michelle Venable, the new Marketplace will feature ten different artists each day of the pop-up. Also joining will be Rustic Route Coffee, joining to sell their ground coffee and coffee to go on Sunday. The market is open each day from 11-5.
Silent Old Mtns. @ Sky Stage
Saturday, June 11, 7pm-10pm, $10
Sky Stage, 59 S Carroll St
Join us as Sky Stage welcomes back rising regional legends Silent Old Mtns to cap off Festival of the Arts Saturday, plus celebrate the 10-yr anniversary of their debut album Velvet Racoon, with their infectious brand of lush indie rock. If you heard them play at Sky Stage in 2019 or their October 2021 concert at Frederick's Weinberg Center for the Arts, you know you're in for a transporting experience! Silent Old Mtns includes guitarist, singer and songwriter Andrew Bromhall, Colin Shultzaberger on keyboards, multi-instrumentalist/singer Sam Whalen, Pat Acuna on drums, Joe Jalette on guitar, Thom Huenger on piano and John Felker on bass.
Tall Well is a new Frederick-based indie band whose members have been making music in the DMV in various ensembles for several years. Founded by singer-songwriter/guitarist Austin Nuckols, Tall Well includes drummer and percussionist Chris Bloskey, guitarist Blake Fisher, and Collin Lloyd on bass. Rained out of their planned debut gig at Sky Stage last October, catch their first performance under the stars, featuring songs from their new EP!
Philadelphia-based up-and-comer Molly Seger crafts lovely indie melodies delivered with a delicate yet assured voice. Her Frederick debut!
$10 (under 12 free), tickets on Eventbrite; a limited number of seats will be available at the door, cash or cards. All-ages, beer/wine available for purchase with ID.
Drag Brunch @ The Cellar Door
Sunday, June 12, 11am-2pm, $25
5 E Church St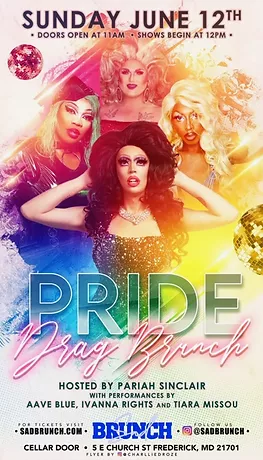 Pariah Sinclair is back in Frederick, MD with a new show! Join us on June 12th for this special edition Pride Show Brunch at Cellar Door Restaurant! If you've never been to a SADBrunch before, check us out on Instagram to see what's in store!
Each guest must purchase an admission ticket to see the show. Food and drink are NOT included with the entry ticket but will be available for purchase at the venue.
If you are with a group, you should buy a table to ensure everyone is seated together. If purchasing more than one table, please be sure they are registered under the same name. **Without purchasing a table, we cannot guarantee that your party will sit together. **
Special Occasion? Feel free to bring balloons and cake with all the fixins' needed. Please limit food to a dessert item only.
Please visit the Cellar Door Restaurant website for any food-related questions.
Food and drink are NOT included with the ticket purchase.
Don't forget to bring dollar bills to tip our Queens!