This weekend, we're full of PRIDE, celebrating throughout Downtown. You won't want to miss the 2022 Frederick Pride Festival along Carroll Creek on Saturday from 11am-6pm, and there's loads more going on around town. From comedy to art to the AARCH Society African American Walking Tour, Downtown Frederick is the place to have some fun and learn a little something while you're at it. We can't wait to see you Downtown this weekend!
Frederick Pride
June 25, 11am-6pm, Free Admission
Carroll Creek Linear Park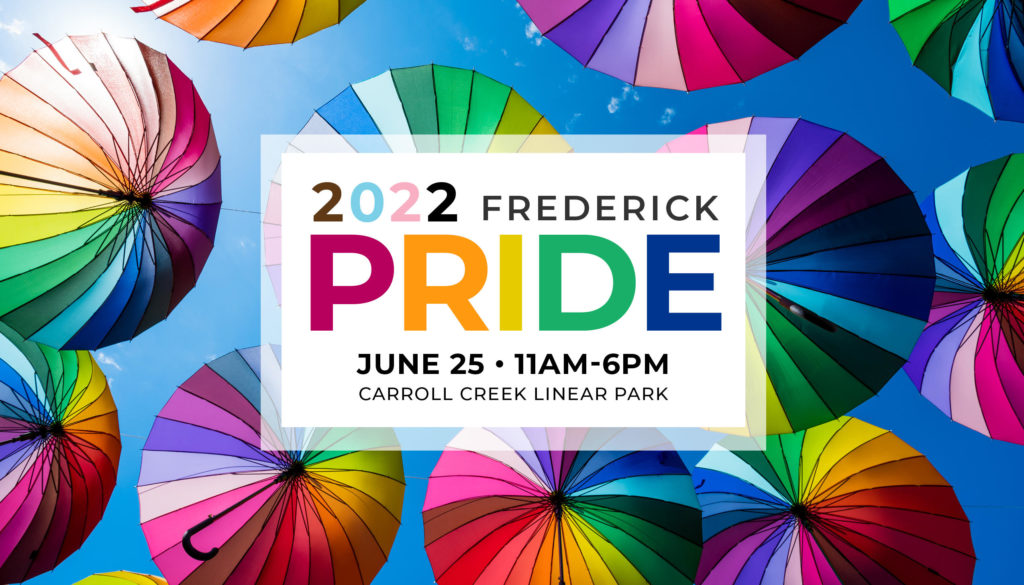 Frederick Pride is an annual celebration of LGBTQ (Lesbian, Gay, Bisexual, Transgender, Queer) pride in Frederick, MD – organized by The Frederick Center. Pride is back in 2022, bigger, louder, and prouder than ever before! Join the fun! Find more details at frederickpride.org.
The Frederick Center's Mission: The Frederick Center (thefrederickcenter.org) exists to support and advocate for lesbian, gay, bisexual, transgender and queer (LGBTQ+) people and our families so we thrive, accepted and affirmed, in the broader Frederick community.
Comedy Night @ FAC's Sky Stage
Friday, June 24, 7pm-10pm, $10
59 S Carroll St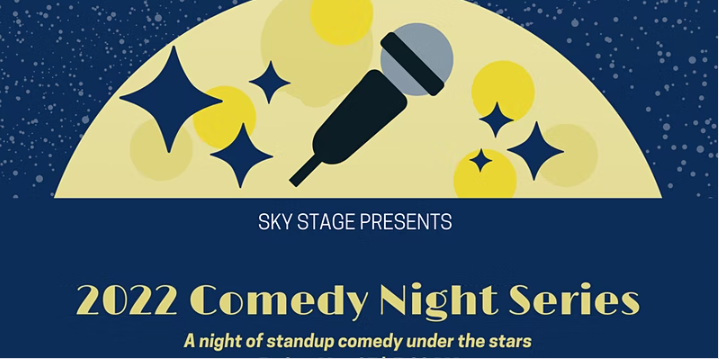 A night of stand-up and/or improv comedy under the stars featuring Cyryus Chansler, Jason Fliegel, Davine Ker, Stacey Axler, Sandy Bernstein, Ms. Chocolate, Brandon Moore, Riva Riley, Mudit Verma and AJ Williams.
All-ages welcome*, beer/wine w/ID, other concessions available for purchase to benefit Sky Stage/FAC.
Tickets through Eventbrite with some tickets available at the door, cash or cards accepted. Doors open 30 min before start time.
*Parents please note there maybe PG-13 + content.
AARCH Society African American History Walking Tours
Saturday, June 25, 11am-12:30pm, $10 adults, $5 children 6-12
Meet at AARCH Heritage Center, 125 E All Saints St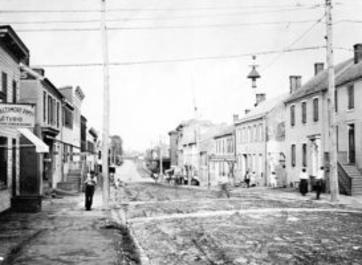 Explore the History of the Southern Section of Frederick City From the African-American Perspective!
Join us for our 60-90 minute unique walking tour as AARCH tour guides take you on an informative exploration of local history on All Saints Street and the surrounding area. Learn about the cultural and historical importance of the neighborhood that was the center of the African American community up until the early 1960s.
Tours start at the AARCH Heritage Center, 125 East All Saints St, beginning at 11 AM. Tours run from 60 to 90 minutes.
Inky Cap Artist Co-Op @ FAC Sky Stage
Saturday, June 25, 11am-3pm, Free Admission
59 S Carroll St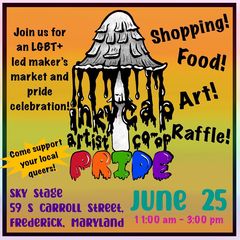 Join us for a queer-run pop-up marketplace with artisan vendors displaying their unique wares in celebration of Frederick PRIDE Day!
The Shape of Ink: Participatory Workshop by Wen-hao Tien Studio @ Y Arts Center
Saturday, June 25, 2pm, Free Admission
115 E Church St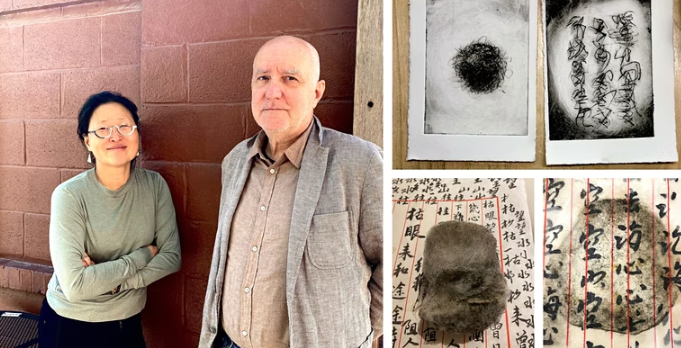 This interactive workshop is presented as a collaboration between artists Wen-hao Tien and Johan Lowie, both artists' practices in contemporary art are rooted in orthodox training in traditions, but different traditions. This event is co-sponsored by the Frederick Book Arts Center, YMCA of Frederick County Maryland, and the Asian American Center of Frederick Maryland.
About Wen-hao Tien
Wen-hao Tien is an artist and educator living in Cambridge, MA. "My practice is rooted in language and cross-cultural observations, explores how identity crosses, merges, and transcends culture. Words (legible or illegible) and everyday mundane objects are my sources of inspiration."
Her exhibition at Gaslight Gallery (read the press release here) showcases her investigation of a wide range of mundane materials, and how she interprets line, sculpture, painting, and video in the inescapable beauty of nature that was rooted in her orthodox training in Chinese calligraphy and literati painting.
About Johan Lowie
Lowie's decades of creative work evoke deep, unsettled feelings that come from the frisson of life experiences churning directly against interior wheels of emotion. His images present experience and observation transformed by contemplation. Where a superficial review of his work might determine it to be purely surreal, longer exposure suggests deeply emotional, honest explorations about how we remember our own feelings as we accumulate experience through life.
Lowie's work challenges viewers, but that challenge gives as much as it takes. Where viewers may first encounter assertive designs and compelling compositions, they soon find themselves forced to reckon with their own relationship to the images. Lowie asks viewers not simply to consume his images, but to digest them, integrate them, and ask themselves why they feel the way they do. In an era saturated with invented, inventive images, that provocative moment of introspection may be the most elusive filter.
Johan is trained in European fine arts traditions.
About Frederick Book Arts Center
The Mission of the Frederick Book Arts Center is to teach the craft and techniques associated with the Art of the Book. Letterpress printing, printmaking, bookbinding, photography, and language arts will be taught through a combination of workshops, field trips, school visits, and classes. All members of the community will have the opportunity to learn, intern, and display work at the Center.
About the Asian American Center of Frederick (AACF)
AACF enriches Frederick County by providing the essential tools to equip all immigrants to become independent and successful contributors to our communities and society at large.