Frederick's annual film competition, 72 Hour Film Fest, is back this weekend, with all films hitting the Weinberg Center on Friday before being trimmed down to finalists and award winners on Saturday. Local cinephiles take note – you won't want to miss these showings!
Feeling spooky? Join Maryland's longest running ghost tour, right here in Downtown Frederick! You can also take in a bit of improv with the Comedy Pigs at the Maryland Ensemble Theater, or attend a concert on Sunday evening at FAC's Sky Stage to benefit the residents who lost their homes in a fire in August.
You also won't want to miss the juried art show, Food For Thought, at DISTRICT Arts, showcasing 25 artists presenting thought-provoking ideas and themes in visual art. As always, there's so much to do in Downtown Frederick this weekend!
72 Hour Film Fest @ Weinberg Center for the Arts
Friday, October 7, 6:30pm-10pm and Saturday, October 8, 7pm-11pm $15 – $22
20 W Patrick St
Frederick's annual film competition returns and for Year 17- there's something a bit different!  While teams only had 72 hours to make a film, for the first time since Year 4 the theme to the Fest was kept secret until the Launch Party where filmmakers were given their criteria. Students, Amateurs and Pro teams alike only had a weekend to write, direct, edit and turn in their short films.  Over 600 films have been made throughout the years for the Fest, showcasing talent from across the region.
All of the films will premiere Friday Night over two blocks, with the finalists and award winners showcasing on Saturday Night alongside a new short with the hosts Mikael Johnson and Aura Manjarrez.  The 72 Award Ceremony directly follows the Saturday Night screenings.
Ghost Tours of Historic Maryland
Friday, October 7 and Saturday, October 8, 7:30pm-9pm, $9 and $15
Meet at Brewer's Alley, 124 N Market St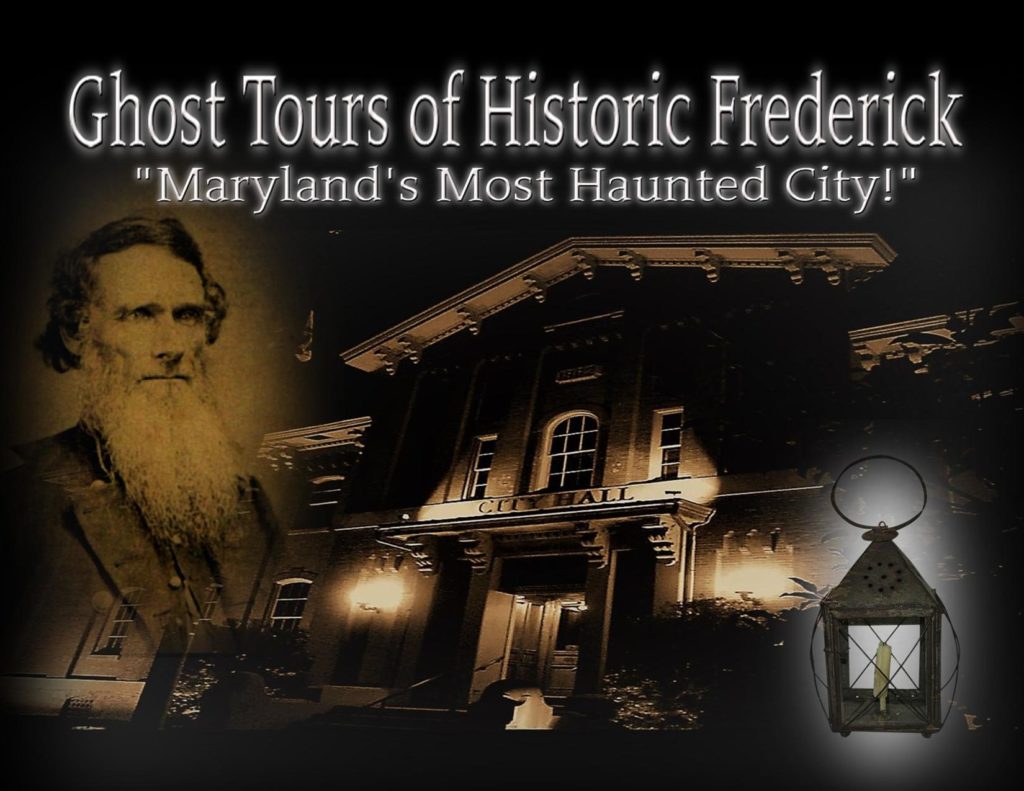 Take a Remarkable Journey through Frederick's Gruesome and Bloody Past.  Nearly 300 Years of War, Executions and Revenge. True Documented Stories of the "Paranormal" with "Maryland's Oldest Operating Ghost Tour."
Uncover Politically Savvy and Defiant Citizens, Patriots from the Revolutionary War,  Beckoning Soldiers from the Civil War, and so much more!
Historic Frederick – Where The Dead Come Out To Play!
Visit Court House Square – the "Execution Site" of British Sympathizers, learn about their Fate, and the "Curse" that continues to Resonate.
Visit the "Spiritual Playground" of Dead Children whose lives were cut short by Unmerciful Disease and Suffering.
Unravel the Mystery surrounding a Mysterious Man in Black Executed in 1781 for his Loyalty to King George III.
Find out the "Devilish Plan" of a"Spiteful" Owner of an 1814 Mansion and why his "Spiritual Discharge" Remains.
Contemplate the Reasons why Frederick's Famed Barbara Fritchie Continues to Guard her Home from Invading Confederate Soldiers 158 Years After her Death.
Discover why Former Stage Hands, Actors, and Members of the Audience Refuse to be Removed from their Prized Seats at Frederick's Historic Tivoli Theater.
Ponder the Events taking place at a Private Residence, Now Home to Two Families – One Living, One Dead.
Be Flabbergasted by what is Transpiring within a Former Embalming Site of the Dead from the Civil War – now home to the National Museum of Civil War Medicine.
Plus Countless Other True, Documented Stories of the DEAD!
Tours are 90-Minutes in Length and Leisurely Cover 1.2 miles.
Not Recommended for Younger Children. 
The Comedy Pigs @ Maryland Ensemble Theater
Friday, October 7 & Saturday, October 8, 8:30pm-10pm, $15
31 W Patrick St
It's the season opener for the 30th Anniversary of Frederick's resident improv and sketch comedy troupe, The Comedy Pigs. This is sure to be a hilarious show, and remember, in improv, no two shows are ever the same!
"FOOD FOR THOUGHT", a Juried Themed Exhibition @ DISTRICT Arts
Opening Reception Saturday, October 8, 5pm-7pm
Gallery Hours, 11am-7pm
15 N Market St
There are many ways of presenting thought-provoking ideas and themes in visual art. This exhibition at DISTRICT Arts reflects the interpretation of this commonly used metaphorical expression in the art of 25 independently juried artists. It is on view from October 5 through October 30 and is free and open to the public.  The opening reception is Saturday, October 8 from 5 to 7 PM.
Post-Fire Relief Fundraiser @ FAC's Sky Stage
Sunday, October 9, 6pm-10pm, $10 minimum donation
59 S Carroll St
Come out and support the local civilians that lost their homes from the apartment fire that took place on August 24th in downtown Frederick on the corner of N Market and 2nd St. All donations will be given to the Go Fund Me accounts created by said civilians. For questions, please contact AudioElectricWV@gmail.com
Must be 21+ with valid ID to drink. Show is all ages.
Faith In Jane •doom groove•
Puce Moment •noise/post punk•
Fable Circuit (wv) •indie rock•
Motel Portrait •punk rock•
TeeVee. •ambient dream pop•
Concept Art: Bill Kole
Made possible by Audio Electric West Virginia, Left Over Pizza Productions, The Maryland Doom Fest team and the Frederick Arts Council.