Grab your doggies and be prepared to laugh, rock, and have a tasty treat downtown this weekend! Canines on the Creek is making their third appearance on the creek with a dog parade and canine costume contest on Saturday. While you're downtown with the family, why not learn to be root beer experts with a root beer tasting event at the North Market Pop Shop? Feeling the live music vibe instead? Catch the Ireland and US-based quartet, We Banjo 3 at the Weinberg.
If you're feeling like laughter is more your vibe, check out the opening weekend for the Met's popular improv group Oh Crit! or visit Sky Stage and take in Oscar Wilde's The Canterbury Ghost, a charmingly fun Halloween story filled with mystery and Oscar Wilde's famous wit. Looking for more events downtown this weekend? Be sure to visit our events calendar here. We can't wait to see you downtown!
Canines on the Creek Doggy Parade & Costume Contest
Saturday, October 22, 2PM-5PM, Free to attend, $25 contest entrance fee
Carroll Creek Park at the Trellis
The FSK Lions Club presents the 3rd Annual Canines on the Creek, featuring a doggy parade and Halloween-themed costume contest!!
Dress up you and your pooch in your best Halloween get up for the opportunity to win prizes and giveaways! RAIN or SHINE
Saturday, October 22 from 2-5PM at the Carroll Creek Linear Park Trellis area at Market Street. The Costume Contest and Parade kick off at 3PM. Learn more here.
We Banjo 3 @ The Weinberg Center for the Arts
Friday, October 21, 8PM-10PM, $35
20 W Patrick St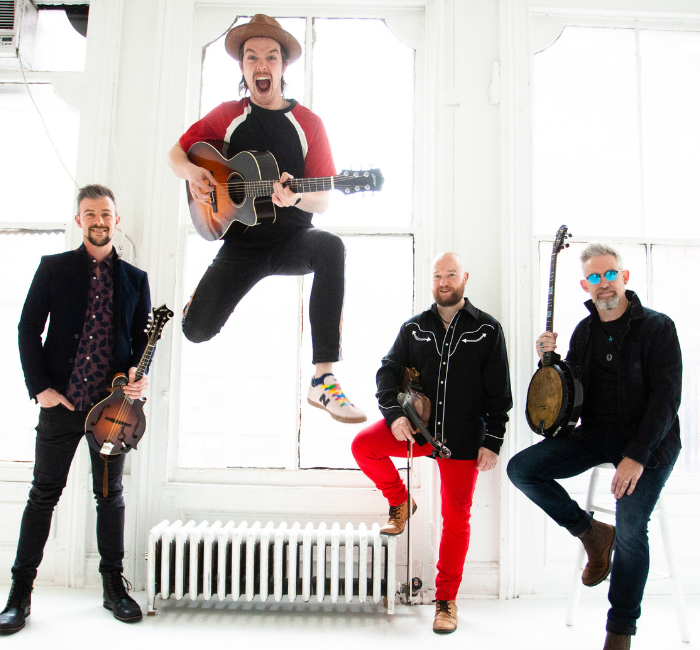 The Galway, Ireland, and Nashville-based quartet, comprised of two sets of brothers, Enda & Fergal Scahill and Martin & David Howley, continually push musical boundaries while maintaining an unwavering devotion to the essential audience experience. WB3 seamlessly converge the shared and varied traditions of Americana, Bluegrass, and Celtic music with pop-sensible songcraft to create a truly unique and gratifying signature sound. Brilliantly commanded instruments banjo, fiddle, mandolin, guitar, and percussion effortlessly elevate lead singer David Howley's propulsive voice. Live on stage, their songs carry the listener along until, at the perfect moment, the band crescendos into catchy choruses with pitch perfect harmonies. We Banjo 3 deliver their music with such palpable rapport, stunning precision, and infectious energy, it's impossible to pigeonhole what kind of listener might suddenly consider themselves a WB3 fan.
Oh Crit! Comedy Night @ Maryland Ensemble Theater
Friday, October 21 & Saturday, October 22, 8:30 PM-10PM, $15
31 W Patrick St
October is a very exciting month for Improv! And the fun continues with not one, but TWO shows! Oh Crit is having their season debut AND is celebrating their 5 year anniversary!!
This is sure to be a super fun birthday bash! Get your tickets now (link in bio).
Show starts at 8:30pm and tickets are $15.
Root Beer Tasting @ North Market Pop Shop
Saturday, October 22, 1PM-5PM, $15
241 N Market St
Looking for a fun family event this weekend? Join us for 30 minutes of Pop Shop fun and taste six of our newest Root Beer additions! Tasting Includes:
Flight of Soda (six samples)
Small Float
Free Goodies
10% off day of purchases
This is an all ages event; tickets required.
The Canterville Ghost by Oscar Wilde, An Actively Staged Reading @ FAC's Sky Stage
Sunday, October 23, 3PM, Pay what you can
Sky Stage 59 S Carroll St
BACK BY POPULAR DEMAND – not your typical staged reading — this fully blocked production with new "bells and whistles" is a perfect October ghost story!
Enjoy this charmingly fun Halloween story filled with mystery and Oscar Wilde's famous wit — based on Oscar Wilde's humorous short story about an American family who moves into an English haunted castle. Show also runs Mon. Oct 24 7:30pm and Tues. Oct. 25 7:30pm.
Show runs under 90 minutes.
Rain location FAC Arts Center on 5 E. 2nd Street.