First Saturday is a day to show your love for local!
Support local businesses by shopping with an independent retailer, eating at a local restaurant, supporting local artists and exploring Downtown Frederick. Where you spend your money matters.
Whether you've lived here for years, or you're a first time visitor, First Saturdays are a great time to discover something new about our beautiful downtown.
---
LOCAL SHOPPING & EVENTS
Downtown businesses celebrate First Saturday with their own unique events. From in-store tastings and gallery openings, to artist and vendor exhibitions… there's always something new to explore! Check back as the date gets closer for a list of specific activities, or visit downtownfrederick.org/events to see what's happening today.
Boys & Girls Club Brunch + Buy Local! @ Hippy Chick Hummus, 9am-2pm
Katy's Flower Wagon @ Frederick Coffee Co., 9am-2pm
4 art exhibitions to experience @ The Delaplaine Arts Center, 9am-5pm
How do you dye yarn? @ Heritage Frederick, 10am-11:30am
Paint Your Own Pottery @ I Made This! Pottery Studio, 10am-7pm
Customize your summer scent @ Savage Soaps, 10:30am-5:30pm
Just Passing Through: A Travelers Guide to Civil War Frederick @ National Museum of Civil War Medicine, 11am-12pm
Find Nevada -the Police Dog- w/SGT Carrado & Color Her Favorite Spot @ Various Downtown Businesses, 11am-3pm
Sky Pop! Artist Market @ FAC's Sky Stage, 11am-4pm
The Turner Photography Exhibit @ COAST Designs, 11am-6pm
Playing with Fire @ Potters' Guild of Frederick, 11am-7pm
Frozen Treat Festival @ Perfect Truffle, 11am-7pm
Delicious frozen chocolate mousse @ Zoe's Chocolate, 11am-9pm
YeeHaw Sauce & Spice Spotlight @ Relish Decor, 12pm-4pm
Unload your backpack @ The Trail House, 12pm-6pm
Tarot Readings & Shopping @ Worthy Waves Boutique, 12pm-6pm
Hide-and-Seek @ Bailey's Treasures, 12pm-6pm
"Chasing Rainbows" by Chito Padilla @ DISTRICT Arts, 12pm-7pm
Downtown Saturday Bazaar @ Carmack J's Parking Lot, 12pm-7pm
Summer Show @ Gallery 322, 12pm-8pm
Macramé Demo by Knotty Broad @ Vintage MC, 1pm-4pm
Make a Summer Bouquet @ Peace, 1pm-7pm
Kids Games/Juegos para Niños @ The Trellis, 2pm-3pm
Artist Reception with Eyituoyo Otubu @ The Muse, 2pm-4pm
Create a Mini Canvas Masterpiece @ Dancing Bear Toys and Gifts, 2pm-4pm
Station & Apparatus Tours @ United Steam Fire Engine Co #3, 4pm-8pm
"Le Salon" First Saturday Reception @ TAG/The Artists Gallery, 5pm-8pm
Meet the artist of "Shape & Structure," James Germaux @ NOMA Gallery, 5pm-8pm
The Night Market @ Carroll Creek Amphitheater, 5pm-9pm
What The Punk? Festival @ Cafe 611, 5pm-12:30am
Sticktime live @ Smoketown Creekside, 7pm-11pm
GORDON LIGHTFOOT: The Legend in Concert @ The Weinberg Center for the Arts, 8pm-11pm
LIVE MUSIC
The Catoctones (A cappella), Everedy Square & Shab Row, along N East St, 1:30-3:30pm
Gbemiga (Soul Fusion), Federated Charities, 22 S Market St, 2-5pm
Megan Ukoh (R&B & Soft Rock), Vintage MC, 24 E Patrick St, 2-5pm
Stonehouse Brass Band (New Orleans Style Music), Luv Pup, 119 E Patrick St, 4-7pm
Kevin Neidig (Acoustic Americana, Bluegrass & Progressive Folk), Trail House, 17 S Market St, 6-9pm
Darryl Brenzel Duo (Jazz Saxophone), TAG/The Artists Gallery, 501 N Market St, 6-9pm
Acoustic Chicks (Classic hits, pop & country), Velvet Lounge, 203 N Market St, 6-9pm
---
PARKING & TRAVEL
Access travel and parking information for Downtown Frederick at www.parkfrederick.org and download a map of downtown businesses here.
Public Restrooms can be found in the Church Street (17 E Church St) and Carroll Creek (44 E Patrick St) Public Parking Garages. Restrooms are open daily from 9AM-10PM and cleaned regularly by the City of Frederick following all relevant guidelines.
Staying the whole weekend? Plamondon Hospitality Partners and Downtown Frederick Partnership have teamed up to offer 15% off your stay the first weekend of every month. Choose from six fantastic hotels all with a special price that's 15% off rack rate. Extend your visit and do it in comfort!
View First Saturday Hotel Rates
---
DON'T FORGET YOUR MASK!
Businesses are free to set their own policies with regard to face coverings. Please be considerate of staff who may not yet be vaccinated, and wear your mask if requested.
Spread joy. Shop safely. Wear a mask.
---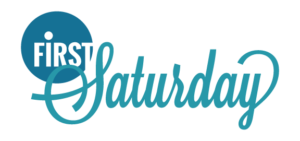 ---


---