First Saturday is a day to show your love for local!
Support local businesses by shopping with an independent retailer, eating at a local restaurant, supporting local artists and exploring Downtown Frederick. Where you spend your money matters.
Whether you've lived here for years, or you're a first time visitor, First Saturdays are a great time to discover something new about our beautiful downtown.
---
May First Saturday is presented in partnership with T-Mobile. Thank you for supporting local!

---
LOCAL SHOPPING & EVENTS
Downtown businesses celebrate First Saturday with their own unique events. From in-store tastings and gallery openings, to artist and vendor exhibitions… there's always something new to explore! Keep checking back as the date gets closer for more activities, or visit downtownfrederick.org/events to see what's happening today.
Chalk Artists throughout downtown all day
Pop ups: Fran Byrne Photography and Fingerboard Farms @ Serendipity Market & More, 14 E Patrick St 8am-close and 11am-3pm
Creative Outlet @ The Delaplaine Arts Center (virtual) 9am
Free 1oz Body Budder @ The Kitchenette, 217 N Market St 10am-6pm
COAST Market Day @ COAST Designs, 18 E 2nd St 10am-6pm
Footwear Sale @ The Trail House, 17 S Market St 10am-6pm
Create your own May Baskets @ Ec'clectibles, 13 E Patrick St 10am-8pm
Faces of the Wounded – Downtown Frederick Walking Tour @ National Museum of Civil War Medicine, 48 E Patrick St 11am-12pm
All scents 10% off @ A Lit'le Irish, Too, 143 N Market St 11am-7pm
Italian Pesto Olive Oil is Back @ Lebherz Oil & Vinegar Emporium (L.O.V.E), 214 N Market St 12pm-5pm
Vintage Sidewalk Sale @ Vintage MC, 24 E Patrick St 12pm-6pm
"Naturally Abstract," contemporary abstracts and landscapes by Jenny Wilson @ DISTRICT Arts, 15 N Market St 12pm-8pm
"TAG" Blooms Celebrates Spring @ TAG/The Artists Gallery, 501 N Market St 12pm-8pm
"The Thing with Feathers" by Caroline Mayer @ NOMA Gallery, 437 N Market St 12pm-8pm
"Beyond the Horizons" with Arden McElroy @ Eastside Artists' Gallery, 313 E Patrick St 1pm-5pm
Art Matters Artist Talk @ The Delaplaine Arts Center (virtual) 2pm
Artist Reception with Vicki Clarkson @ The Muse, 19 N Market St 2pm-4pm
Capturing Mayfest on Canvas w/ Ann Schaefer @ Gallery 322, 322 N Market St 3pm-6pm
Black Lives Mural Frederick @ William R Diggs Memorial Pool, Mullinix Park 4pm-5pm
Cross Quarter Gong Meditation @ The Center . Sound . Mind . Body, 28 E 6th St 7:30pm-8:15pm
---
LIVE MUSIC
Enjoy the ambiance of live music as you stroll along the streets of Downtown Frederick this First Saturday. See below for a list of scheduled performances.
Kristin Rebecca @ Federated Charities, 22 S Market St 2-5pm
Brian Litz Duo @ Frederick Coffee Co & Cafe, 100 N East St 2-5pm
Jacob Abuhamada @ Surelocked In Escape Games, 5 N Market St 4-6pm
Jimmy @ Tenth Ward Distilling Company, 55 E Patrick St 4-7pm
Tim Seals @ Velvet Lounge, 203 N Market St 4-7pm
---
PARKING & TRAVEL
Access travel and parking information for Downtown Frederick at www.parkfrederick.org and download a map of downtown businesses here.
Public Restrooms can be found in the Church Street (17 E Church St) and Carroll Creek (44 E Patrick St) Public Parking Garages. Restrooms are open daily from 9AM-10PM and cleaned regularly by the City of Frederick following all relevant guidelines.
Staying the whole weekend? Plamondon Hospitality Partners and Downtown Frederick Partnership have teamed up to offer 15% off your stay the first weekend of every month. Choose from six fantastic hotels all with a special price that's 15% off rack rate. Extend your visit and do it in comfort!
View First Saturday Hotel Rates
---
DON'T FORGET YOUR MASK!
Face coverings are required in all public buildings, as well as outdoor spaces where physical distancing is not possible. Spread joy. Shop safely. Wear a mask.
---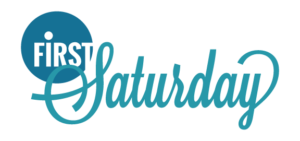 ---


---