Since you'll already be in town for First Saturday…
The art galleries encourage you to stay for a special Downtown Frederick Sunday Artwalk following each First Saturday. There will be special events, art talks, live demos, and DIY projects from 12-4pm.
More gallery info and an interactive walking map here:
May 7th events:
All events are from 12-4pm unless otherwise noted.

Quilted Art @ The Delaplaine Arts Center
Visit the Clustered Spires Quilt Guild Pop-up Market at the Delaplaine: There will be contemporary styles of quilts and traditional favorites! Artful wallhangings, home accessories and apparel will be for sale! The guild was founded in 2001. Members include beginners through experts with interests from art quilts to traditional quilts in an array of materials.
"Nostalgia" – A themed exhibition with a focus on longing @ DISTRICT Arts
This independently juried exhibition is on view from May 3 until May 28. Twenty-six local, regional and national working artists were selected from over 600 submissions to present their take on "Nostalgia." Is it a sentimental longing for the past accompanied with happy remembrances of times gone by or is it a longing accompanied with a sense of loss or missed opportunity? Stop by Sunday between 11:00am and 5:00pm and see who won Best in Show, Award of Merit, and Honorable Mention.

The Art of Color Pencil Drawing: Demonstrastion and discussion @ Eastside Artists' Gallery
Noted artist Lis Zadravec will be in the gallery at 3PM to demonstrate her colored pencil techniques and to answer questions about colored pencil drawing as an art form.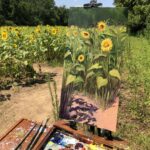 En Plein Air, all around town @ Gallery 322
This year is the 275th anniversary of Frederick County, Maryland. Mid-Atlantic Plein Air Painters Association members are joining the year long celebration with a paint out on May 7th in downtown Frederick. Artistic inspiration can also be found in the various buildings that line the streets, and along the creek into Baker Park. Painters will be out and about creating, and will gather at Gallery 322, to look at their progress at 1pm. Gallery 322 artist Linda Kirvan will be hosting the gallery, as well as painting, on Sunday from 12pm-5pm, so stop by to see the results and join the celebration.

THE ARCHITECTURE OF TRANSITION: What is going on and what are we becoming? @ Gaslight Gallery
ARTIST TALK from 2-4pm: Nora Maccoby is a 4th generation artist, currently living in Mexico. Her works are in many private collections and currently on public exhibition at Reagan National Airport in DC. She is both lyrical and studied in her work, drawing lines and pathways through universal forces of chaos. Within giant landscapes of time and space, she shows seekers surfing the galactic waves of creation. Nora uses the Fibonacci Sequence as the keyhole to any subject born of nature, including faces, birds, and intergalactic wormholes.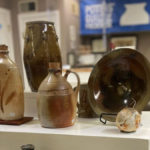 Learn about the wood-firing process @ Potters' Guild of Frederick
Guild members participated in the most recent firing at Monocacy River Pottery. Wood and salt fired work will be featured during the Art Walk. Customers will be able to view photos and ask questions about the ancient process that produces this work.

Hand-weaving demonstration @ TAG/The Artists Gallery
Christine Stovall and Chris Eliff are TAG's featured artists for May and will show their work in Gallery I. Stovall's Second Nature explores humans' uneasy coexistence with the natural world. Today, threats to wildlife and the natural environment have never been greater. The photographs in Eliff's exhibit, Art Is the Gap, are inspired by the way she looks at life. She sees her art as a way of communicating without words. Gallery II features the work of the other TAG members, including fiber artist Noelani Jones. Jones will be on hand Sunday to demonstrate her approach to hand weaving with natural materials.