unchARTed will transform three alleys in Downtown Frederick, MD for one year.
A design competition and installation, unchARTed is sponsored by Downtown Frederick Partnership in cooperation with the Potomac Valley Architecture Foundation, AIA Potomac Valley and the Frederick Arts Council.
A national design competition conducted in November 2019 resulted in the selection of three projects for implementation: Happy Stripe, Colorful Frederick and Maxwell Flow. While initially planned for installation in the same seven day period in May 2020, these new temporary art works will now be installed over the next several months. The installations will be in place for about one year. Each installation responds to the unchARTed project goals of attracting locals and visitors to Downtown Frederick, activating the sometimes forgotten "between" spaces in Downtown Frederick and creating stimulating interactive experiences that are memorable.
Happy Stripe is a site-specific installation designed as a medium of activation for the alley, aiming to intrigue the passengers and encourage them to pass through it. It is a playful linear structure made out of a steel frame and hanging nylon ropes. It acts as a vibrant stripe that brings life to the alley and stimulates passengers' curiosity. An augmented reality application is designed as part of the installation, engaging the public both physically and digitally. The installation highlights the urban and architectural characteristics of the specific lot and tries to have a dialogue with the existing context. View original Design Board here.
Project installed in November 2020.
Explore the Virtual Reality App
connect from anywhere
Our vision transforms the car-centric space to a vibrant, colorful pedestrian-friendly environment, a visual announcement: Colorful Frederick. Whether one experiences arriving by car, walking through or past the alley, or leaving the parking garage – the intentional impact of being in this transformed space is invigorating and memorable.
In our concept for Colorful Frederick, the parking garage driveway features a series of structures that define the outdoor spaces leading someone into the alley. A series of pergolas over the sidewalk create outdoor rooms for people to walk through. Colorful marine ropes connected to these PVC pipe structures provide a visually interactive experience in the landscape as the viewer's eye is attracted to the alley by the interplay of color, filtered light, and sight-lines. The height and vibrancy of this installation are statements about Frederick's desire to embrace vibrancy and diversity as a community.
Project installation is planned for Winter 2021.
Pulling in participants from adjacent pathways, the vivid Maxwell Flow pavement art installation will connect residents and visitors with Downtown Frederick's public library and adjacent Carroll Creek Park. The map-like network of 6" wide lines takes inspiration from the vibrant watercourse as well as tension cables upholding the library's central staircase and nearby pedestrian bridge. Parallel, angular blue lines evoke the creek's subtle meander. Layered underneath, vivid turquoise lines mark the natural paths of pedestrians walking to and from the library and park. Purple lines enhance the crosswalk. Acting as an extended, site-specific crosswalk, Maxwell Flow's one-to-one scale tracings of drifting movement will humanize the alley as a place of pedestrian safety and sublime celebration.
Project installation is planned for Spring 2021 following the completion of an unrelated capital improvement project at the C Burr Artz Public Library.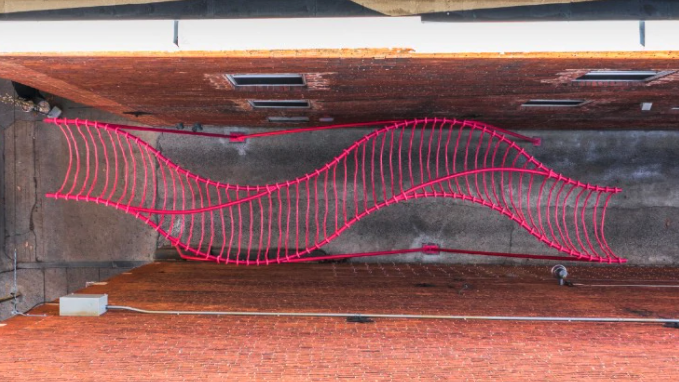 SomePeople designed a vibrant-pink urban installation, powered by AR
By Francesca Grillo • January 26, 2021
SomePeople, New York-based art and design studio, created a vibrant-pink urban sculpture in an abandoned alley in Downtown Frederick, Maryland. Happy Stripe is one of three projects selected in the 2019 competition for spatial installations in specific alleys with the aim to enhance the urban fabric… KEEP READING
Entering 'unchARTed' territory: Newest downtown art installation aims to 'activate' alleys
By Graham Cullen • Nov 20, 2020
During a vacation to Chattanooga, Tennessee, Kara Norman discovered a design competition to enliven public spaces, an idea she decided to bring back to Frederick… KEEP READING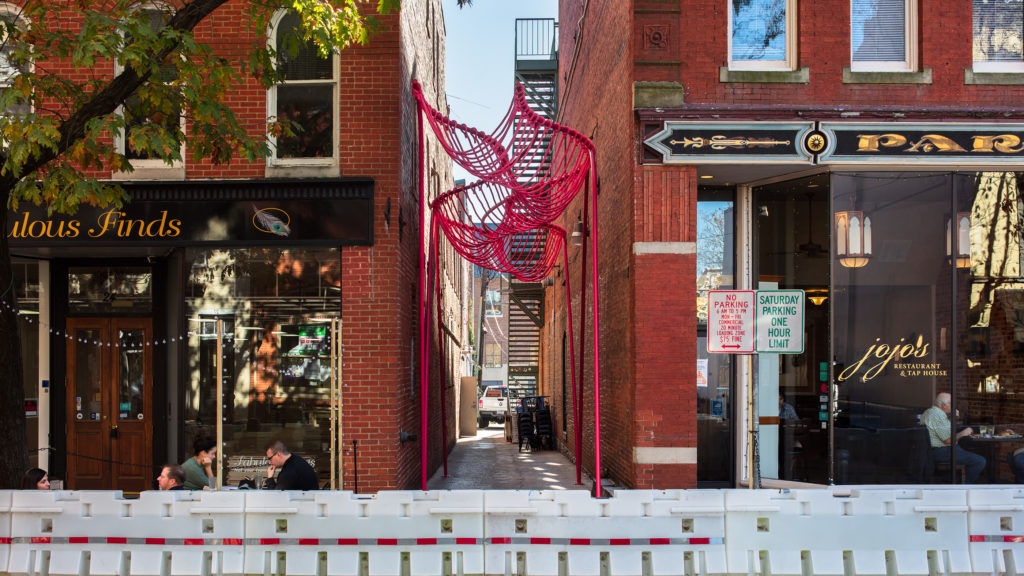 SomePeople brings augmented reality alley art to Frederick, Maryland
By Jonathan Hilburg • Dec 22, 2020
Wedged between two buildings in Downtown Frederick, Maryland, the New York-based art and design studio SomePeople has installed a swooping, curvilinear net sculpture that doubles as an interactive augmented realty (AR) game… KEEP READING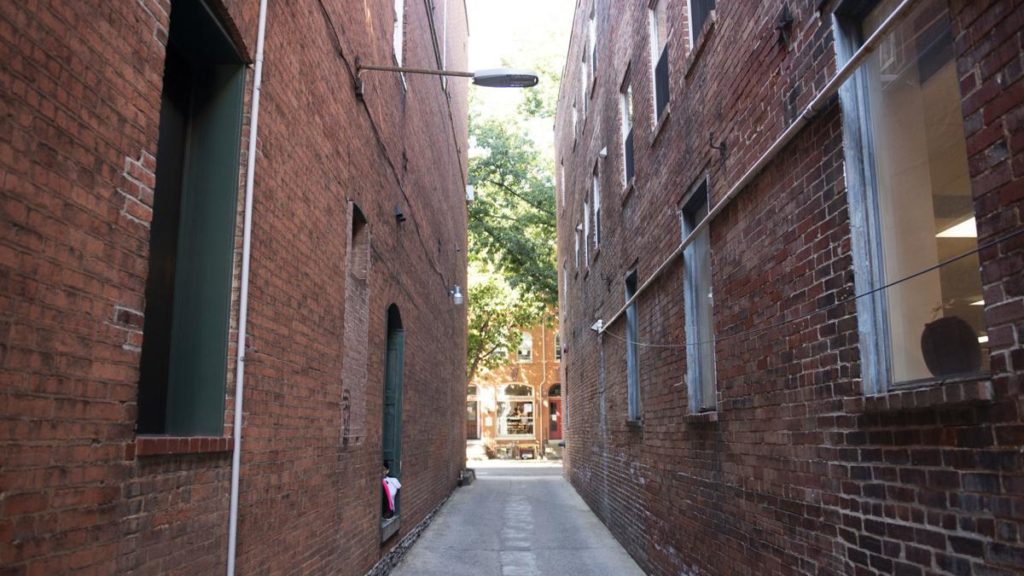 Competition seeks artists to design installations for downtown alleyways
By Crystal Schelle • Sep 25, 2019
Alleys are often thought of as pavement to pass from one place to another. But a new design competition, called unchARTed, is looking to change the way people interact with alleyways in Downtown Frederick… KEEP READING
Week in Tech: Stefano Boeri Architetti's COVID-19 Vaccine Campaign
Plus, IKEA's Gingerbread Hömes, SomePeople's AR installation, record-breaking emissions from buildings, and more design-tech news from the week.
By Madeleine D'Angelo • Dec 18, 2020
Former Next Progressives firm SomePeople, founded by Kiki Goti, has completed an augmented reality installation in a narrow alley that aims to highlight the often-overlooked architectural elements and help revitalize the city of Frederick, MD… KEEP READING
National Competition / Design Background
---
The Partnership and our partners launched unchARTed in November 2019 with a national design competition. The competition brief asked entrants to propose a design installation for pre-identified Downtown Frederick alleys. The Partnership had secured the permission of the alley property owners prior to launching the competition. Entrants were asked to propose ideas that responded to the unchARTed project goals of attracting locals and visitors to Downtown Frederick, activating the sometimes forgotten between spaces in Downtown Frederick and creating stimulating interactive experiences that are memorable.
Originally, the competition planned for all three projects to be installed in one seven day period in May 2020. The pandemic impacted these plans and the three installations will be constructed at different times in next several months. The installations will be temporary, physically in place for about one year. 
The Partnership granted three awards of $10,000 each for implementation. A Design Jury (see below) reviewed the anonymous submissions looking for projects that had a high level of design quality, related to the specific site and best met the project goals. A total of 21 submissions were received from entrants across the United States and in the Frederick region. The Design Jury recommendations were forwarded to a Local Panel (see below) to review for feasibility and to assist with the local review/approval process. All projects have received all necessary approvals including Public Art Commission review, Historic Preservation Commission review and required City permits.
Local Panel
C. Marty Bates, AIA; President, Bates Architects, LLC
Karin Birch, artist
Marc Feinstein, AIA; AIA Potomoc Valley; Principal, Miner Feinstein Architects
Louise Kennelly; Executive Director, Frederick Arts Council
Scott Knudson, AIA; Potomac Valley Architecture Foundation; Principal, Knu Design
Kara Norman; Executive Director, Downtown Frederick Partnership
Each year, the Partnership tackles strategic initiatives to bring more residents and employees to Downtown Frederick, offers an exciting season of events and works closely with downtown businesses and partners to continue to strengthen and improve Downtown Frederick.