First Saturday is a day to show your love for local!
Support local businesses by shopping with an independent retailer, eating at a local restaurant, supporting local artists and exploring Downtown Frederick. Where you spend your money matters.
Whether you've lived here for years, or you're a first time visitor, First Saturdays are a great time to discover something new about our beautiful downtown.
---
LOCAL SHOPPING & EVENTS
Downtown businesses celebrate First Saturday with their own unique events. From in-store tastings and gallery openings, to artist and vendor exhibitions… there's always something new to explore! Check back as the date gets closer for a list of specific activities, or visit downtownfrederick.org/events to see what's happening today.
Katy's Flower Wagon @ Frederick Coffee Co & Cafe, 9am-2pm
Independence Day Giveaway @ COAST Designs, 10am-5pm
Swedish Dishcloth Demo @ Relish Decor, 10am-7pm
Shop for Red, White, and Blue and get your free Stars & Stripes! @ Ec'clectibles, 10am-8pm
Patriotic Ceramics @ Potters' Guild of Frederick, 10am-8pm
Sky Pop! Artist Market @ FAC's Sky Stage, 11am-4pm
Plant-Based Party! @ Hippy Chick Hummus, 11am-7pm
Popping New Flavors @ Zoe's Chocolate Co., 11am-8pm
We're Retiring – All Frames Must Go! @ VISIONS, 12pm-4pm
Pots and Plants Popup & Katy's Flower Cart @ Vintage MC, 12pm-4pm
Fusti Tap: Passion Fruit White Balsamic @ Lebherz Oil & Vinegar Emporium, 12pm-5pm
Red, white, and new to you! @ Bailey's Treasures, 12pm-6pm
"Golden Age of Sports" Launch & Raffle @ ArtistAngle Gallery, 12pm-7pm
Summer Show @ Gallery 322, 12pm-8pm
Peach Clementine Arnold Palmer Canned Cocktail Release @ Tenth Ward Distilling Company, 12pm-10pm
Revolutionary Tea Party @ Heritage Frederick, 1pm-3pm
Have you heard the BruMate buzz? @ Molly's Meanderings, 1pm-4pm
"Black and White in Color" @ Eastside Artists' Gallery, 1pm-7pm
4 Galleries and an Artist Talk w/ Priya Vadhyar on-site @ The Delaplaine Arts Center, 2pm-3pm
Kids Crafts and Temporary Tattoos @ Dancing Bear Toys, 2pm-4pm
Artist Reception and Live Painting event w/ Ratha Soumphontphakdy @ The Muse, 2pm-4pm
Doggy Parade & Costume Contest @ The Trellis on the corner of Carroll Creek and Market St, 3pm-5pm
Custom Poems by Distinee Gayle @ The Trellis on the corner of Carroll Creek and Market St, 3pm-8pm
Good Vibes Music w/ Mo Safren @ Peace, 4pm-7pm
Local Artist Night ft. Watson & Jenna Duranko @ Cowork Frederick, 4pm-7pm
"The Look of Things" by Andrea McCluskey & "Sticks and Stones" by Lisa Aerianna Tayerle @ NOMA Gallery, 4pm-8pm
"Hindsight 2020" by Cathy Wilken and "Circle in a Square" by Jan McIntyre-Creager open @ TAG/The Artists Gallery, 5pm-8pm
Historic District Ghost Tour @ Maryland Heritage Tours, 8:30pm-10pm
LIVE MUSICIANS
Kristin Rebecca @ Federated Charities, 22 S Market St, 2pm-5pm
Gary Jay & FIREBALL @ Everedy Square Plaza, 20 N East St, 2pm-5pm
Michelle & Jason Hannan @ The Muse, 19 N Market St, 4pm-7pm
Seeds of Joy @ Y Arts Center, 115 E Church St, 4pm-7pm
From the Dirt @ Tenth Ward Distilling Company, 55 E Patrick St, 5pm-8pm
Scott Barrett @ NOMA Gallery, 437 N Market St, 5pm-8pm
MOON MUSIC @ Velvet Lounge, 203 N Market St, 6pm-8pm
The Stonehouse Brass Band @ 30 N Market St, 6pm-9pm
---
PARKING & TRAVEL
Access travel and parking information for Downtown Frederick at www.parkfrederick.org and download a map of downtown businesses here.
Public Restrooms can be found in the Church Street (17 E Church St) and Carroll Creek (44 E Patrick St) Public Parking Garages. Restrooms are open daily from 9AM-10PM and cleaned regularly by the City of Frederick following all relevant guidelines.
Staying the whole weekend? Plamondon Hospitality Partners and Downtown Frederick Partnership have teamed up to offer 15% off your stay the first weekend of every month. Choose from six fantastic hotels all with a special price that's 15% off rack rate. Extend your visit and do it in comfort!
View First Saturday Hotel Rates
---
DON'T FORGET YOUR MASK!
Businesses are free to set their own policies with regard to face coverings. Please be considerate of staff who may not yet be vaccinated, and wear your mask if requested.
Spread joy. Shop safely. Wear a mask.
---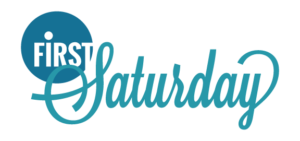 ---


---