First Saturday is a day to show your love for local!
Support local businesses by shopping with an independent retailer, eating at a local restaurant, supporting local artists and exploring Downtown Frederick. Where you spend your money matters.
Whether you've lived here for years, or you're a first time visitor, First Saturdays are a great time to discover something new about our beautiful downtown.
---
June First Saturday is presented in partnership with Lilypons Water Gardens and  T-Mobile. Thank you for supporting local!
---
LOCAL SHOPPING & EVENTS
Downtown businesses celebrate First Saturday with their own unique events. From in-store tastings and gallery openings, to artist and vendor exhibitions… there's always something new to explore! Check back as the date gets closer for a list of specific activities, or visit downtownfrederick.org/events to see what's happening today.
Bikes, Beers, and Bands @ Smoketown Creekside & Attaboy Beer, 8am-10pm
Katy's Flower Wagon @ Frederick Coffee Company & Cafe, 9am-2pm
FCSME 2021 Spring Train Show @ Frederick County Society of Model Engineers, 10am-1pm
Artisan Showcase,  2021 National Juried Exhibition and more! @ The Delaplaine Arts Center, 10am-4pm
Free gift from the PEANUTS gallery @ The Kitchenette, 10pm-6pm
All Things Summer Display @ Potters' Guild of Frederick, 10am-8pm
Gourmet Salt Scrubs – buy 2, get 1 free @ Savage Soaps, 10:30am-5:30pm
Art and War: A First Saturday Walking Tour in Downtown Frederick @ National Museum of Civil War Medicine, 11am-12pm
Information Table @ AARCH Society's future location, 11am-2pm
Sky Pop! Artist Market @ Sky Stage, 11am-3pm
Magnet Coloring w/ Collective Church @ The Trellis on Carroll Creek, 11am-4pm
Find your Dream Dress @ Elegant Forever Bridal Boutique, 11am-4pm
Pick your own bouquet @ Vintage MC, 11am-6pm
Men's Apparel Sale @ A Lit'le Irish, Too, 11am-7pm
Summer Fun Chocolate – Frozoe! @ Zoe's Chocolate, 11am-8pm
2nd Anniversary Open House @ Give Rise Studio, 12pm-3pm
Craft Beverage Demo @ Relish Decor, 12pm-3pm
We're retiring – get your glasses while they last! @ VISIONS, 12pm-4pm
COAST Market Day @ COAST Designs, 12pm-5pm
Fusti Tap: Roasted Onion and Cilantro Olive Oil @ L.O.V.E. Lebherz Oil & Vinegar Emporium, 12pm-5pm
Beach Day Festival @ Worthy Waves Boutique, 12pm-6pm
Summer Renovation Sale @ Bailey's Treasures, 12pm-6pm
Summer Scavenger Hunt @ Surelocked In Escape Games and all around Downtown Frederick, 12pm-6pm
Downtown Saturday Bazaar @ 331 N Market St, 12pm-7pm
"Rose-colored Alchemy" Exhibition by Chelsey A. Anderson @ District Arts, 12pm-7pm
EMBRACE @ Gallery 322, 12pm-8pm
Meet artist Rhonda Smith @ TAG/The Artists Gallery, 12pm-8pm
Book Signing with Bonnie McDaniel @ Créme de la Créme, 1pm-4pm
Celebration of Art @ Eastside Artists' Gallery, 1pm-5pm
Artist Reception & Live Painting w/ Bernadette Miller @ The Muse, 2pm-4pm
Meet-and-greet w/ award-winning artist Karin Birch @ NOMA Gallery, 2pm-8pm
Custom Poems by Distinee Gayle @ The Trellis on Carroll Creek, 3pm-8pm
Local Artists Night ft. Lusmerlin @ Cowork Frederick, 4pm-8pm
Free Live Music w/ Half Heard Voices, Marzy Maddox, and DUBlernuthin @ Olde Mother Brewing, 4pm-10pm
Paint Night: Glory Doughnuts @ Y Arts Center, 7pm-9pm
LIVE MUSICIANS
Mark England – Classic Rock & Country @ Vintage MC, 24 E Patrick St, 2pm-5pm
El the Violinist – Jazz/pop Instrumental @ Spin the Bottle Wine Company, 9 W Patrick St, 2:30pm-5:30pm
Acoustic Chicks – Acoustic Blend of Pop, Rock & Country @ The Delaplaine, 40 S Carroll St, 3pm-5pm
Jozef Ivaska – Multilingual Classical/Oldies @ Worthy Waves Boutique, 20 W 3rd St, 4pm-7pm
Dr. Dave Koronet – Eclectic Acoustic @ Gallery 322, 322 N Market St, 5pm-8pm
Bele Bele Rhythm Collective – African Drumming @ Cowork Frederick, 122 E Patrick St, 5pm-8pm
Ed Barney – Folk, Rock & Blues @ The Original Popcorn House, 39 S Market St, 6pm-9pm
Manuel Medina – Jazzy Keyboard Rock @ The Velvet Lounge, 203 N Market St, 6pm-9pm
---
PARKING & TRAVEL
Access travel and parking information for Downtown Frederick at www.parkfrederick.org and download a map of downtown businesses here.
Public Restrooms can be found in the Church Street (17 E Church St) and Carroll Creek (44 E Patrick St) Public Parking Garages. Restrooms are open daily from 9AM-10PM and cleaned regularly by the City of Frederick following all relevant guidelines.
Staying the whole weekend? Plamondon Hospitality Partners and Downtown Frederick Partnership have teamed up to offer 15% off your stay the first weekend of every month. Choose from six fantastic hotels all with a special price that's 15% off rack rate. Extend your visit and do it in comfort!
View First Saturday Hotel Rates
---
DON'T FORGET YOUR MASK!
Businesses are free to set their own policies with regard to face coverings. Please be considerate of staff who may not yet be vaccinated, and wear your mask if requested.
Spread joy. Shop safely. Wear a mask.
---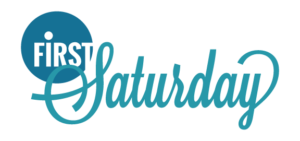 ---


---