---
Attention Holiday Shoppers!
Are you sitting down? Because we have some pretty shocking news. In the blink of an eye, the 2020 holiday season is officially upon us! Yes, we are serious… go peek at the closest calendar if you don't believe us and let us know when you return…
Now that we're all on the same page, let's talk about OUR personal favorite part of the holidays… holiday shopping! A lot of things have looked different this year but we're proud of how our downtown community has remained resilient throughout the unpredictable ride that has been 2020. The support this community has shown our downtown businesses has been nothing short of amazing and we couldn't have done it without you. Go ahead and take a pause to give yourself a well-deserved pat on the back from us to you! As we head into the holidays, your support is even more meaningful to our downtown and we hope you'll continue to spend your days shopping and dining with our local businesses. Your dollar goes a long way in our community and we have been busy as elves behind the scenes to make your holiday experience everything you deserve.
We know gift giving can get overwhelming so we are here to do the shopping for everyone on your list. Gift giving just so happens to be our favorite love language so… you could call us experts! We've put together the shopping guide below for everyone on your list. With a gift guide this sweet, we won't spill your secret if you pick up one for you and one for them, one for you and one for them, one for y……..
So eat, drink, shop local, and be merry as you cruise through your list of loved ones that deserve a special Downtown Frederick original to unwrap this year.
---
For your far away friends:
Folks on your list are a plane ride away? Just because you can't embrace them in person this holiday season, doesn't mean you can't let them know how much you're thinking about them by sending them a little piece of Downtown Frederick! At any of the places listed below, you can shop, wrap and ship your purchase in store as part of our Shop 'n Ship program this holiday season.
A Lit'le Irish Too | 143 N Market St
Colonial Jewelers | 1 S Market St
Curious Iguana | 12 N Market St
Dancing Bear Toys and Gifts | 15 E Patrick St
DISTRICT Arts | 15 N Market St
Ec'clectibles | 13 E Patrick St
Hunting Creek Outfitters | 29 N Market St
Lebherz Oil & Vinegar Emporium | 214 N Market St
North Market Pop Shop | 241 N Market St
Smooch! Studio | 8 N East St
The Muse | 19 N Market St
The Original Popcorn House | 39 S Market St
Treaty General Store | 30 E Patrick St
---
For all of your local loved ones:
Got a family member or a friend that just can't stop raving about Downtown Frederick? We don't typically pick favorites but hey, just between you and us… they're definitely number one on OUR list! Or maybe you have someone in your life that hasn't yet explored our little corner of the city? We have a treat for all of the above! From a memorable day trip to priceless memorabilia, we have something that will get every local lover in your life talking. So what are you waiting for? Venture over to the best spot around and grab them a gift that will be worth talking about holiday after holiday!
Give them the gift of a day trip in Downtown Frederick with you! There's no present that says "I love spending time with you" quite like planning a day to shop, dine, and make memories downtown together. From escape rooms to art galleries and everything in between, we are the perfect location for a post-holiday hang out with your family and friends. Get started on your itinerary by visiting downtownfrederick.org/blog to view all of our Downtown Frederick day trip guides and put together your own for a gift that will be talked about year after year.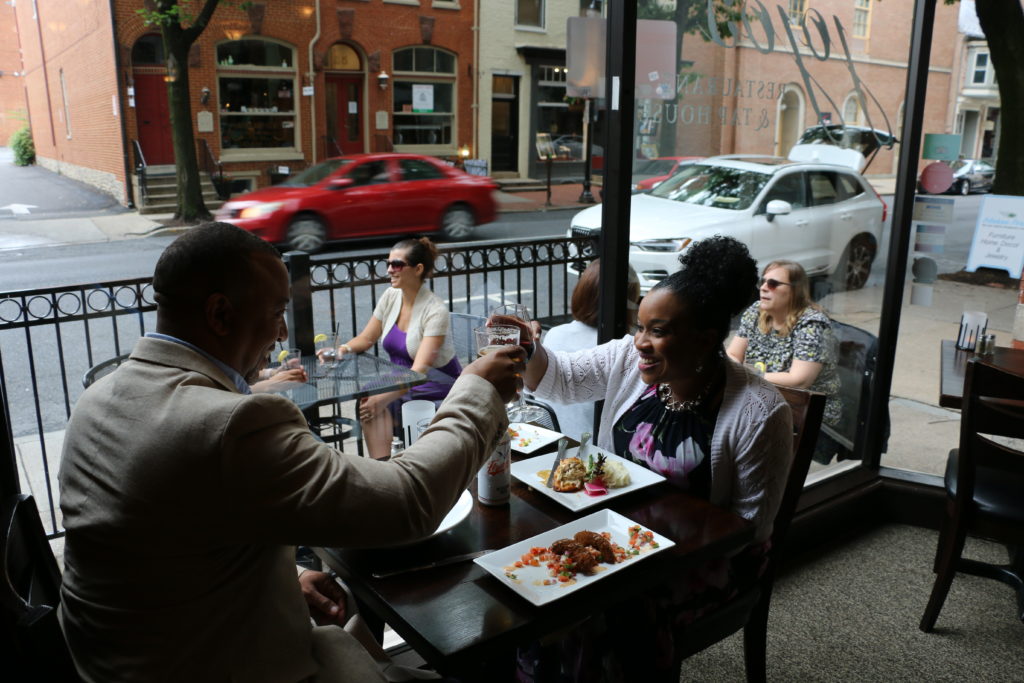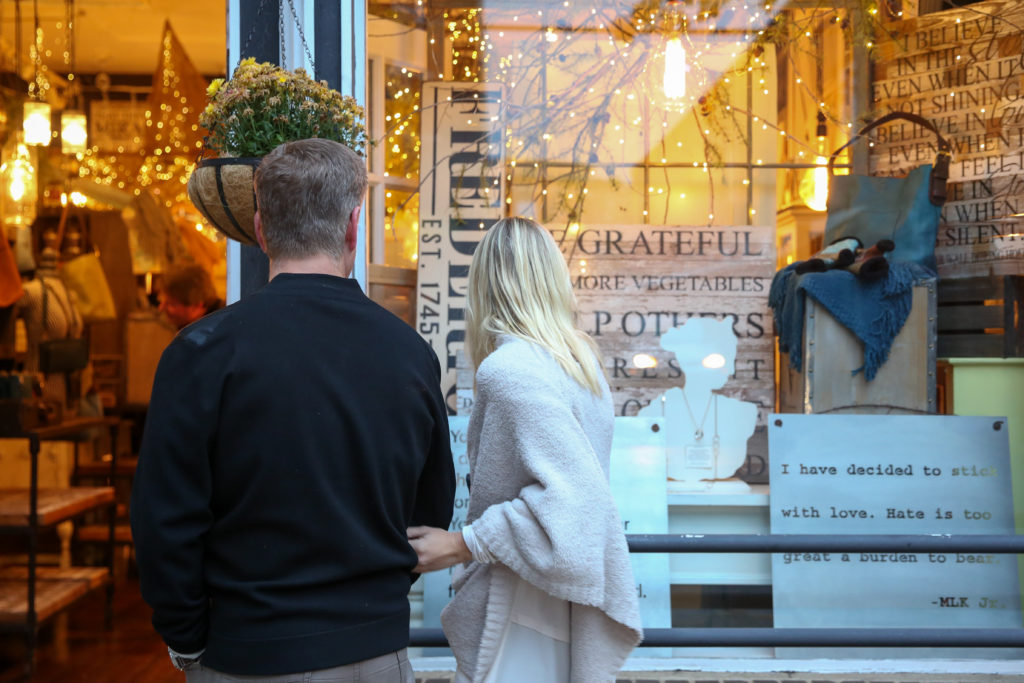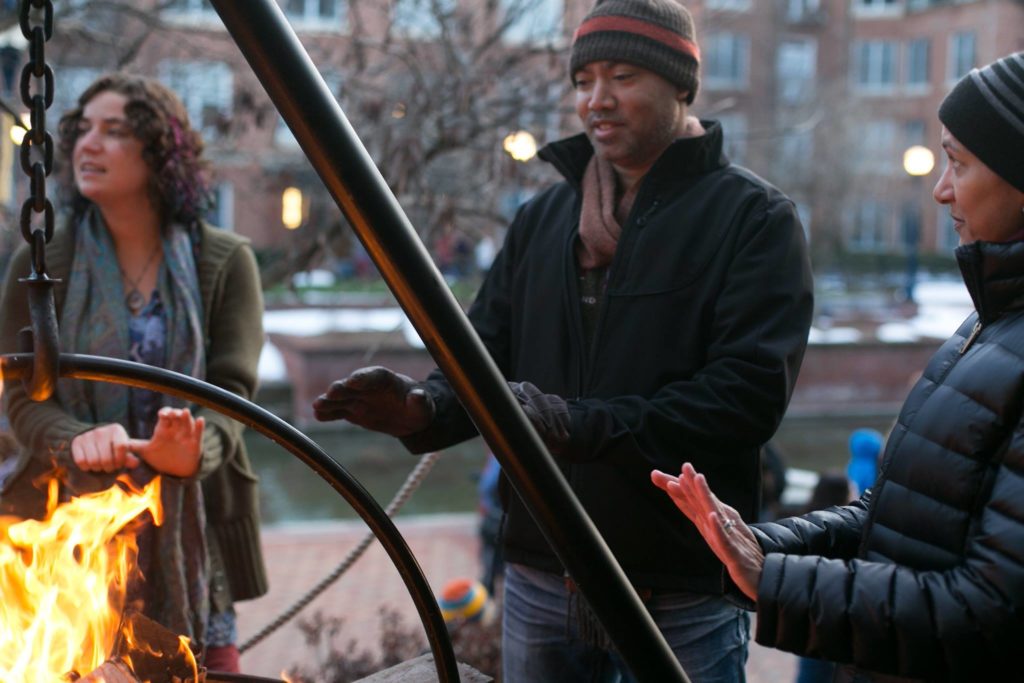 Gift their mind and mouth this holiday season with an interactive tour and tasting trip to one of our downtown distilleries together! No matter where you go, you can expect experienced tour guides to lead you through how to nose and taste a spirit, the distillery production process, and discussing how barrel aging works. When the expertise of our downtown distillers and the "spirit" (…see what we did there?) of a true craft cocktail enthusiast meet, it creates an experience that is truly the gift of a lifetime!
Tenth Ward Distilling Company | 55 E Patrick St
McClintock Distilling Co | 35 S Carroll St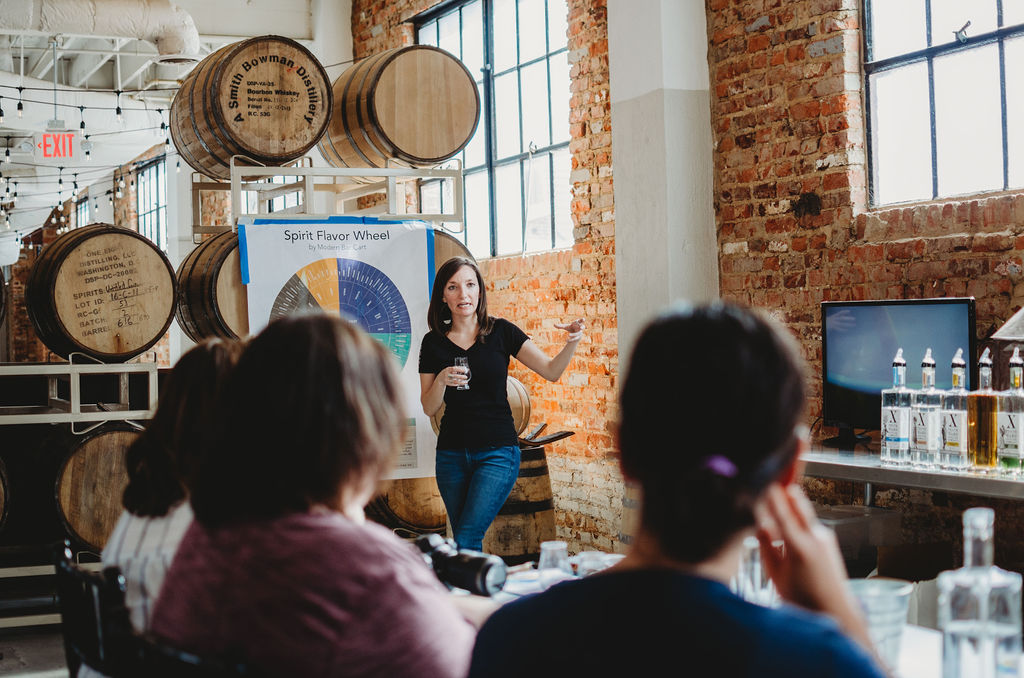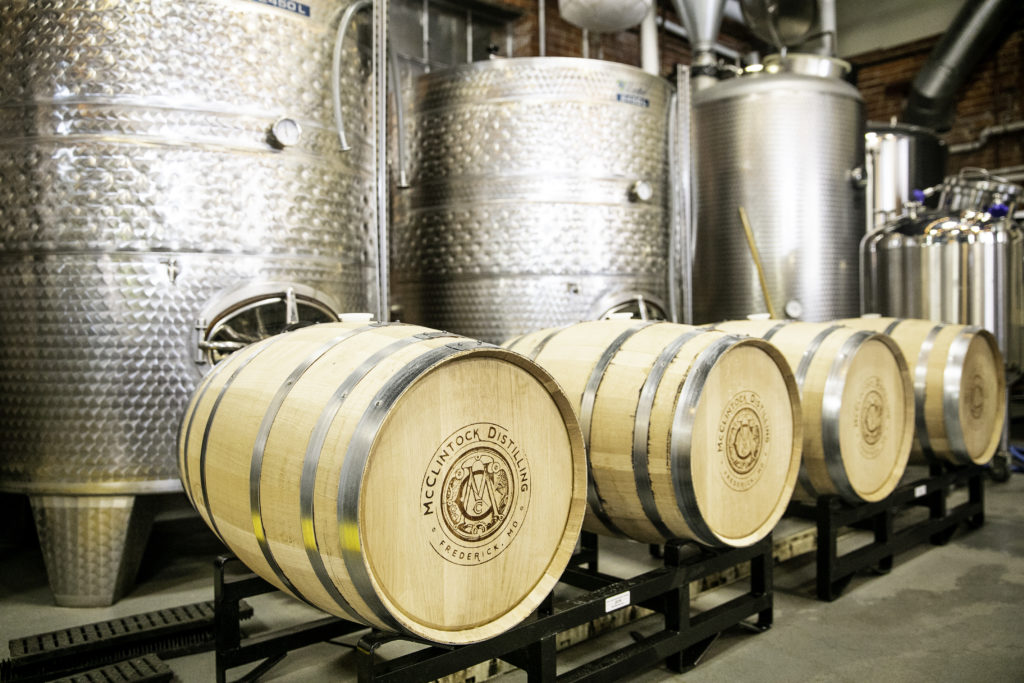 Give Tickets to the Roads and Rails Museum! Give the experience of a lifetime with tickets to one of the world's largest and most detailed model train miniature worlds.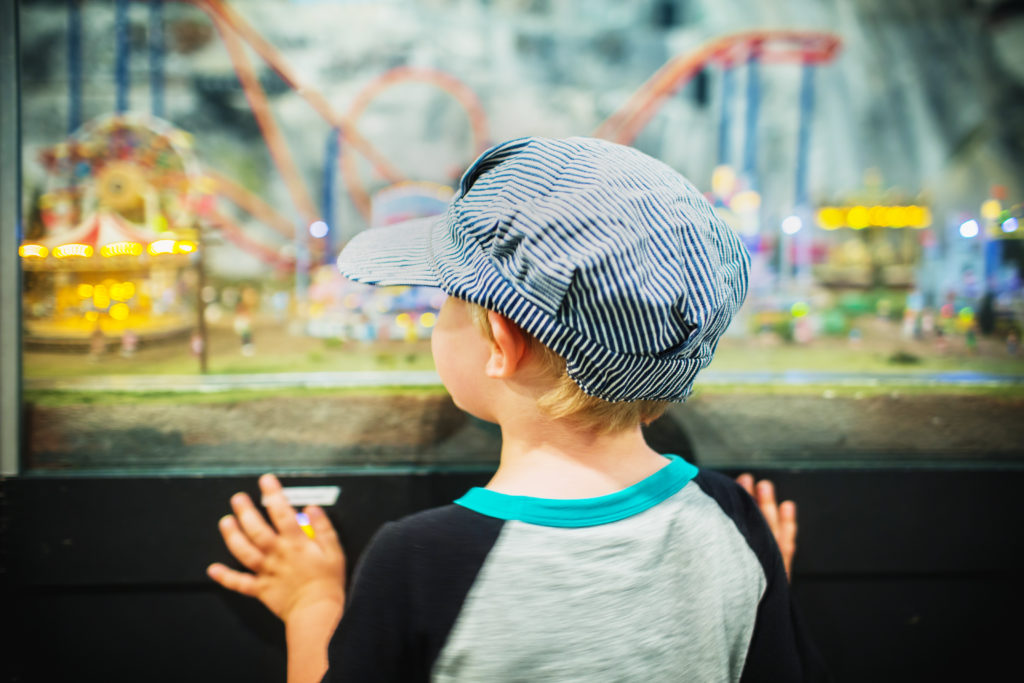 Take them out to dinner at Downtown Frederick's very own authentic Irish pub – Bushwaller's GastroPub! Immerse yourself in all the tastes of Ireland. Authentic Irish fare like Fish N Chips, Shepherd's Pie, Corned Beef & Cabbage, & Reuben Sandwich. Our draft system was originally installed by Guinness, so you know it is always a perfect pour. Warm your soul with 1 of our over 70 whiskeys. Our friendly staff is ready to welcome you.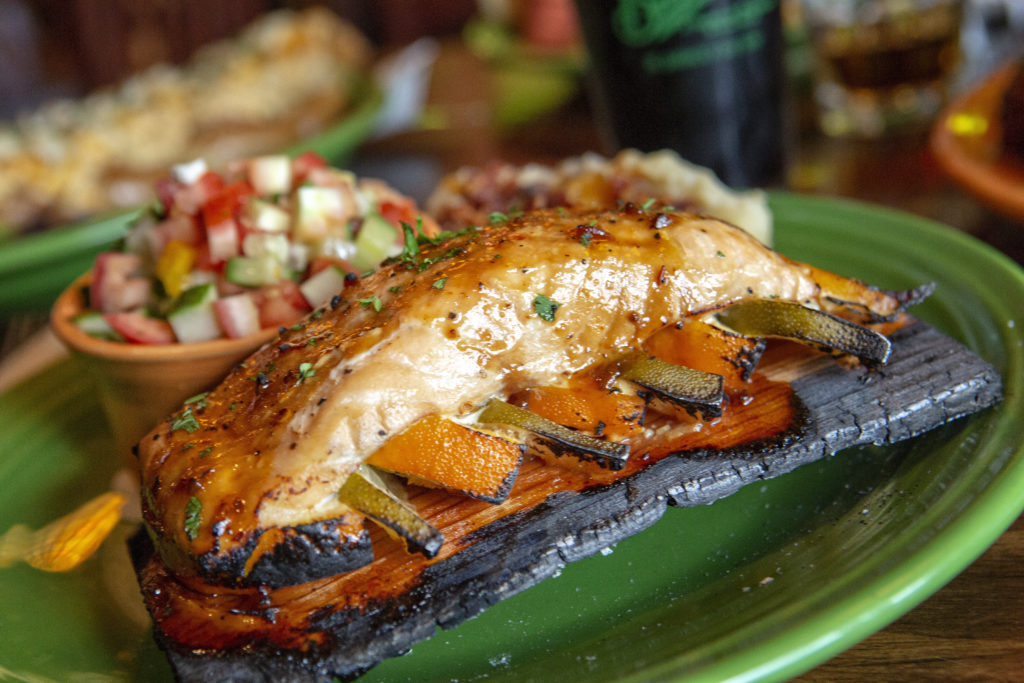 ---
For the artist on your list:
Support the art lover's collection on your list while supporting local artists as well! Downtown Frederick is honored to have several art galleries find their home here. For a gift that is created to spark joy and be proudly displayed, look no further than your local art galleries around just about every corner.
Delaplaine Arts Center | 40 S Carroll St
DISTRICT Arts | 15 N Market St
Eastside Artists Gallery | 313 E Patrick St
Gallery 322 | 322 N Market St
Little Art Room | 209 W Patrick St
NOMA Gallery | 437 N Market St
Potter's Guild of Frederick | 14 S Market St
TAG/The Artists' Gallery of Frederick | 428 N Market St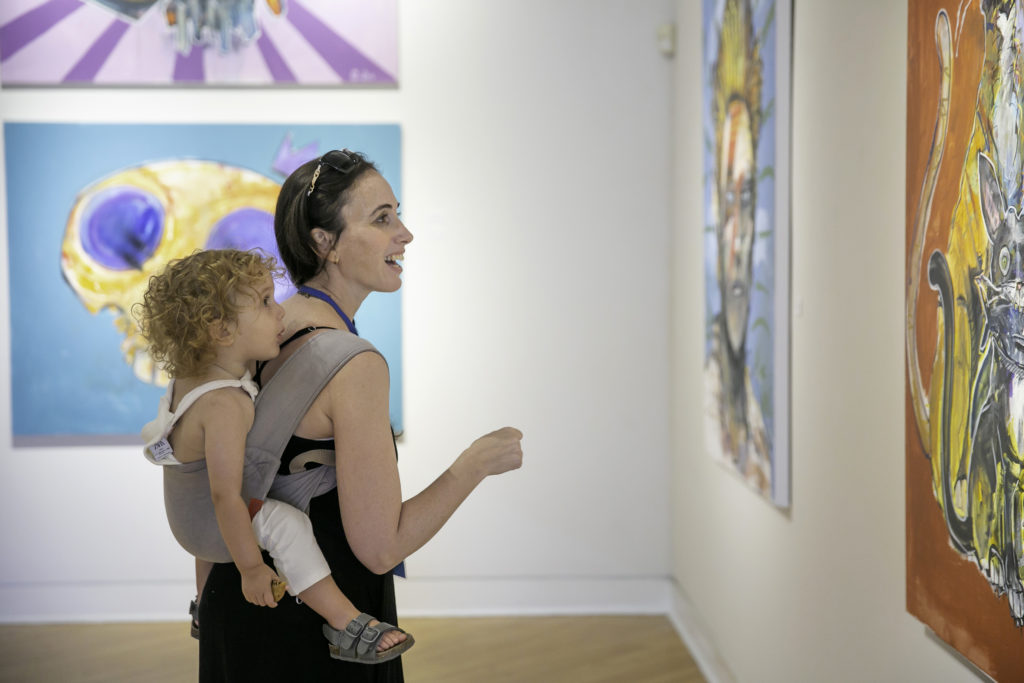 DISTRICT Arts gallery artists Julie and Ken Girardini designed and made these ornament trees in their Sykesville, MD studio. It is perfect for your mantle or table-top display. Guaranteed to make your holiday ornaments sparkle with joy! The tree makes displaying seven of your favorite special ornaments easy. Lacquer coated steel. 25" tall x 18" wide x 4" deep. Ornament hooks provided. $275. (Ornaments not included.)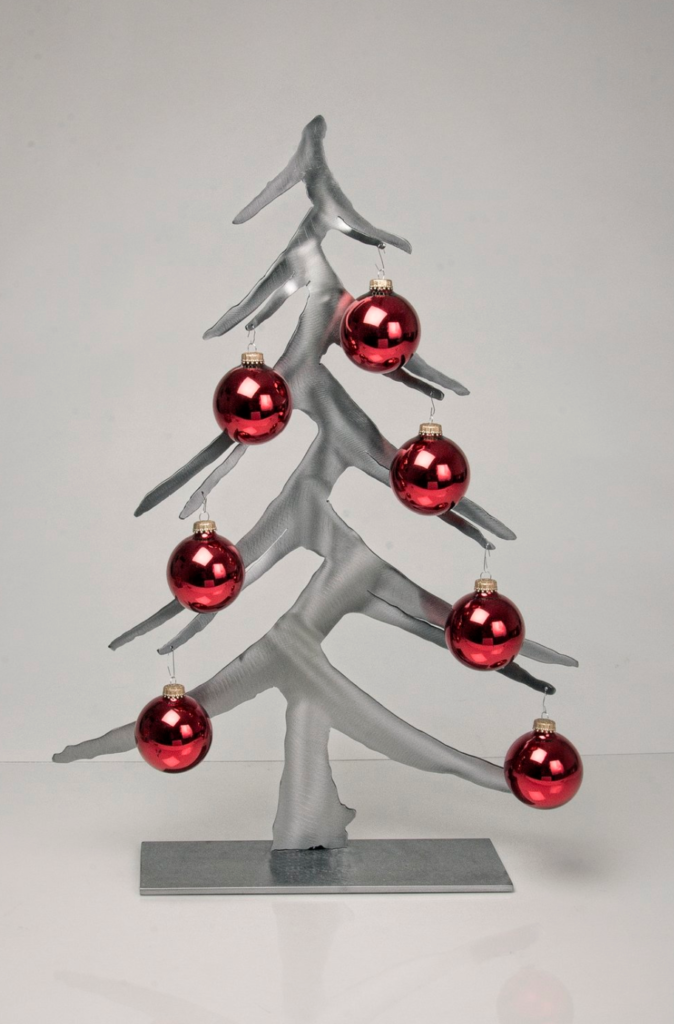 Planning on gifting your own art or photos? Frame your masterpiece perfectly with the experts at Bravura Arts & Framing! Or if you can't find that perfect gift for someone on your list, frame a memory! Bring them a family heirloom, a treasured momento, or photographs of special times, and allow them to create the perfect gift that will be treasured for years to come.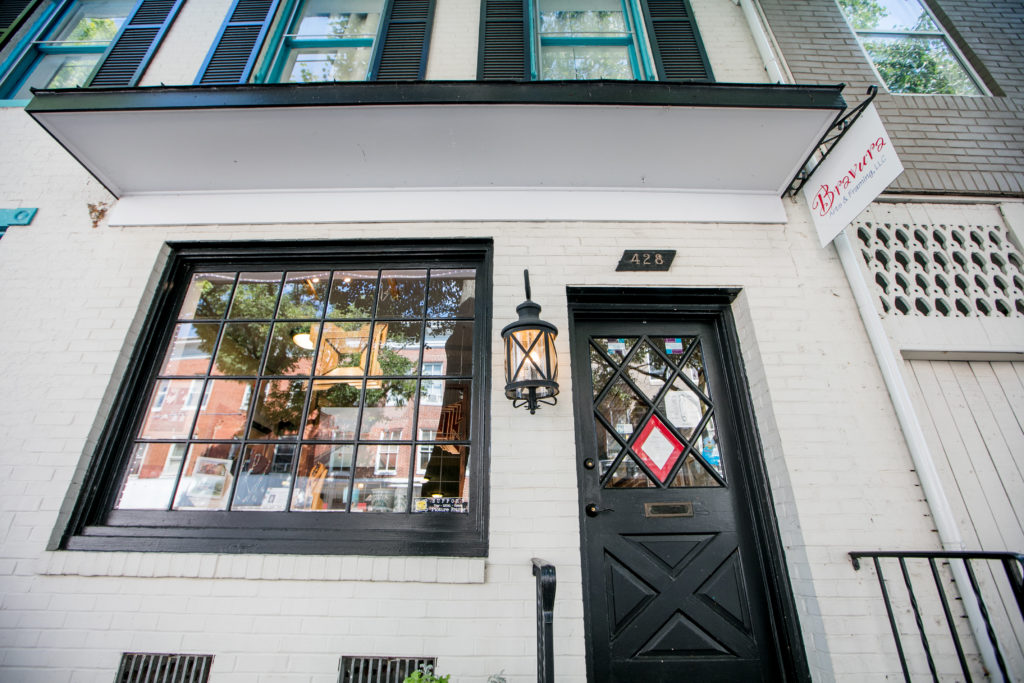 Create together with the gift of a visit to i made this! pottery studio together! Or head there before the holidays and make a one of a kind, handmade gift from you to them! Stop in to create a gift straight from the heart for anyone on your list this year.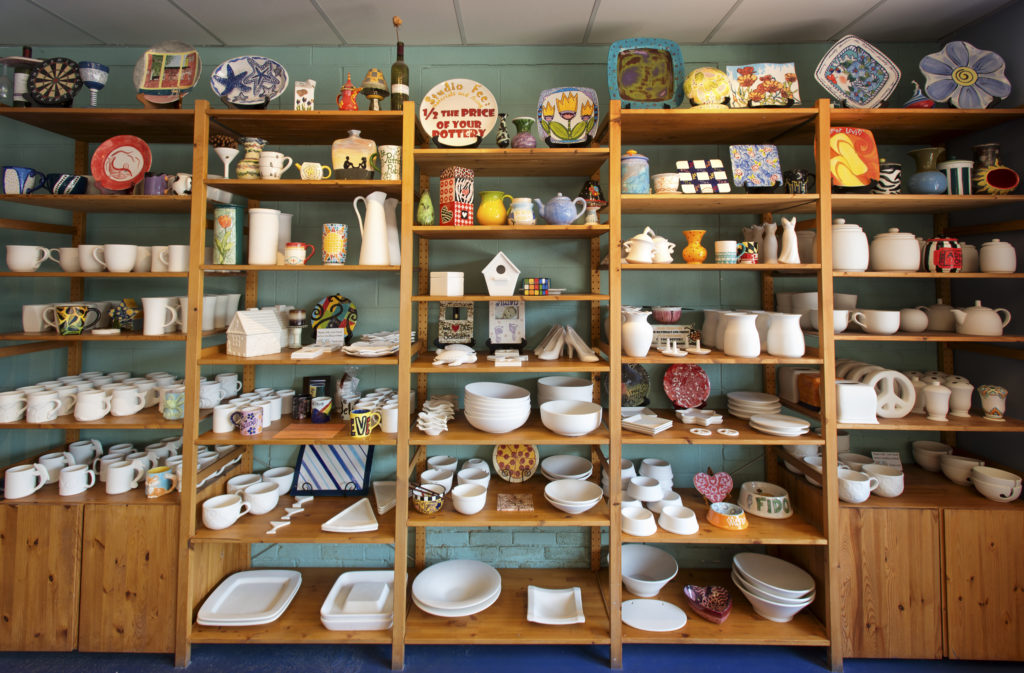 ---
For the one with a wild imagination:
Travel the world with Curious Iguana's recommendation of "Humans" by Brandon Stanton. This author created "Humans of New York" in 2010. What began as a photographic census of life in New York City soon evolved into a storytelling phenomenon. A global audience of millions began following HONY daily. Over the next several years, Stanton broadened his lens to include people from across the world. Traveling to more than forty countries, he conducted interviews across continents, borders, and language barriers. Humans is the definitive catalogue of these travels. The faces and locations vary from page to page, but the stories will feel deeply familiar.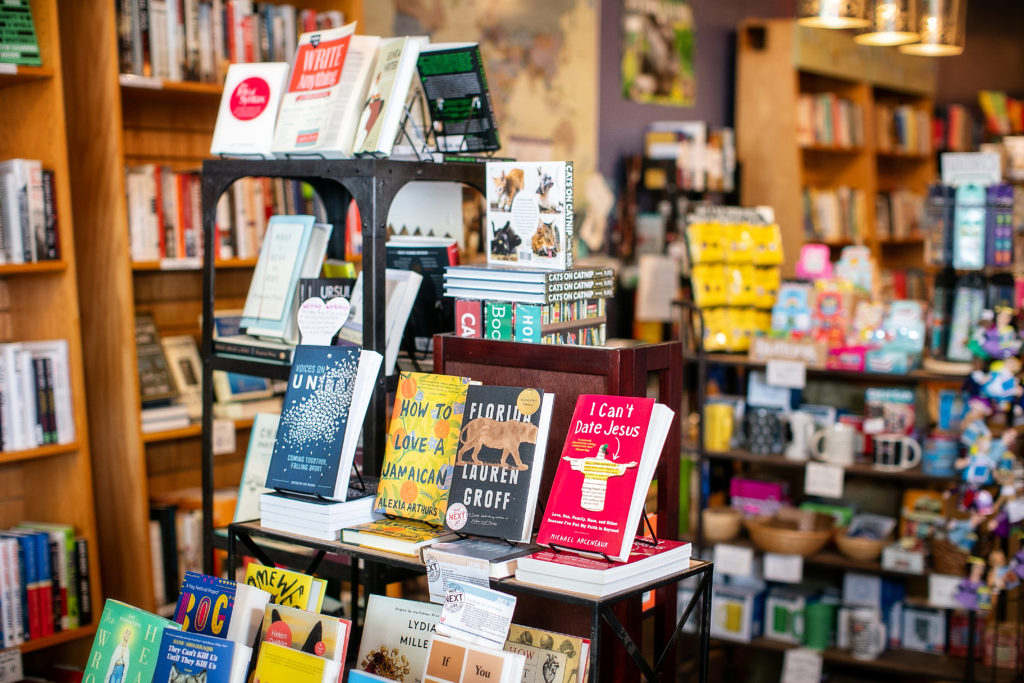 Give the gift of creativity with a bookbinding kit from Frederick Book Arts Center! Their popular basic bookbinding kit comes in a hard case with a bonefolder, glue brush, 4 spools thread, awl, cutting tool, curved needles, straight needles, clips, thimble, pencil, scissors, wax on roll, ruler, and box. This is the perfect kit to embark on a bookbinding journey! Size: 9×5.5×2.5″.
---
For your pampered pal:
Everyone deserves this holiday treat! There's no way to recognize how much someone does for you quite like treating them to a self care day at one of our many downtown spas, salons, or massage studios. A picture may say a thousand words but a gift card for the ultimate self-care day says it ALL!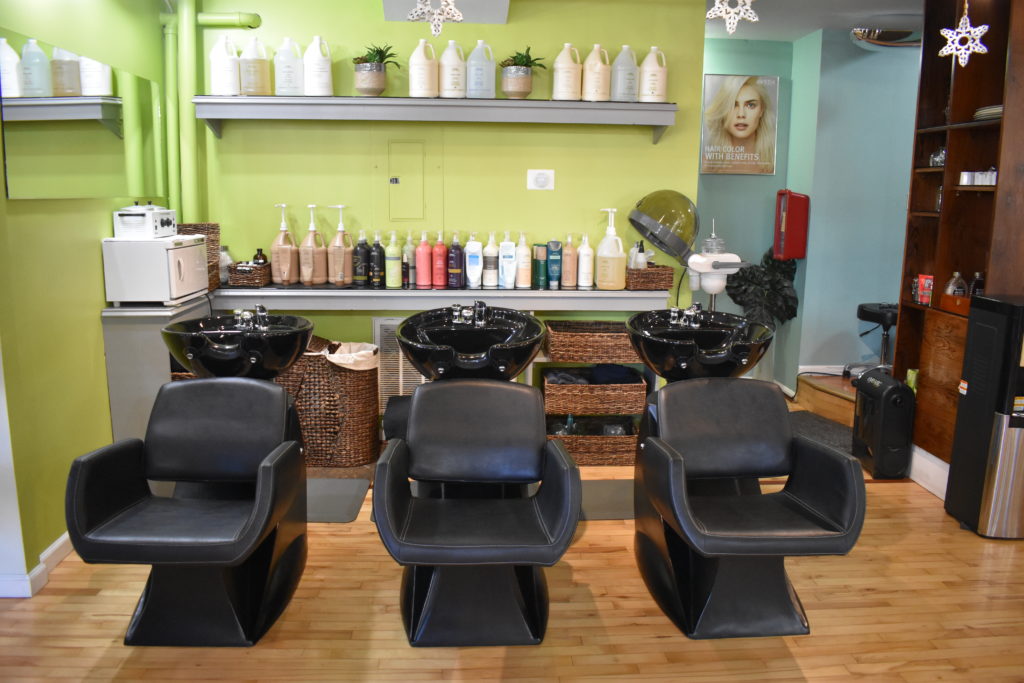 Give the gift of self care – A Gift Card from In Balance Massage Therapy for a massage is a gift everyone wants (and needs!) this holiday season!
Give yourself and those you love the gift of tender loving care and a relaxing healing experience through a session of Massage, Reiki or Reflexology with one of our highly professional and amazing practitioners at Om Chakra.
---
For the worker bee:
Can't stop, won't stop is their motto? Great, they don't have to! Give the Energizer bunny in your life the power to keep on going with some of the ideas below! This holiday season, help the busy bee in your life turn their to-do list into a to-done list before the new year!
A great alternative when the usual work place just isn't working. Give (or get for yourself) a book of 5 passes, each good for a day at Cowork Frederick. Passes are transferable and never expire. Use coupon code "2020HOLIDAY" before 12/31/20 to get 10% off the already discounted price.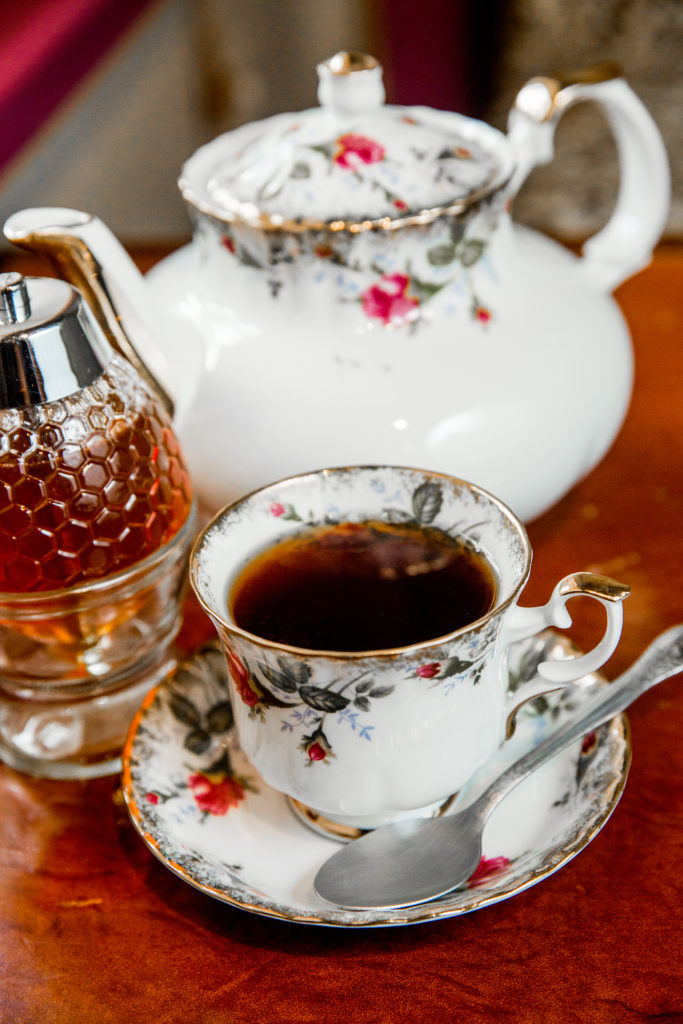 Treat a loved one to a cup of coffee or tea or remind them of your thoughtfulness on their next morning commute with a gift card to their favorite local spot. Downtown Frederick is a tea and coffee-lover's paradise with so many delicious spots to choose from, you may just have to stop by a few!
Beans and Bagels | 49 E Patrick St
Serendipity Market & More | 14 E Patrick St
Cafe Nola | 4 E Patrick St
The Perfect Blend Cafe | 31 W Patrick St
Frederick Coffee Co. & Cafe | 100 N East St
Glory Dough and Diner | 244 E Church St
Starbucks | 104 N Market St
North Market Pop Shop | 241 N Market St
Up On Market | 301 N Market St
Voila! in Frederick ~ Special Teas and Other Goodness | 10 N Market St
Shab Row Tea Emporium | 112 N East St
Spice and Tea Exchange | 28 E Patrick St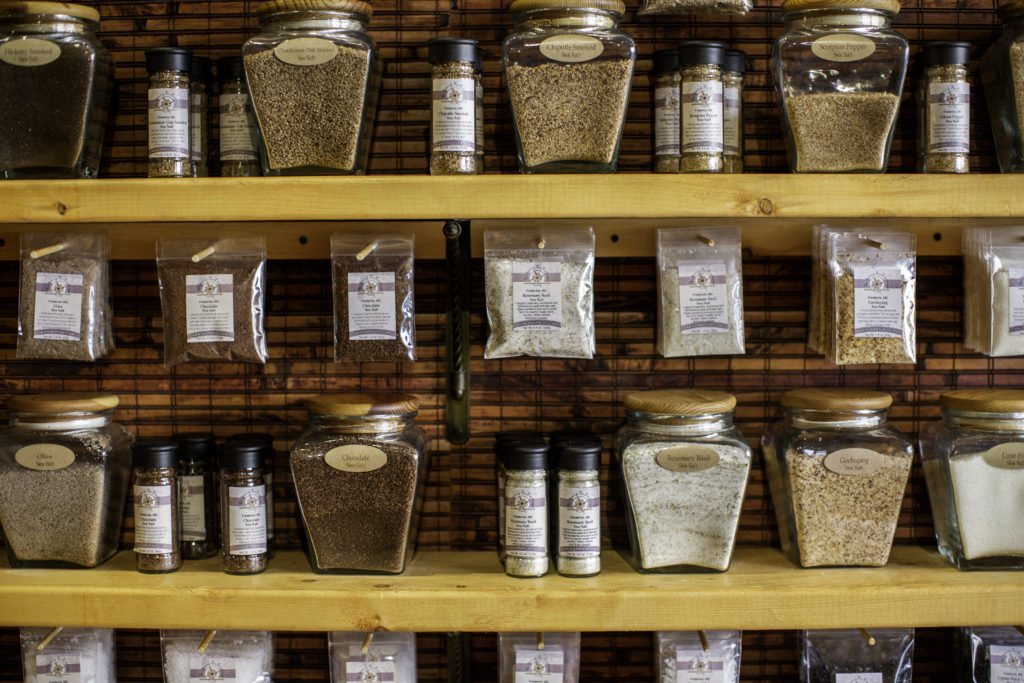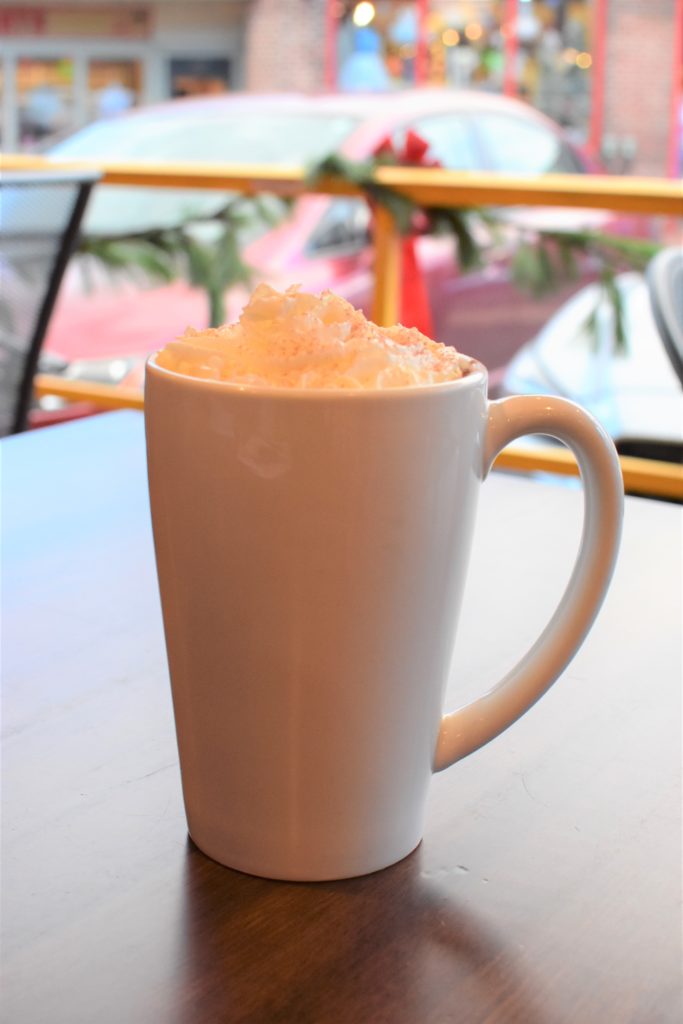 ---
For the one on your list that never stops exploring:
Adventure is this person's middle name – and we're here for it! Get them set up with all the necessities they'll need for their next trip into the great outdoors.
Stop by The Trail House and get your adventurer all the latest and greatest in gear they'll need for their next expedition! Be sure to check out the winter must-haves guide they've created for every lover of the great outdoors to keep you cozy and comfy this holiday season!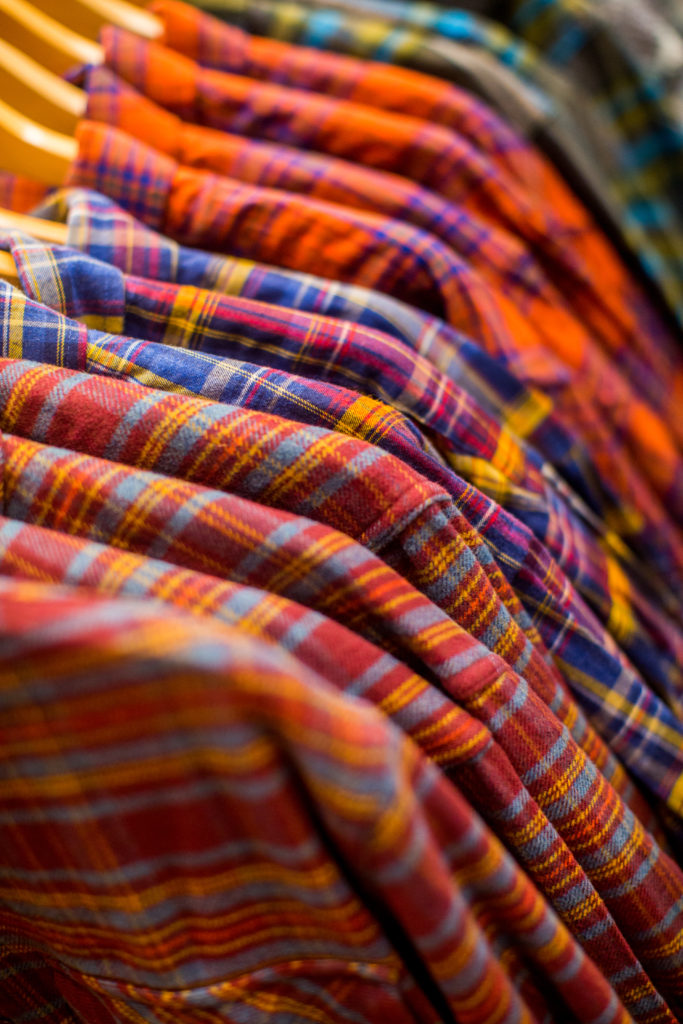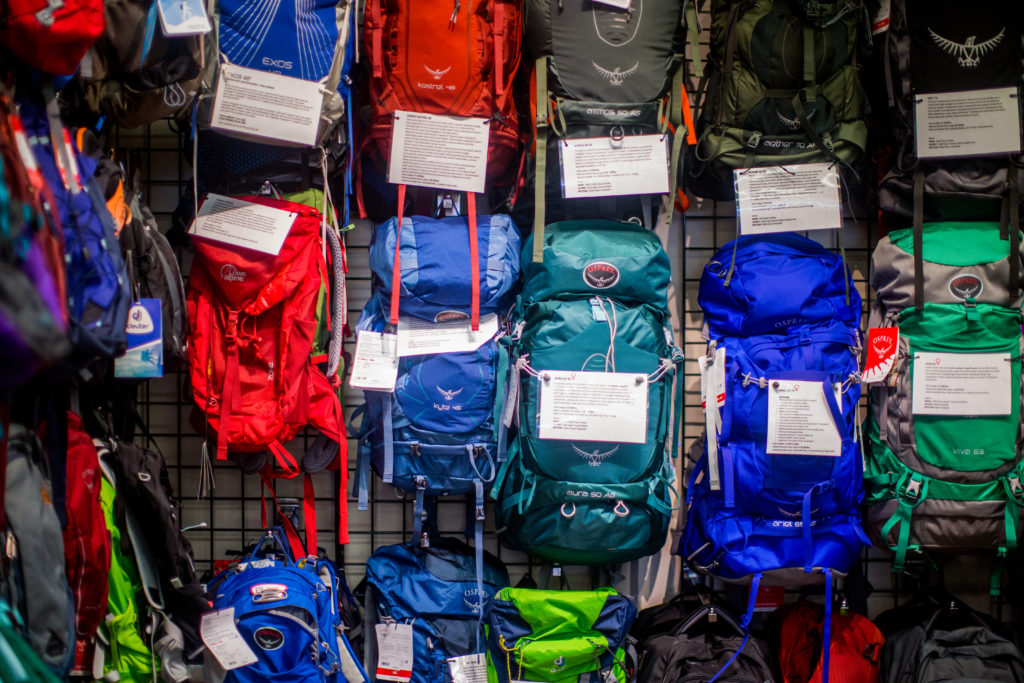 Grab some Magic Yule Logs for your favorite outdoorsy friend before their next camping trip! Watching the magic of the dancing campfire flames will surely be a memory and a gift they will cherish. Stop by Tiara Day to get yours before they're gone!
Outfit yourself and your loved ones before heading out for your next post-holiday adventure in iconic sporting clothing and gear from Barbour, Orvis, Pendleton and more. Classic looks like these that never go out of style can be found at Hunting Creek Outfitters.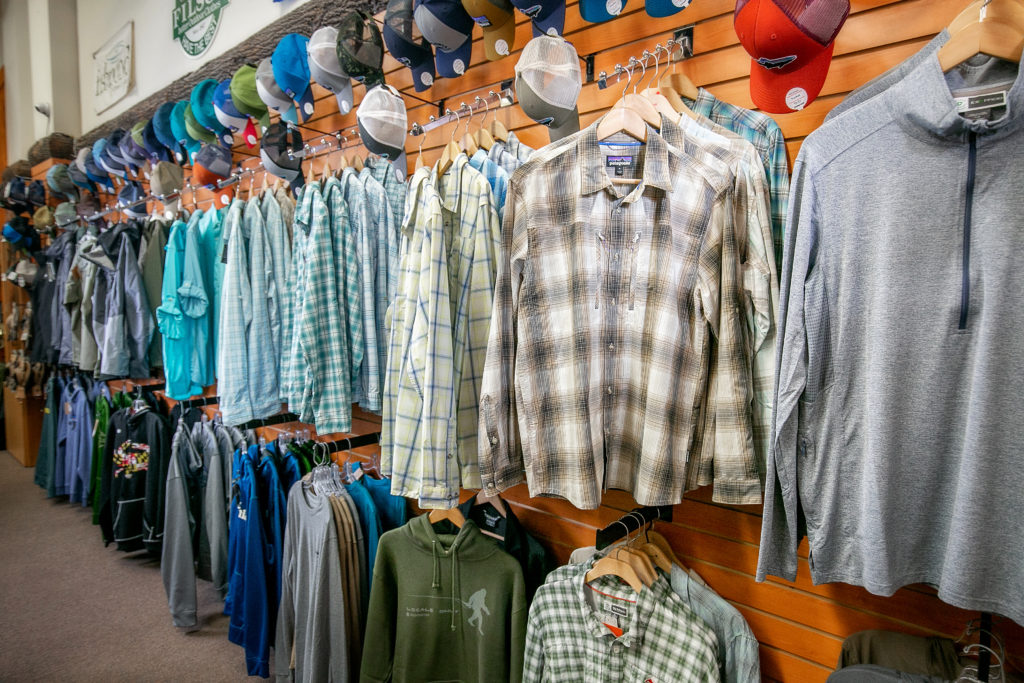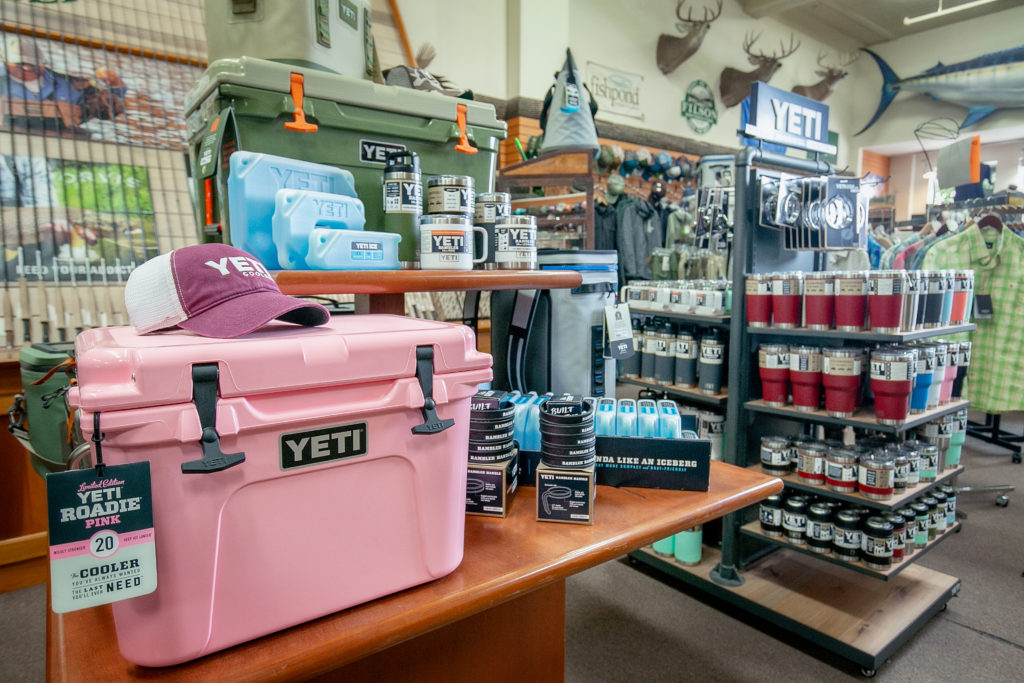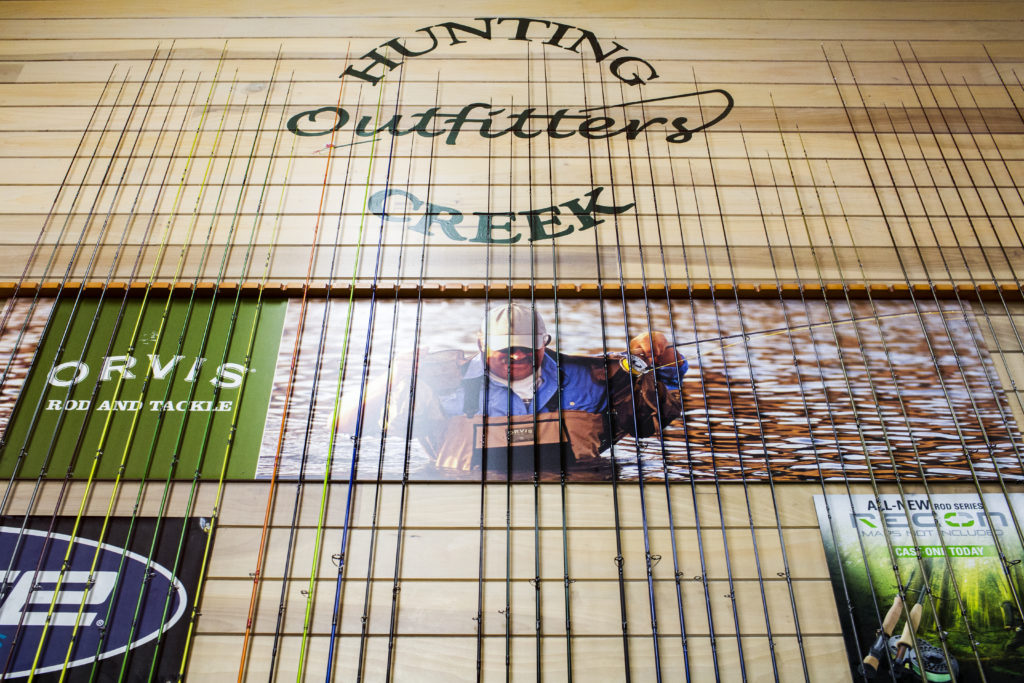 ---
For the foodie in your life:
For your loved one that is a self-proclaimed food blogger, chef-at-heart, or just the person that can appreciate a great meal… downtown is loaded with options that will make their taste buds do a little happy dance! Don't sweat this gift, there is absolutely no way you can go wrong checking this one off your list! So shall we say, Bon Appetit? *chef kiss*
2020 has been the year of trying new recipes! Whether you're spending more time cooking at home or want to expand your cooking expertise, The Kitchenette has the gadgets, bakeware, and cookware for all your culinary needs. Many of our products are USA-made – from cookie cutters to rolling pins to cutting boards, we have hundreds of items that are ideal for gift-giving whether that special someone is a novice in the kitchen or an experienced cook.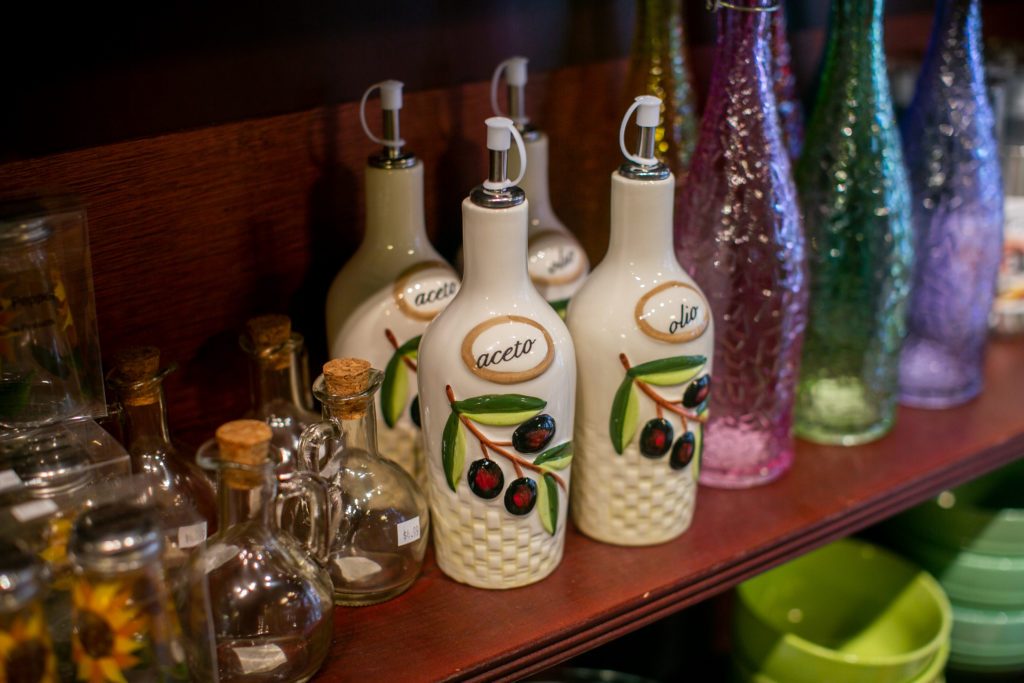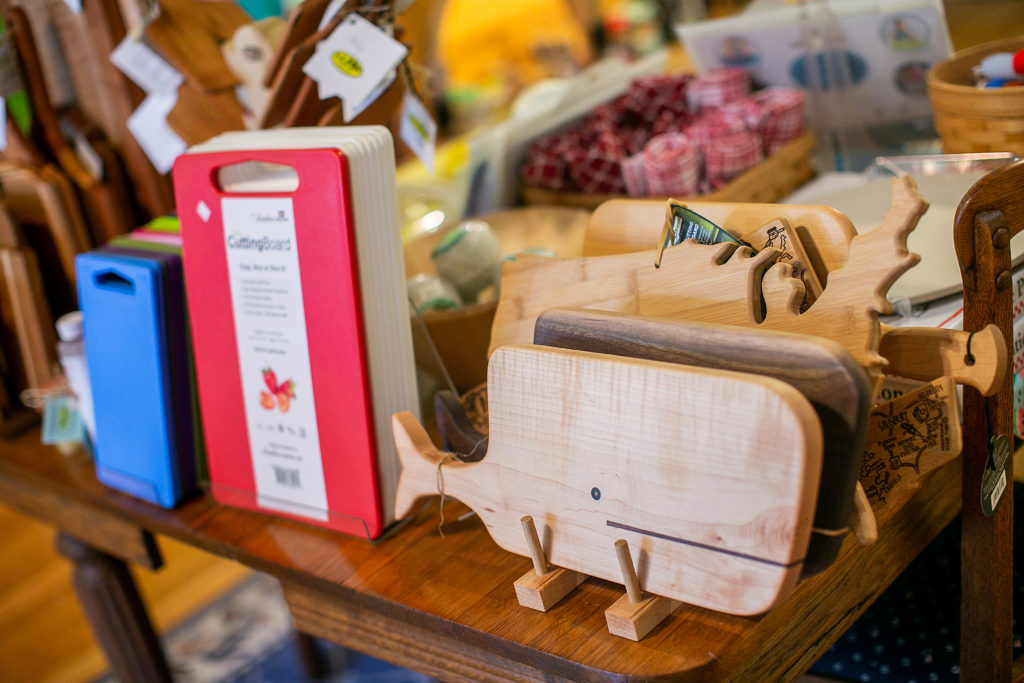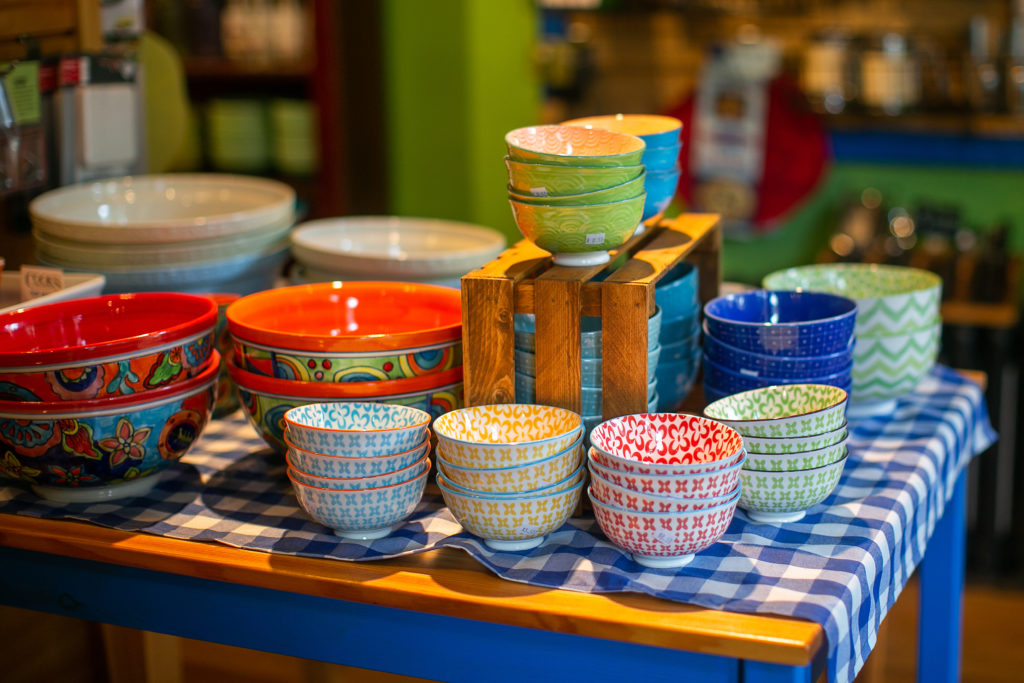 Grab The Mini Six Pack from The Pasta Palette for all the food-lovers on your list this year! This is a pasta sampler consisting of 1/4 pound samples of 6 different pastas. We have three versions: "Favorites" which contains our most popular flavors, "Delicious Desserts" which contains our chocolate & lavender pastas, and "Hot n Spicy which contains out favorite hot pastas. The samples are arranged in a 6-pack carrier with a bow – their taste buds will thank you!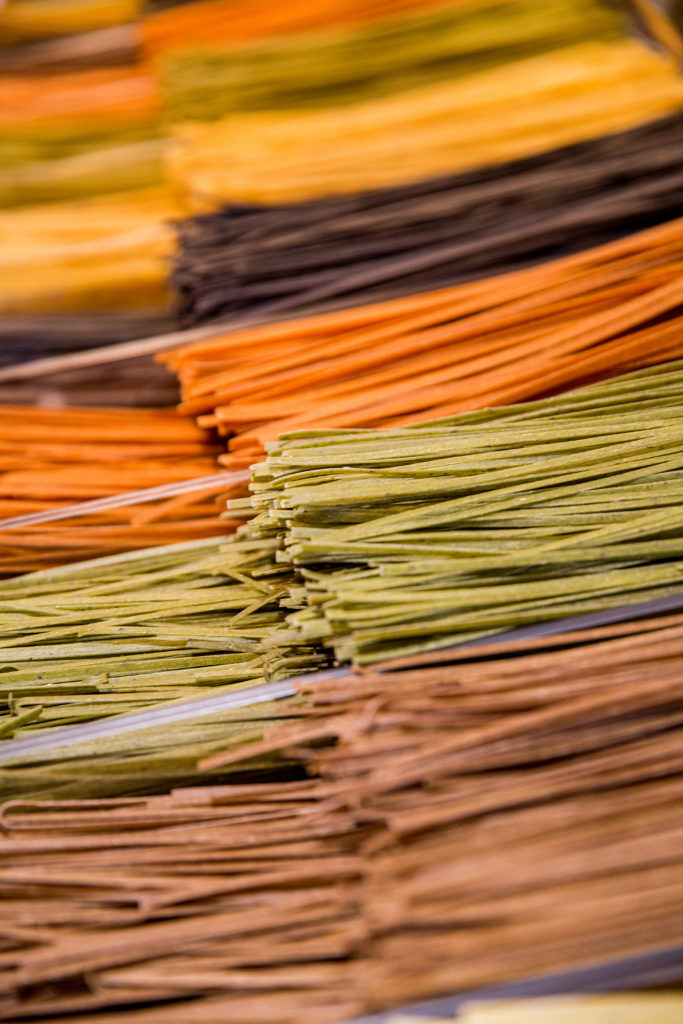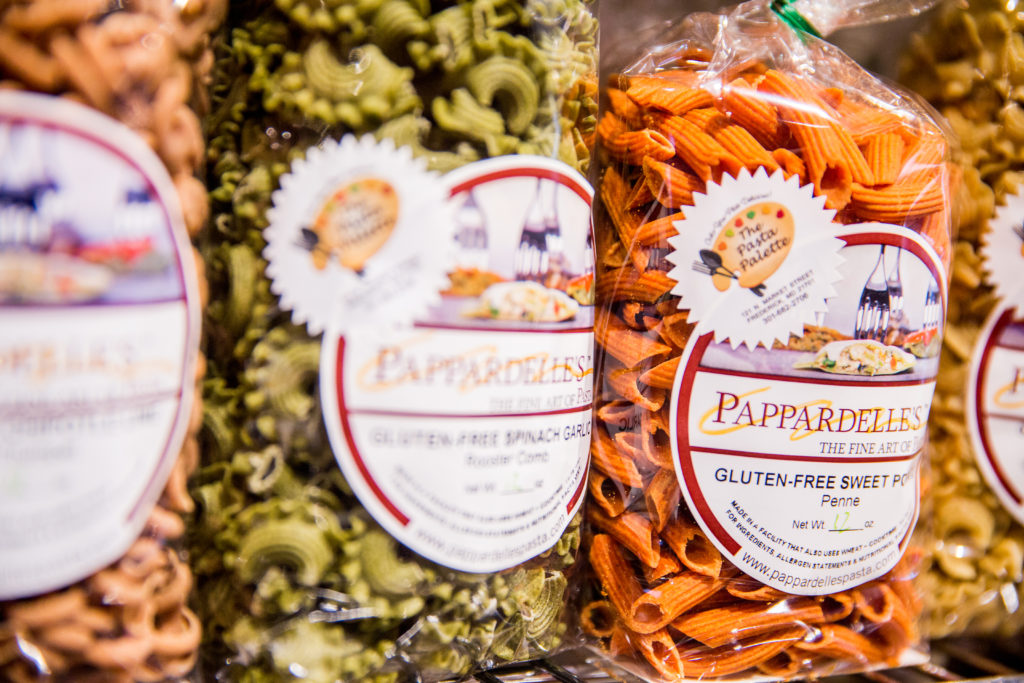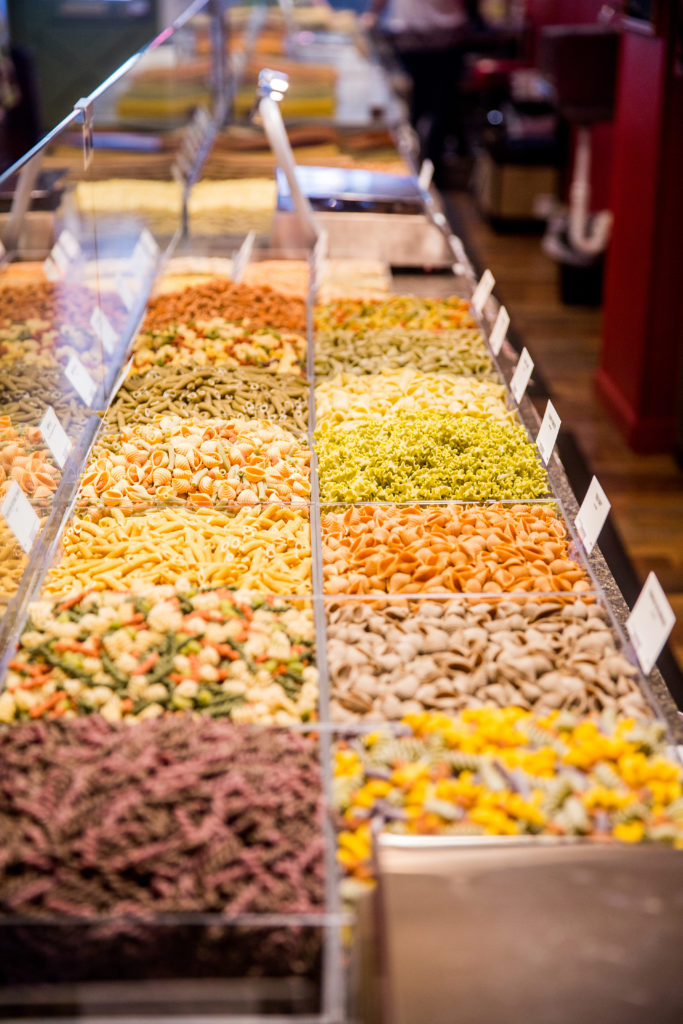 The Take Home Pretzel Making Kit from Pretzel and Pizza Creations has everything the chef-at-heart needs to make a dozen soft bake pretzels (or even a pretzel pizza crust) from the comfort of your own home! Simply add water and get rolling! The perfect gift for any pretzel lover or PPC fan, young or old. Is that a brand new family tradition we smell… or are our pretzels just finished baking? Either way, definitely stop in and grab this one-of-a-kind gift to bring a taste of Downtown Frederick right to your kitchen!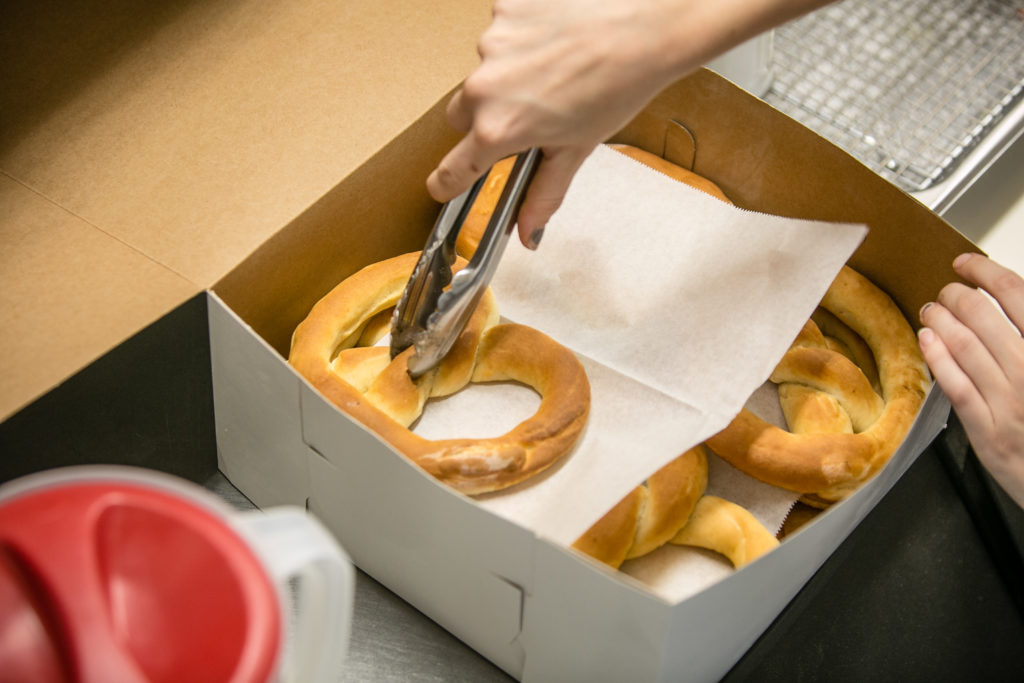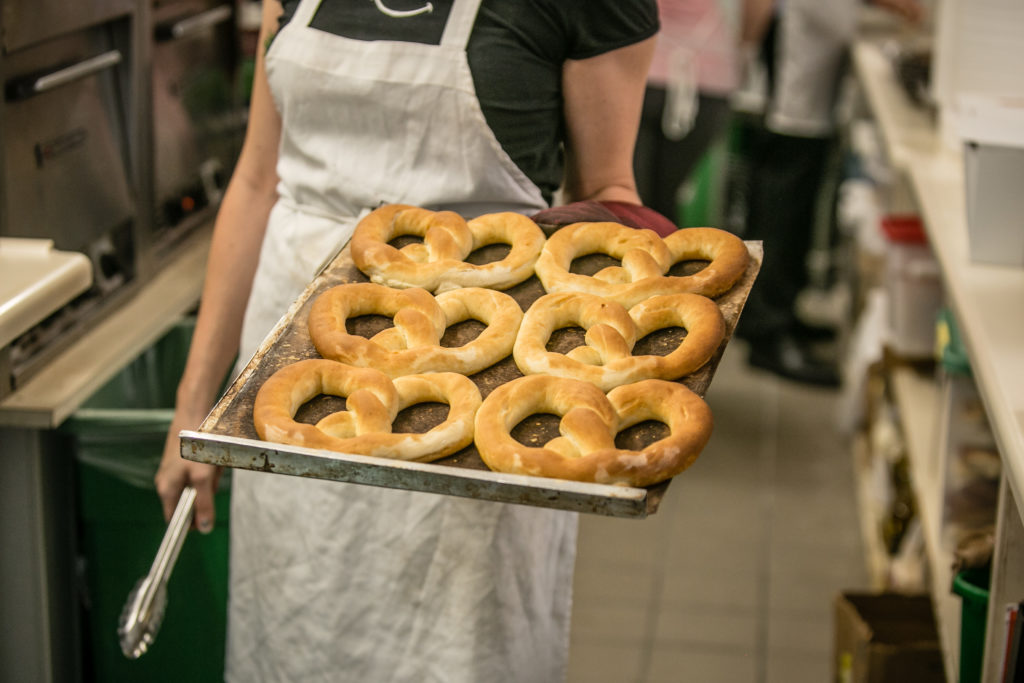 A brand NEW release for your foodie friends, our pals at Lebherz Oil & Vinegar Emporium have a delicious Italian Pesto Olive Oil that will transport you straight to Italy! Made with basil, garlic and Calabrian Chiles- it has a slight kick that you will L.O.V.E! Grab it quick because it's only here for a limited time!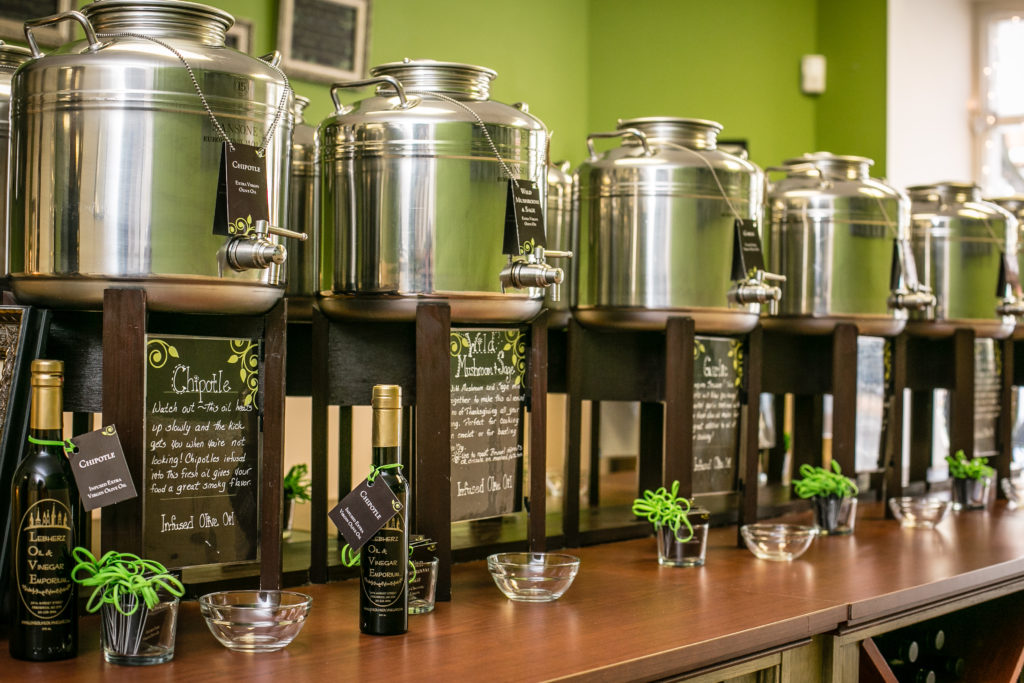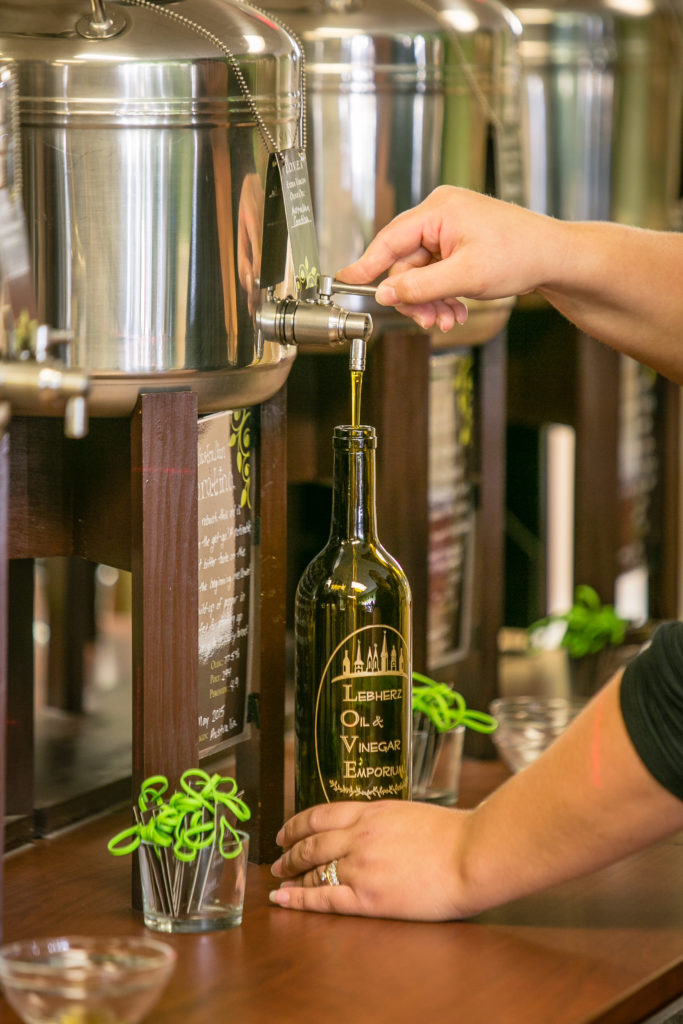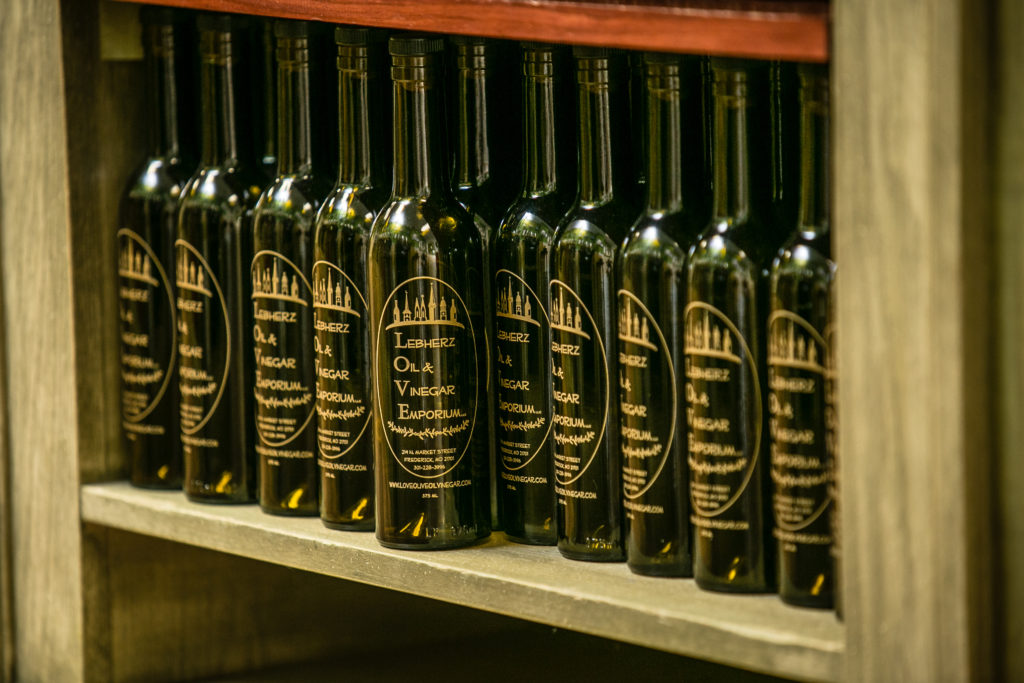 ---
For the fashionista that makes every walk a runway:
Tell the fashion-forward folks to prepare to strut their stuff this season! With so many boutiques and shops to choose from downtown, there is something for hot and trendy to classic and chic. Happy shopping!
Sisters in Style has a pile of smokin' clothes, the best jeans, cute gifts, so many awesome purses, and a super soft scarves collection too! We are sure you will find the perfect present for any woman in your life this holiday season!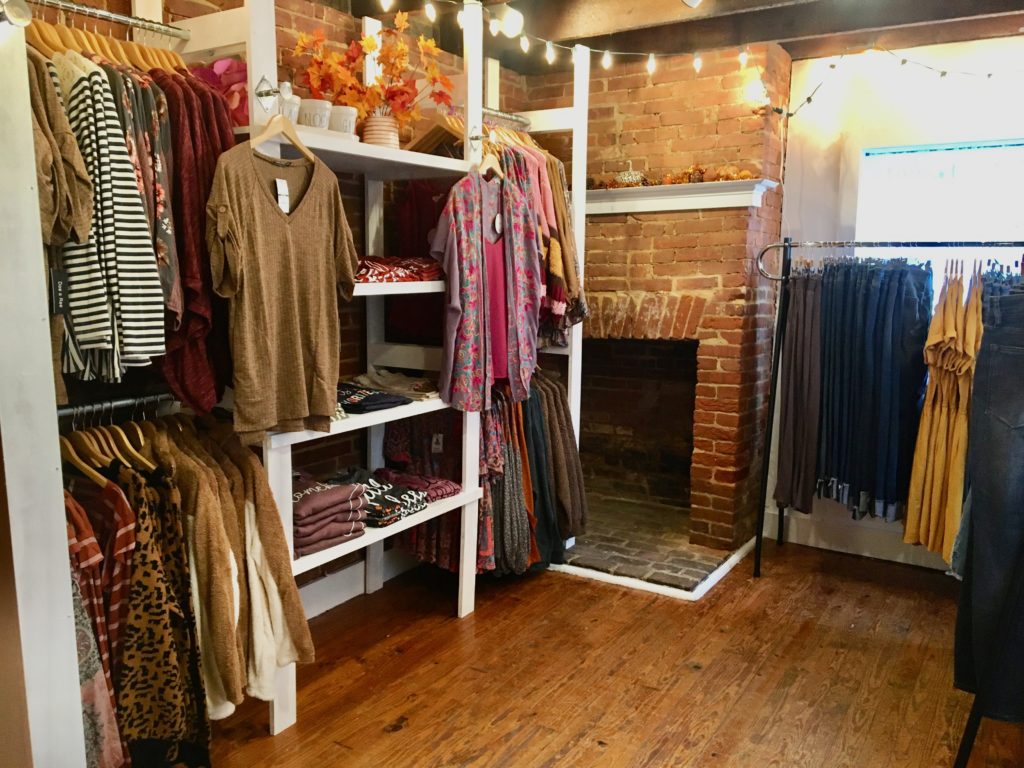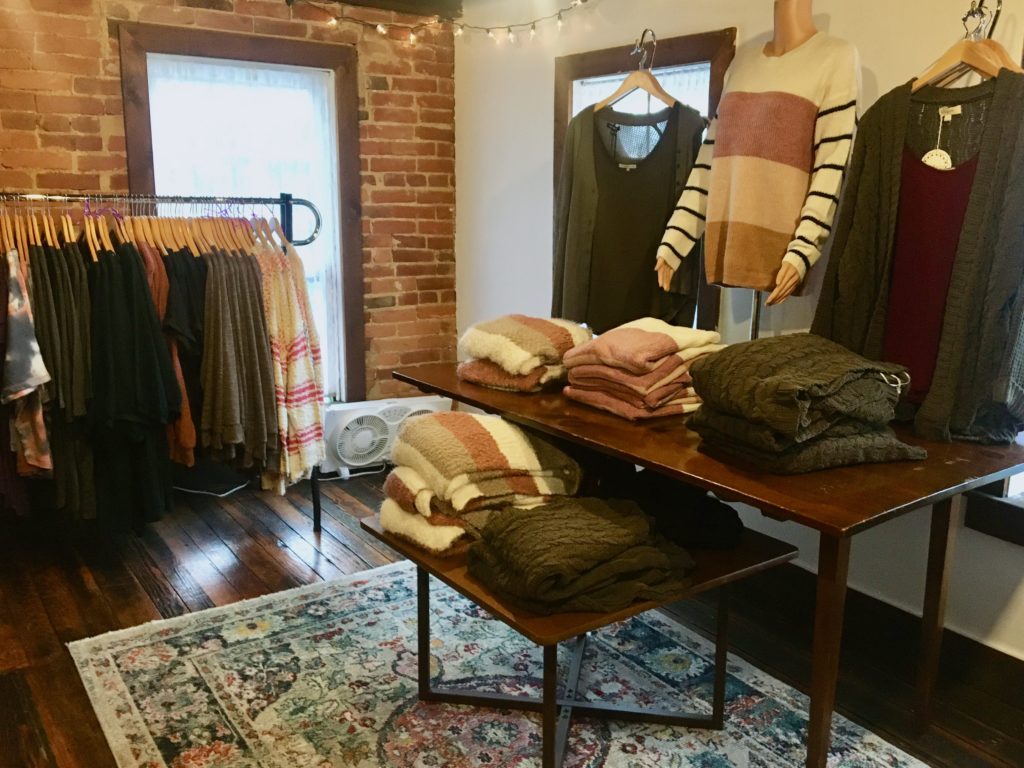 This cozy jacket from Molly's Meanderings is the perfect way to wrap yourself in comfort on those chilly days outdoors or when you're snuggled up in your pajama's. Unisex styling.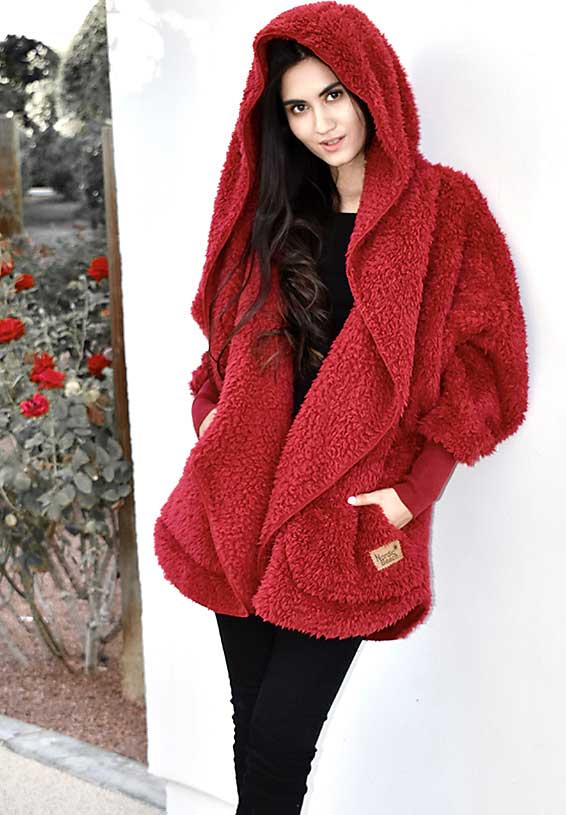 ---
For every sweet tooth on your list:
Calling all the candy lovers that have already cruised through their Halloween candy… we feel you! The good news is the holidays are right around the corner and Downtown Frederick is a satisfying destination for all of the chocolate lovers in your life!
Chocolate, candy, and sweets, oh my! Anyone with a sweet tooth can put their search to rest! Grab a gift card or a box of assorted candies for anyone on your list at downtown's sweetest locations.
Perfect Truffle | 25 N Market St
Frederick Fudge & Ice Cream | 253 E Church St
Zoe's Chocolate | 121 N Market St
Candy Kitchen | 52 N Market St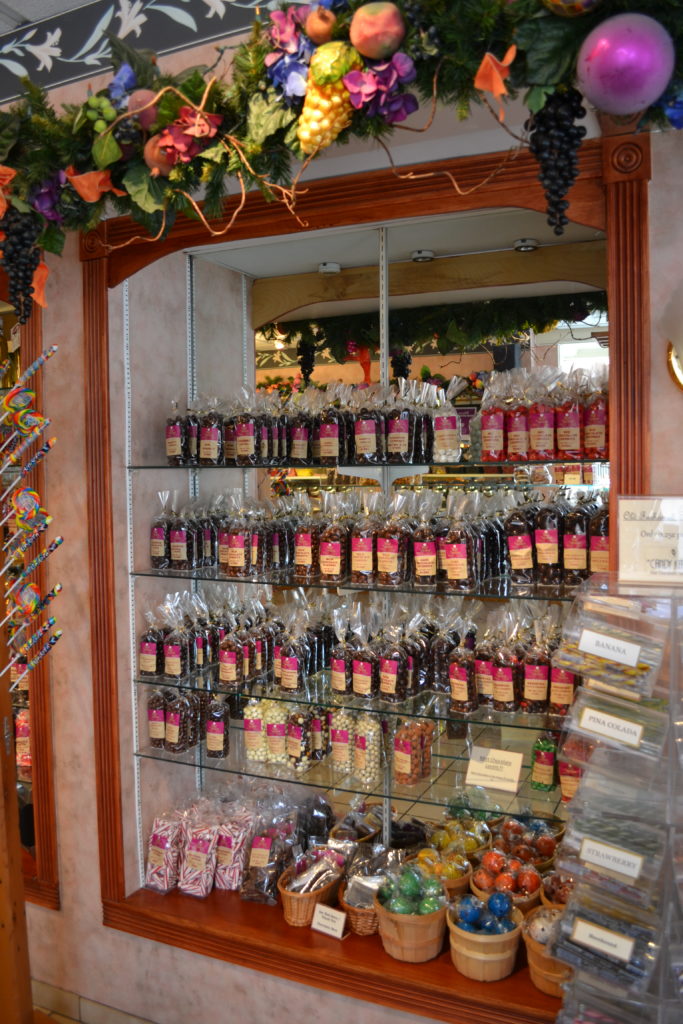 ---
For the interior decorator:
Whether you're updating your own house pre-holidays to safely invite loved ones over to celebrate, or you know someone on your list that is in the midst of an exciting home update… we have everything you need to make your dream home a reality.
These gorgeous, hand painted, resin trees are the perfect addition to any mantel or tabletop and come in a variety of colors and sizes. Head to Dream House for these and all of your other home décor needs this holiday season.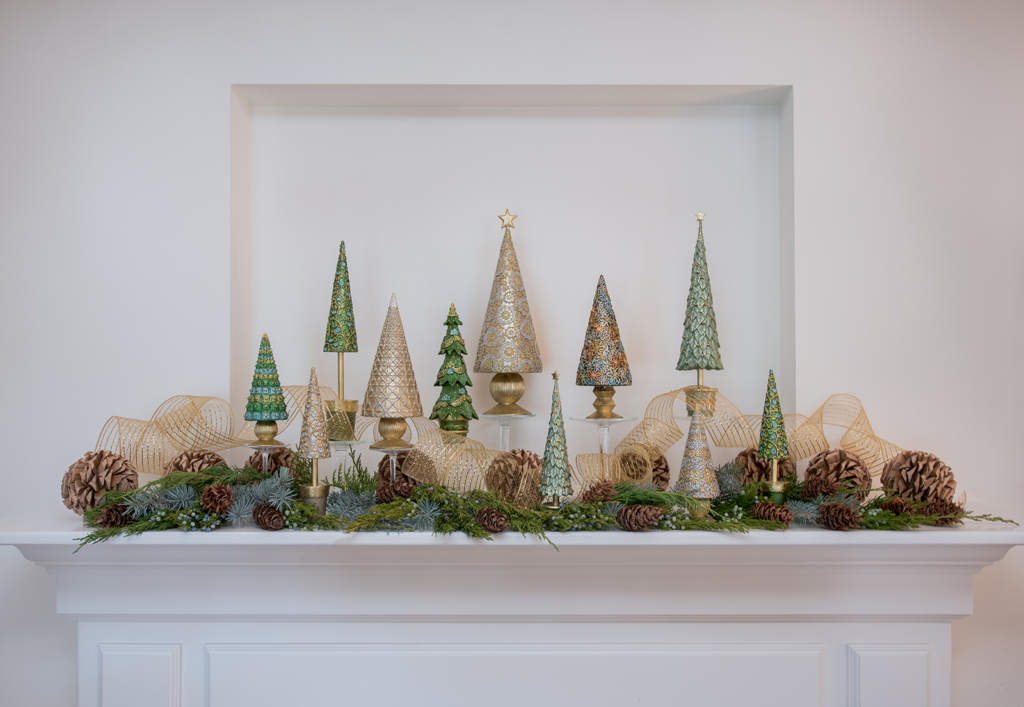 Come shop Bailey's Treasures at the store and their 4000 sq ft warehouse. They have something for every home improvement need from Country Chic Paints, locally made Destination Scented candles for that perfect hostess or party gift, many unique smalls and artwork, and furniture!

---
For the collector:
Got someone on your list that has an eye and heart for collecting all things beautiful? Are you ready to pop the question this holiday season? Searching for the perfect way to show someone just how much you think about them? This next section is for you! Or… well, them really. Downtown has the experts in sparkle, shine, and making a statement so let this next section guide your decisions for the person on your list that renders you speechless!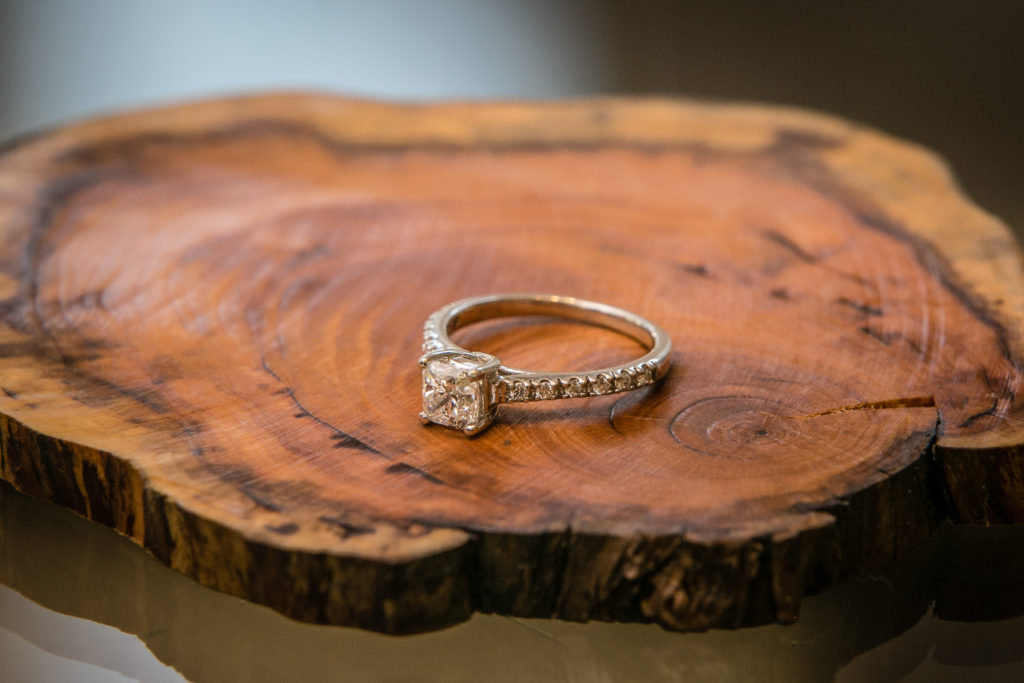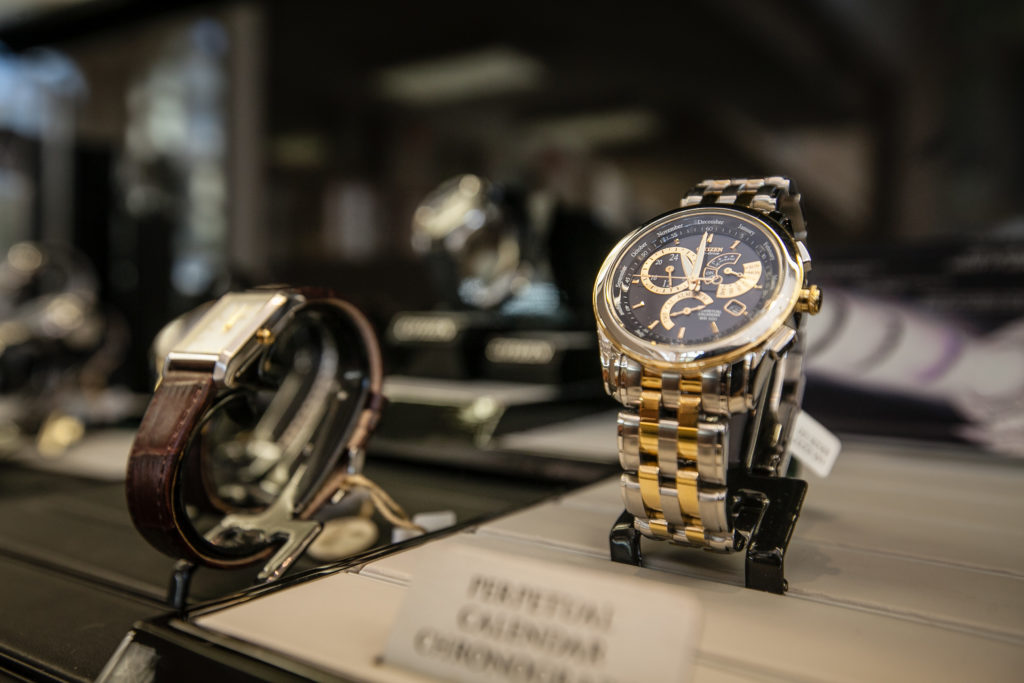 Colonial Jewelers has the perfect gift that says "to you – love, Frederick" with several different historic landmark Frederick Charms available in 14 karat yellow gold and Sterling Silver. Browse their selection and pick the perfect match for you and your favorite Frederick-lover.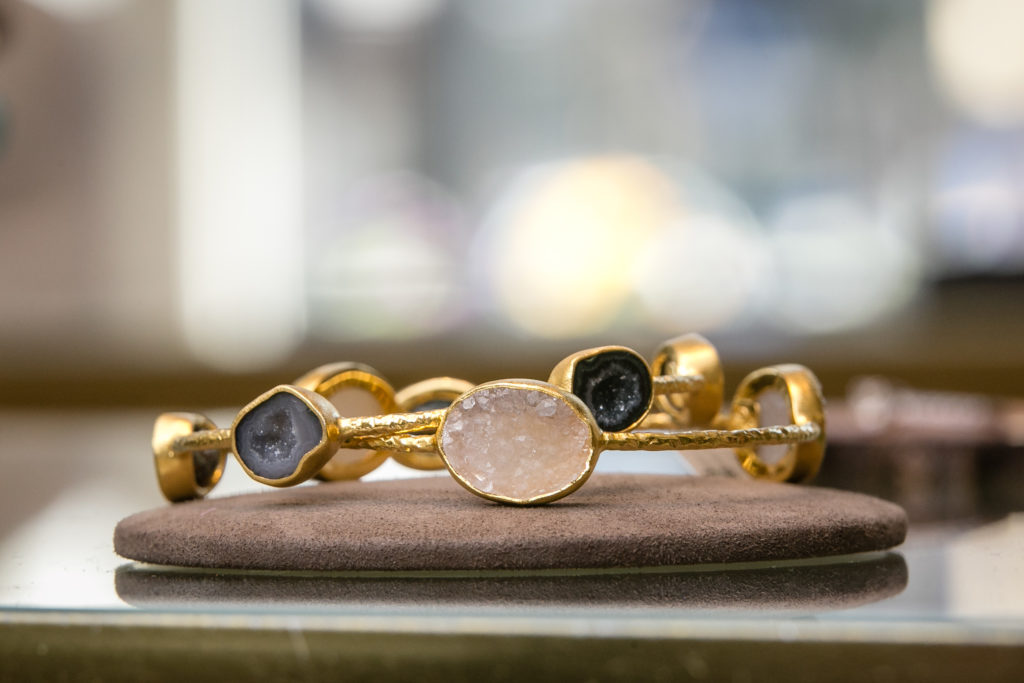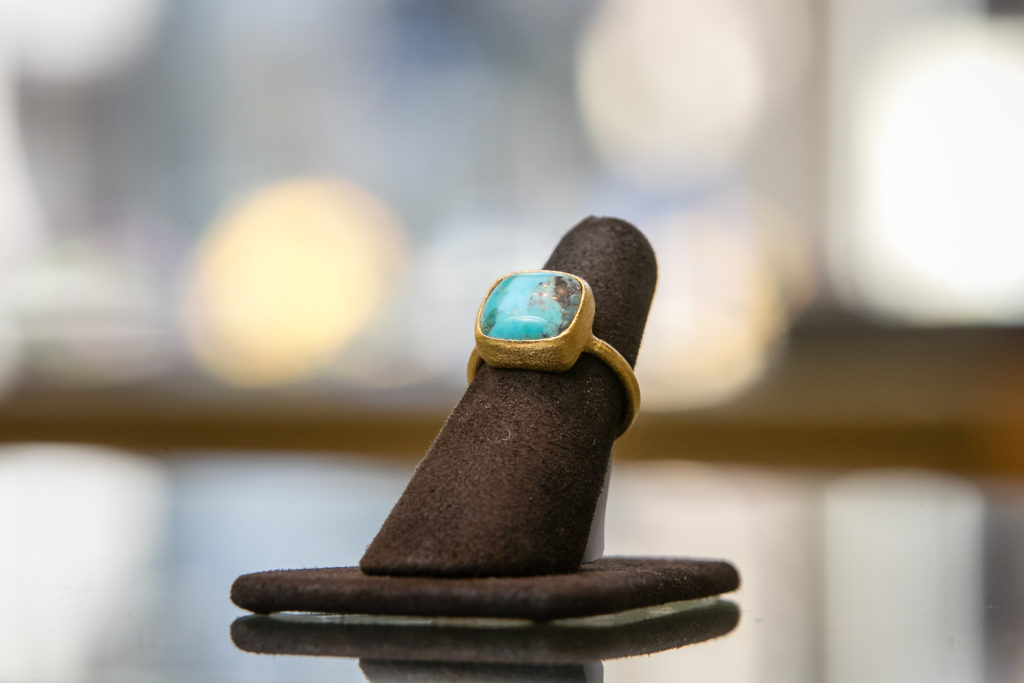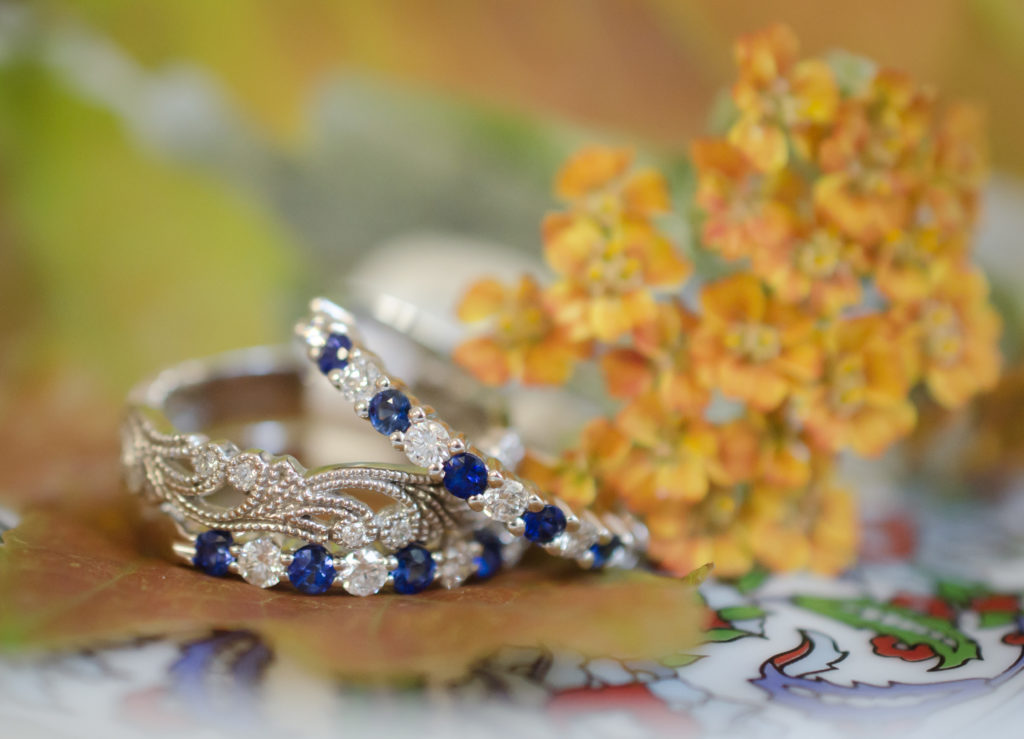 On the shopper side of things, need extra cash for the holiday season? Frederick Coin Exchange has you covered! Get a free appraisal with the area's most trusted dealer in U.S. coins, gold jewelry, sterling silver flatware, gold & silver bullion & more! Pick up an American Silver Eagle for everyone on your list while you're at it. Visit the area's most trusted collectibles dealer today!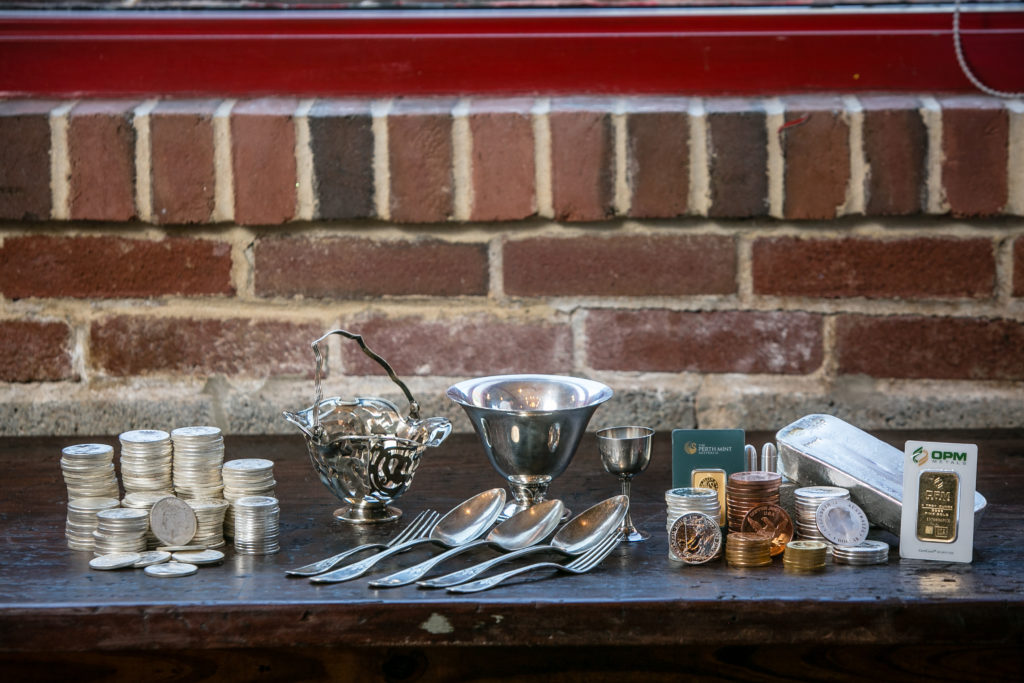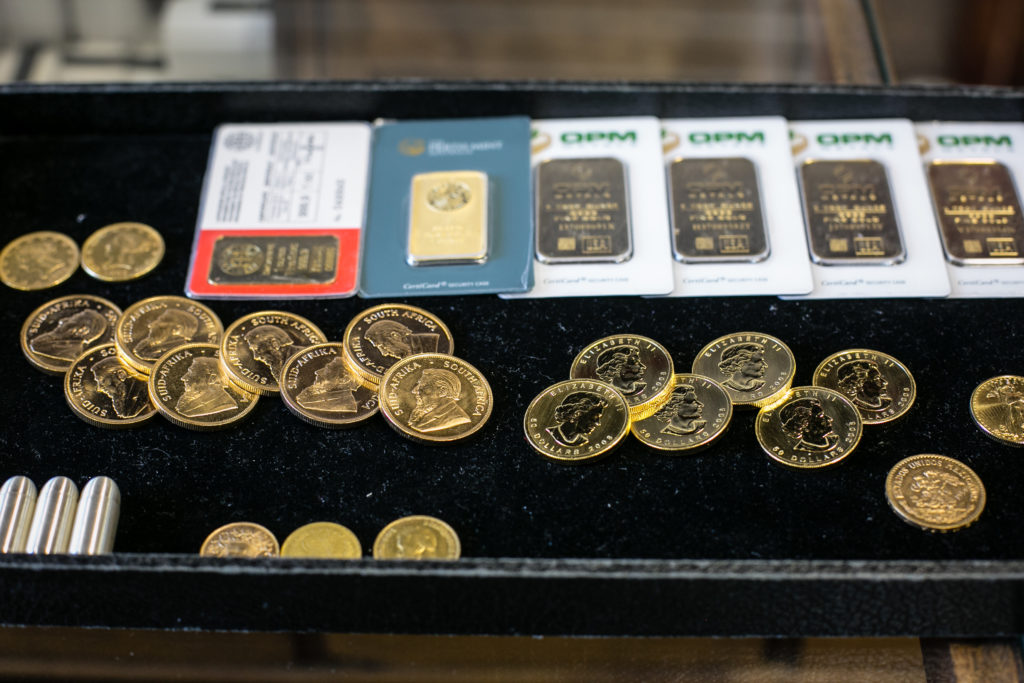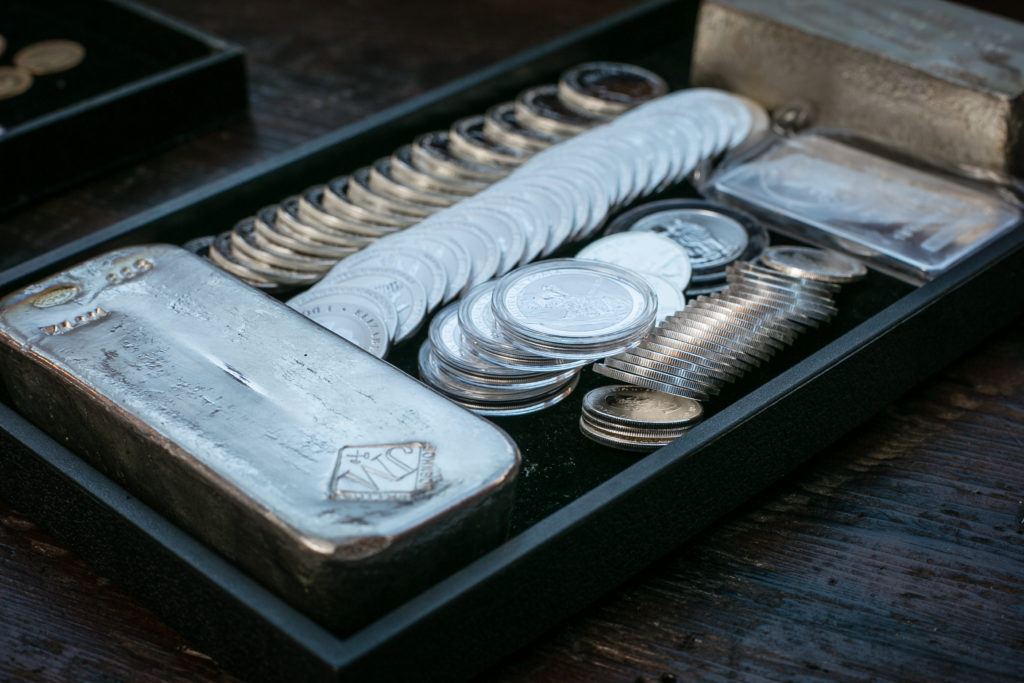 ---
For the craft cocktail enthusiast:
Show the craft cocktail extraordinaire in your life some love this holiday season by taking them out on the town to sample some of Downtown Frederick's favorites this season or get them all the supplies they'll need to create their own! This one is a win-win, they get to create and you get to taste! Bartender, top us off!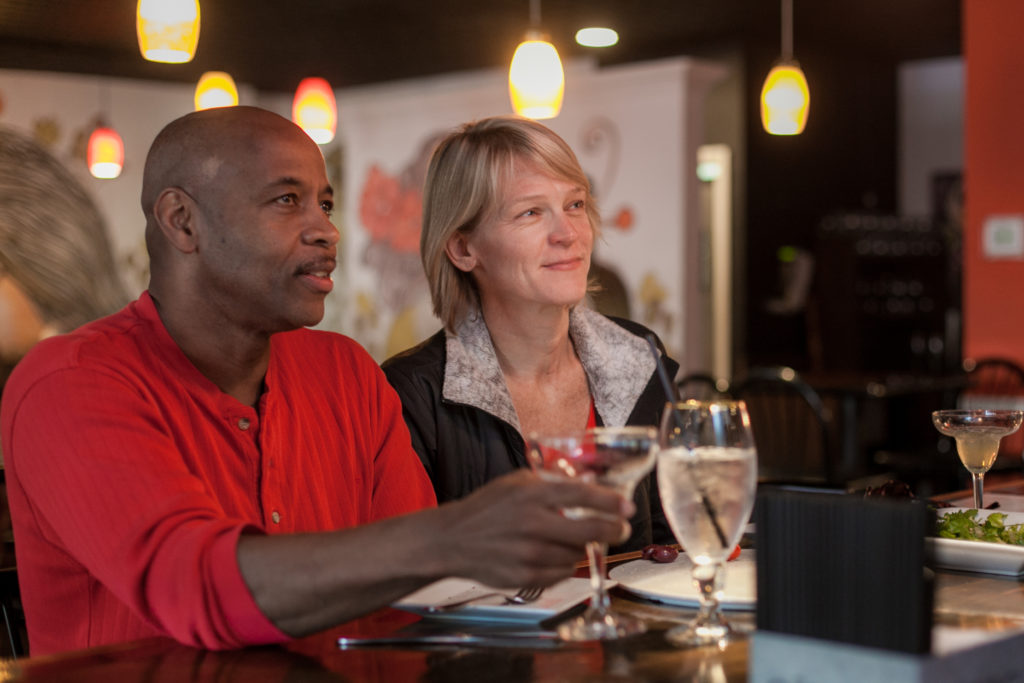 McClintock Distilling has released their Bootjack Rye Whiskey! This spirit is a delicious traditional Maryland whiskey that has bold flavors for the whiskey aficionado and buttery smooth enough for new whiskey drinkers. Recipient of 3 gold and double gold medals at international competition, one of the highest rated whiskies ever to come out of Maryland. Available to taste at the Distillery!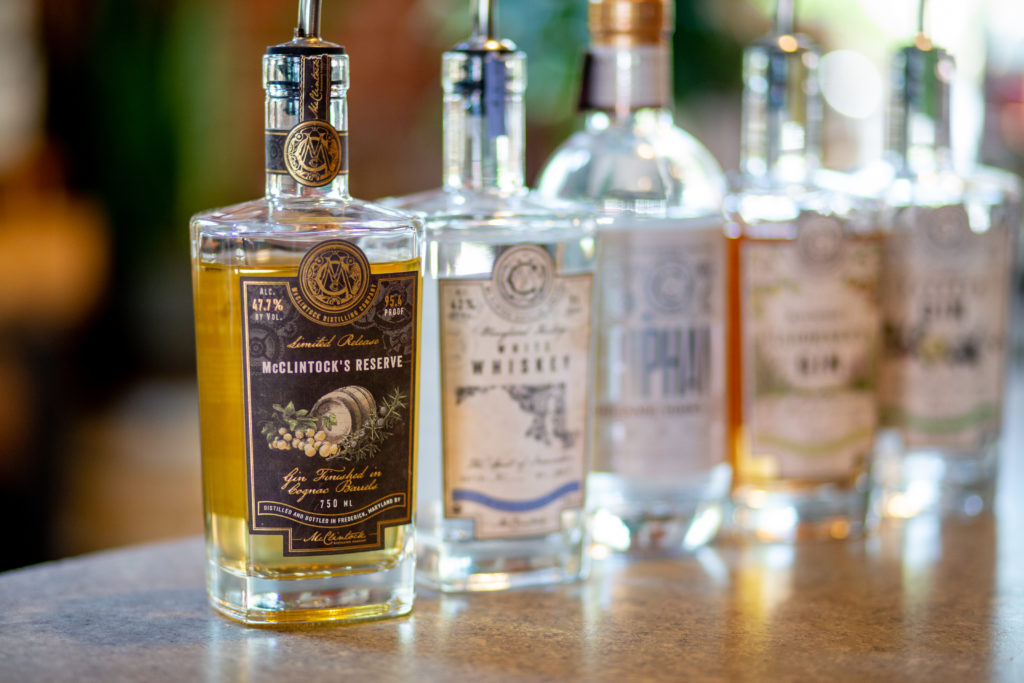 Tenth Ward Distilling Company has four different cocktail kits ready to gift to the person behind the bar at every family gathering! Each kit includes a 375 ml bottle of the spirit of your choice, branded glassware and all the ingredients you'll need to make the perfect craft cocktail at home.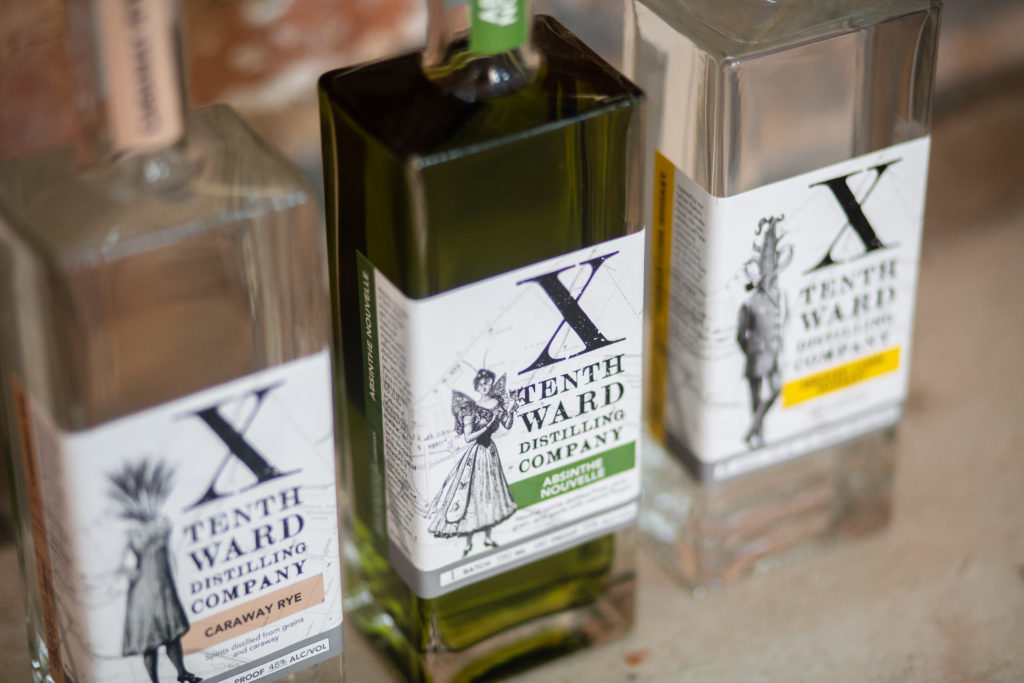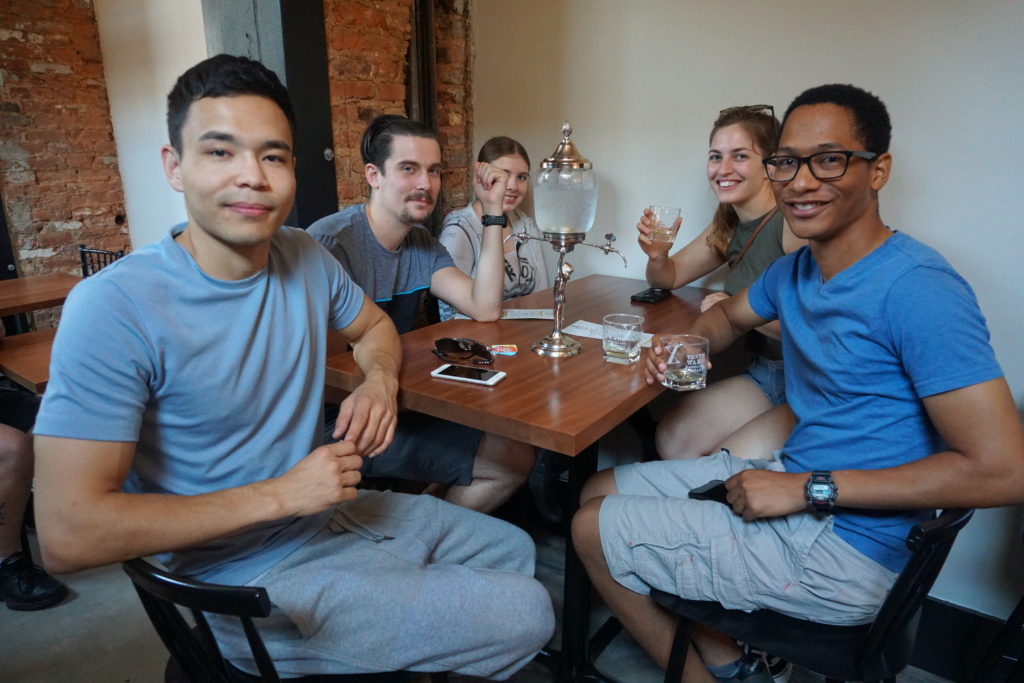 ---
We'll see you downtown, holiday shoppers!
Our small businesses thank you for supporting local this holiday season with your decision to shop small. We are proud to be able to provide the perfect gift for everyone on your list this year and we are so excited you'll be making your list and checking it twice with us! Thank you for your support every day but especially now when we need it most. A supporter of all things local will always hold a special spot in our heart and we appreciate you more than you'll ever know!
We are committed to keeping our community safe and the doors of our small businesses OPEN. To help us with this, please remember to wear a face covering when you are out and about in Downtown Frederick this holiday season. Additionally, please remain at least six feet away from those not in your direct household.