Maxwell Ave is a highly-trafficked alleyway in the heart of Downtown Frederick. Providing a connection between the Carroll Creek Parking Garage, C. Burr Artz Public Library, Carroll Creek and Patrick Street – there are easily hundreds of people a day who traverse through this small piece of the city. To help brighten things up a bit, the Partnership and Hood College partnered together to repaint a fence… adding a bit of cheer along the way!
Thank you to everyone involved! Especially to Dream House for helping us pick the color palette, The City of Frederick and National Museum of Civil War Medicine for letting us try something new with their fence, and to Hood College and members of our board for volunteering their time and labor!
Step 1: Prep + Prime
Before the new colorful motif could go into place, we first had to prep our canvas. This meant pulling weeds, sweeping around the base of the fence, scraping off old paint and adding a fresh coat of primer. Thank you to our hardworking board members for volunteering an evening to help get everything prepped and ready!
Step 2: Bring on the Colors
A group of about 15 Hood College freshman students volunteered their morning to help add the final colors. There was no set pattern in mind – just adding colors wherever it felt right. We decided to keep the main posts white and left the hardware its original black.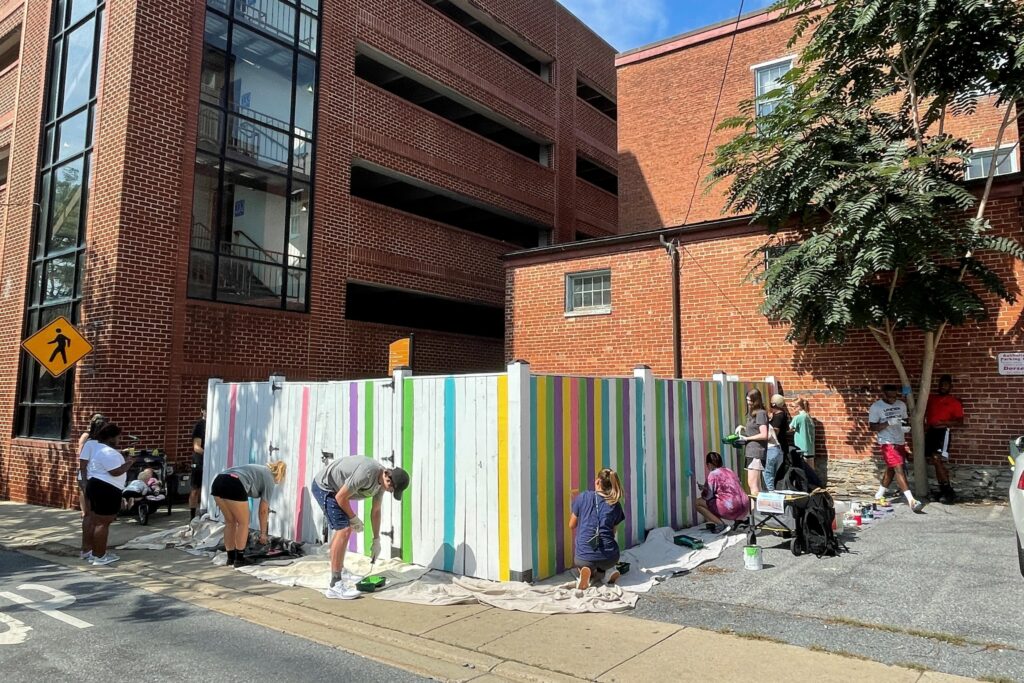 Step 3: Touch-ups + Clean-up
Once the new colors were added, the final step was just a bit of clean-up on the metal hardware and straightening a few of the edges between the colored panels. Now this rainbow-colored fence is a permanent fixture in Maxwell Ave. We hope it adds some cheer to your day!