Downtown Frederick is gearing up for its largest First Saturday of the year, with Downtown Frederick Partnership's Fire in Ice event on Saturday, February 1! Featuring more than 115 ice sculptures, fire performers and activities geared toward all ages, February First Saturday is sure to be fun for the whole family.
---
Ice sculptures will be on display earlier and longer this year, with the Ice Walk open from 1-9PM – that's 8 hours of viewing time for the 100+ local businesses who will display their dazzling ice sculptures throughout Downtown Frederick. Sculptures include designs in every shape and size and will be displayed along Carroll Creek, Patrick Street, Market Street and in Everedy Square & Shab Row.
Downtown shops also will stay open late until 9PM and reservations are recommended in advance at most downtown restaurants. February First Saturday is presented by Downtown Frederick Partnership with support from FCB Bank, Paul Davis Restoration, Common Market Co-op and the Frederick County Office of Economic Development.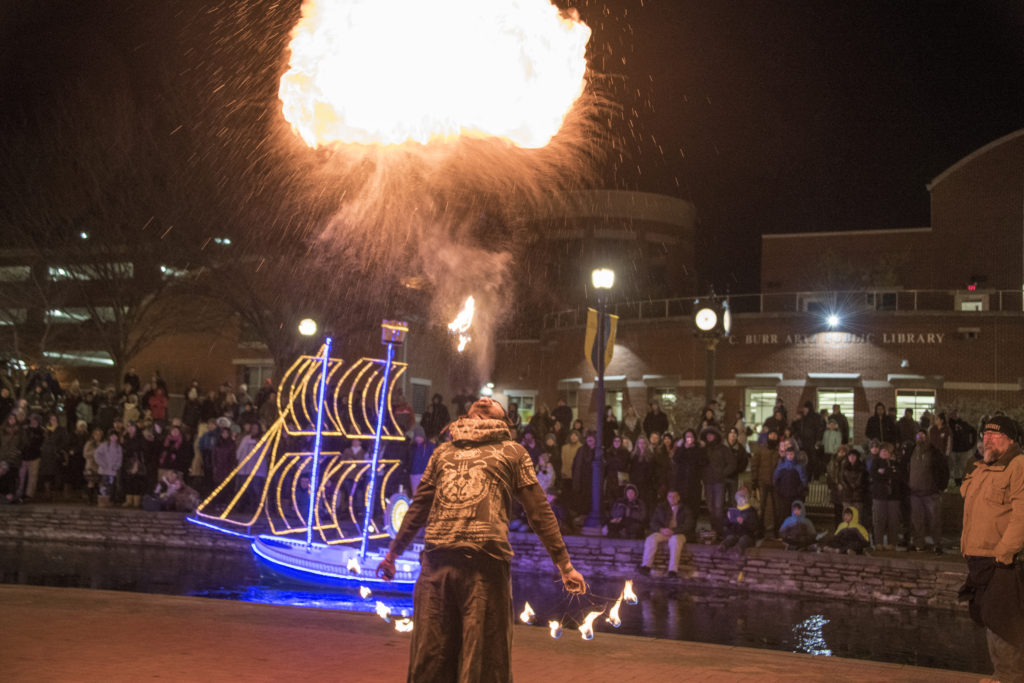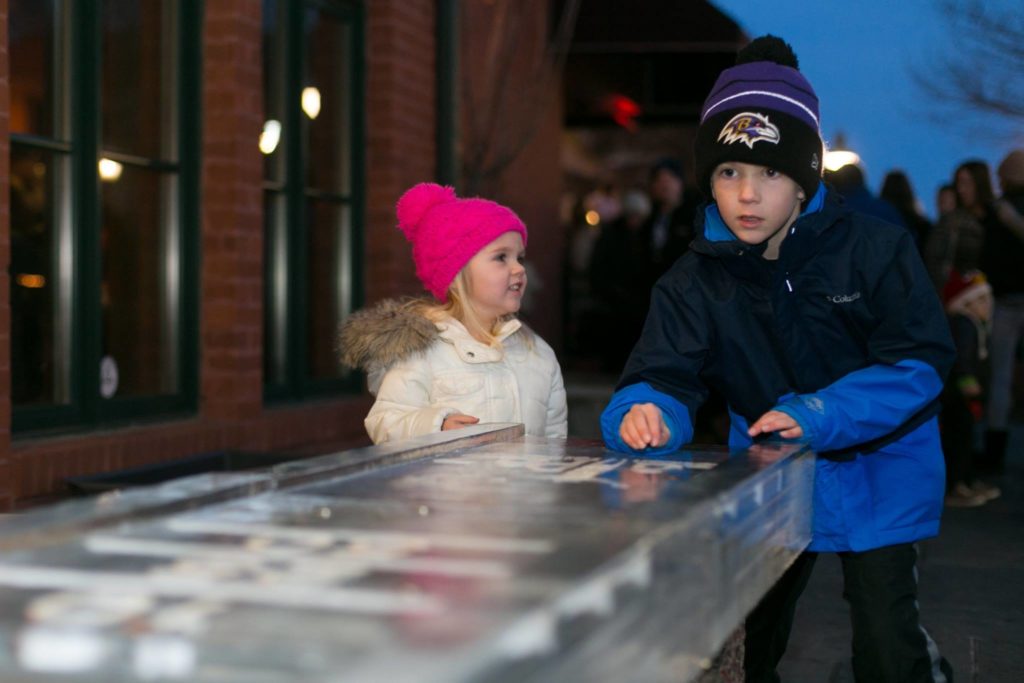 TRAVEL INFORMATION:
New this year, free parking will be available at the Frederick Keys Stadium (21 Stadium Drive) with a free shuttle that will transport guests to the Frederick Visitor Center (151 S East St). The shuttle will run between 1-9PM, picking passengers up near the main entrance to the stadium.
When parking downtown, on street parking and garage parking both are available and there are no street closures planned for 2020. The Partnership recommends using the free shuttle as your first choice and then looking for a parking garage if the off-site lot is full. Parking meters will be their normal rates (listed at parkfrederick.org). Bring $6 cash for quick and easy service at all public parking garages. The $6 flat rate begins at 12PM noon on Saturday, February 1. Credit cards also are accepted.
Also new this year, designated Rideshare Zones will be located throughout Downtown Frederick, where passengers can conveniently greet their Uber and Lyft drivers in designated parking areas in the 300 block of N Market St, on E 2nd St, Council St, off of E Church St, on E Patrick St and along Citizen's Way.
Traveling from far away, or hosting out of town guests? Stay local with Fairfield by Marriott Frederick's Fire in Ice Hotel Package. Offering a $69 Special Rate that includes a welcome bag upon check-in with 2 drink tokens to the Ice Bar on the Creek, 15% off coupon to Bella Trattoria Restaurant or Monocacy Brewing Company and a hot chocolate station back at the hotel upon your return. To redeem drink tokens, you must be 21+ and show valid ID upon entrance at the Ice Bar. Visit downtownfrederick.org/february-first-saturday to access the reservation link. Fairfield by Marriott Frederick is locally owned and operated by Plamondon Hospitality Partners.
SCHEDULE OF MAIN EVENTS:
February First Saturday takes place from 1-9PM on Saturday, February 1. For the most up-to-date event information and an interactive event map, visit downtownfrederick.org/february-first-saturday.
1-9PM Ice Walk (throughout downtown): More than 115 custom ice sculptures will be placed all throughout Downtown Frederick. Sculptures are sponsored by local businesses and are displayed along Carroll Creek, Market Street, Patrick Street and in Everedy Square & Shab Row.
1-5PM Ice Bar on the Creek (Carroll Creek Amphitheater): An all-ages outdoor event featuring local craft breweries – Flying Dog, Brewer's Alley, Idiom Brewing Co., Smoketown Creekside & Steinhardt Brewing, wine provided by Spin the Bottle Wine Company, an actual bar made of ice, fire pits to keep you warm and food trucks on-site – including Pizza Llama and Boxcar Burgers. Must be 21+ with valid ID to drink alcohol. Entry is free and all drinks cost $5. Food available for purchase.
1-9PM Ice Games (331 N Market St): Bring the whole family to 331 N Market St for fun and games in ice! This station will feature games that are actually made of ice, as well as other family-friendly activities.
1-9PM Chill Zone at the Delaplaine (40 S Carroll St): The Delaplaine Arts Center will be hosting all-day activities, including kids crafts in Gardiner Hall from 1-5PM, an Artist Talk at 2PM, Creative Outlet from 3-5PM, free hot chocolate from 5-9PM and free short films from 5-9PM.
1-9PM Ice Thrones (multiple locations): Take your picture on a throne made of ice! Three ice thrones will be available for your enjoyment this year…
Carroll Creek @ 46 S Market St
La Paz Mexican Restaurant, 51 S Market St
Inside the Ice Games @ 331 N Market St
Starting at 1PM S'mores Roasting Stations (available while supplies last): Cozy up to a warm fire pit and roast a free s'more! All stations open at 1pm and are available while supplies last. Eight s'mores roasting stations will be located throughout downtown…
Gourmet S'mores with the FCC Culinary Program at 44 E Patrick St
Gourmet S'mores with Collective Church, Everedy Square & Shab Row
Gourmet S'mores with The Delaplaine Arts Center at 40 S Carroll St
The Wine Kitchen on the Creek, 50 Carroll Creek Way
Citizens Fire Company, 15 E Patrick St
Cowork Frederick, 122 E Patrick St
United Steam Fire Engine Co. #3, 79 S Market St
Ice Games, 331 N Market St
12-8PM Wings of Fire Scavenger Hunt (Everedy Square & Shab Row): Visit the Everedy Square and Shab Row shops to test your Wings of Fire knowledge. Questions are posted throughout the neighborhood.
1-7PM Downtown Frederick Scavenger Hunt (throughout Downtown): Pick up your clue sheet at 5 N Market St and enjoy this fun, free, family-friendly activity!
2-4PM & 6-8PM Frozen Party @ FCPL (C. Burr Artz Community Room): Warm up the family by stopping by for a Frozen party from 2-4PM and 6-8PM with Elsa and Anna. Free programming and activities for all ages, including a face painter, ring toss with Sven, pin the nose on Olaf, lantern making, and much more!
5-8PM Live Ice Carving Demonstration (44 E Patrick St / entrance to the Carroll Creek Parking Garage): The talented ice sculptors from USA Ice – who sculpted nearly every ice sculpture on display – will take to the stage and live-carve a sculpture from 900 pounds of ice. If you're a longtime event attendee, note the new location for 2020! The sculptors will be working on a stage, located at 44 E Patrick St.
7-8PM Fire Performances by Pyrophoric (Carroll Creek Amphitheater): Be wowed and amazed as fire performers whirl, twirl, juggle… and maybe even breathe… fire! Get there early to claim a good viewing spot in the Carroll Creek Amphitheater.
DINING GUIDE:
Downtown Frederick is full of amazing dining options, so you'll never have to go far to find a great meal! For a complete list of downtown eateries, click here. To help narrow down your choices during February First Saturday, we've broken out a few popular dining categories to make group dining easier to navigate. Read more at downtownfrederick.org/blog.
Fire in Ice Dining Guide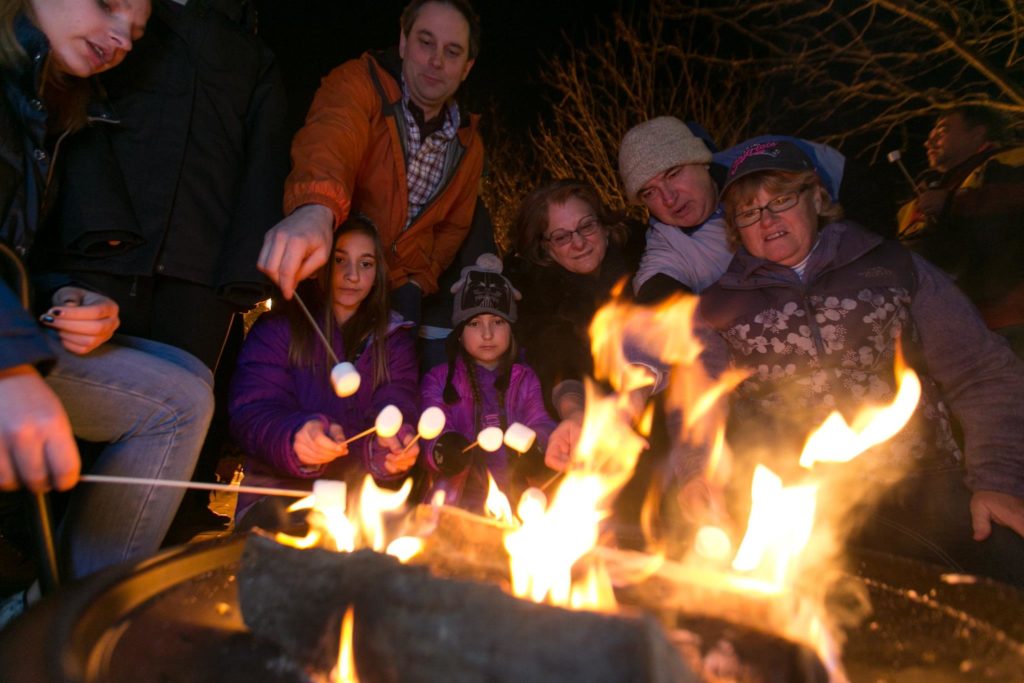 February First Saturday Sponsors:

First Saturday Partners: