FEBRUARY FIRST SATURDAY

–

FIRE IN ICE
Keeping the community safe is the Partnership's number one priority, so we've made the tough decision to cancel our typical "Fire in Ice" event programming this year.
The following activities are canceled for 2021:
• Ice sculptures and live ice carvings
• Fire performers
• Ice Bar on the Creek
• S'mores and hot chocolate stations
Photo credit: Bill Adkins
---
First Saturday is all about shopping and dining, and this experience will be no different on February 6. Downtown Frederick's small businesses are open and ready to provide you with safe and unique shopping and dining experiences.
This year has been different in so many ways and the support of the Frederick community has been stronger than ever. By shopping in-person or online and ordering food for either onsite dining or takeout, you will help Downtown Frederick businesses sustain during the winter months.
February First Saturday kicks off a month-long celebration of love… love for our small businesses, our love for local and our love for community. Show your love for local by shopping with an independent retailer, eating at a local restaurant, supporting local artists and exploring Downtown Frederick… because where you spend your money matters.
Learn more about our LOVE LOCAL celebration at downtownfrederick.org/lovelocal
---
PARKING & TRAVEL
Access travel and parking information for Downtown Frederick at www.parkfrederick.org and download a map of downtown businesses here.
Public Restrooms can be found in the Church Street (17 E Church St) and Carroll Creek (44 E Patrick St) Public Parking Garages. Restrooms are open daily from 9AM-10PM and cleaned regularly by the City of Frederick following all relevant guidelines.
Staying the whole weekend? Plamondon Hospitality Partners and Downtown Frederick Partnership have teamed up to offer 15% off your stay the first weekend of every month. Choose from six fantastic hotels all with a special price that's 15% off rack rate. Extend your visit and do it in comfort!
View First Saturday Hotel Rates
---
DON'T FORGET YOUR MASK!
Face coverings are required in all public buildings, as well as outdoor spaces where physical distancing is not possible. Spread joy. Shop safely. Wear a mask.
---
Thank you to our partners at the Delaplaine Foundation for their support!
---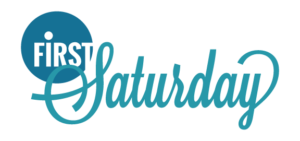 ---