We have spent the last couple of weeks exploring the galleries downtown and the unmatched art displayed on their walls. We hope you've enjoyed the expressive art on the walls of Downtown Frederick as much as we have. We're excited to take you even further into the lives of the artists that generously share their talent with our community.
This week, we are introducing the artists that dedicate their lives to creating a world for people like me and you to escape to. Each day, we will highlight artists from a different gallery on the tour so check in daily to discover the artists found on our Downtown Gallery Tour.
313 E Patrick St
To highlight the artists that can be found on this tour, we have started at Eastside Artists' Gallery. This gallery is a co-op of local artists to Frederick. The artists here come from all different artistry backgrounds that join together for a beautiful display of talent and passion for their work.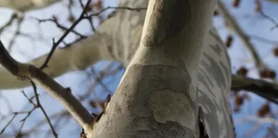 Mary Paul Barnaby is a photographer and a painter. Retiring from the Air Force, she finally settled down in Frederick, Maryland after a lifetime of travel and adventure. She has been taking pictures most of her adult life and feels complete with a camera in her hand. Photography has been her creative outlet for many years. In the past few years, she has used some of her photographs as the inspiration for her acrylic paintings and it has been interesting for her to discover that not everything in a photograph needs to be in a painting. Painting her photographs gives her a chance to edit her photos in a way she can't do in Lightroom. She feels that painting has made her a better photographer.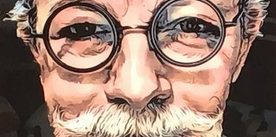 Ron is a self-taught painter mainly working in acrylics. He also is a successful computer artist, often incorporating digital images into his acrylic and mixed media works. He often returns to his love of printmaking and continues to experiment with image transfers using various mediums and substrates.
Ron loves to paint because it feels like a magical process watching images come to life as layers of paint are applied to a substrate. His choice of subject matter is somewhat eclectic. This gives him many different avenues to explore and experiment in developing his diverse creative works. The most successful of these have been his human and animal portraits, landscapes, abstracts, and figurative art verging on the erotic.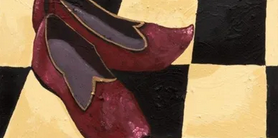 Michalina (Material Girl) is a full time fabric artist and a doll maker. Starting at a young age she worked with fabric sewing, making quilts and dolls. Her first dolls started out as a simple rag doll design.Today she makes all of her own patterns and designs working with cloth and mixed media to create the art pieces you see today.
The human form is her inspiration when making her dolls, changing up the normal figure from elongating the legs to making giant feet. Of all the different art forms she has tried, creating her unique and droll dolls gives her the most pleasure. Originally from Connecticut, she attended Paier College of art with a degree in Advertising and Graphic design and did post graduate work at the Corcoran College of Art.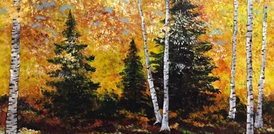 Jill Hossler is a local artist, who has been painting for more than 35 years. Her love of art was first nurtured by her high school painting teacher, Barry Richardson. She has since studied with a variety of artists and is currently a student of Doug Moulden. Jill's preferred medium is acrylic paint and she specializes in rural scenes, time-worn barns, and seasonal landscapes.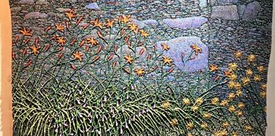 My paintings are as much sculpture as they are flat imagery. I start off by constructing a form from plywood that I have warped and shaped. Acrylic paints aren't just colorful, but have physical properties such as plasticity and volume. I use these properties to build up structure in space. I extrude paint onto the plywood construction much like caulk out of a caulk gun. I build up the surface through many layers using gallons of paint until the surface is thick, rich and highly varied. Sometimes I carve into it. The end result is a heavy, rich surface that resembles vines, tree bark, woven fabric, rock or other surfaces. Texture and surface as well as a shape to the "canvas" lend sculptural qualities to my paintings. It becomes difficult to separate what is two dimensional from what is sculptural.
Mossy Nest (Lilija Lakickaite) is a florist from Harpers Ferry, WV who fell in love with pottery. She enjoys making funny faces, whimsical characters, and natural forms. Her most beloved works are charming ceramic creatures, angels and queens.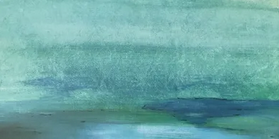 Arden Jepsen McElroy only began painting eight years ago after retiring from a thirty-nine year teaching career. She originally began painting as a way to spend more time with her daughter, artist Jill Hossler and joined her in classes taught by Frederick artist, Doug Moulden. As the classes progressed, she became more confident and interested in the whole process. After experimenting with watercolors and oils, she settled on acrylics as her medium of choice and impressionistic landscapes as her favorite subjects. She is proof that it is never too late to discover a new love.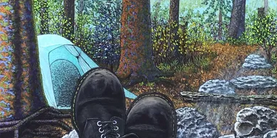 Kathryn began taking acrylic painting classes with local artist Doug Moulden in anticipation of retirement. She loves painting outdoor scenes, woods, mountains and uses photographs as a guide for her works. She enjoys decorating the canvas with color and texture.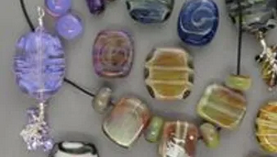 Creating jewelry has always been an interest of mine. I received a BA in art, primarily by studying jewelry design and construction. It wasn't until I discovered Lampwork beads that it became a passion! I HAD to learn how to make my own Lampwork beads! I began a journey that continues even today. Now it is safe to say that I am absolutely obsessed with melting glass! I approach bead making from the perspective of a jewelry designer, making beads that I would enjoy working with and wearing myself.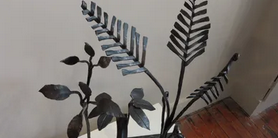 Located near the banks of the Monocacy River, artist – blacksmith Stephen Dill crafts an eclectic mix of custom ironwork for homes, businesses, and public spaces. His hammer work is featured on a diverse array of items, from bottle openers to vases, while his larger designs include botanically inspired sculpture and ornamental yard décor. Stephen works primarily in steel but has experience in forging other metals such as titanium.
Stephen is a member of the Delaplaine Arts Center in Frederick and was featured artist in January and February 2019. Stephen is also a member of the Catoctin Furnace Historical Society where he, currently and in the past, demonstrates the Blacksmith craft, helps plan Fall Festivals, Spring art events, tourism outreach and repairs to the buildings. Stephen is a member of the Eastside Artist Gallery in Frederick, MD, Artist Blacksmith Association of North America (ABANA) and the Blacksmith Guild of Central Maryland (BGCM).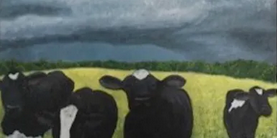 Sonja has only been painting several years, She began taking acrylic painting classes with local artist Doug Moulden, but has also found great enjoyment in working with watercolors and pastels.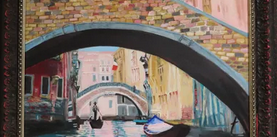 Lynn has been an artist for more than 50 years. She works in many different mediums. She prefers painting abstracts but also loves architectural themes. She also works with collage, sketching, portraits, oils and pastels.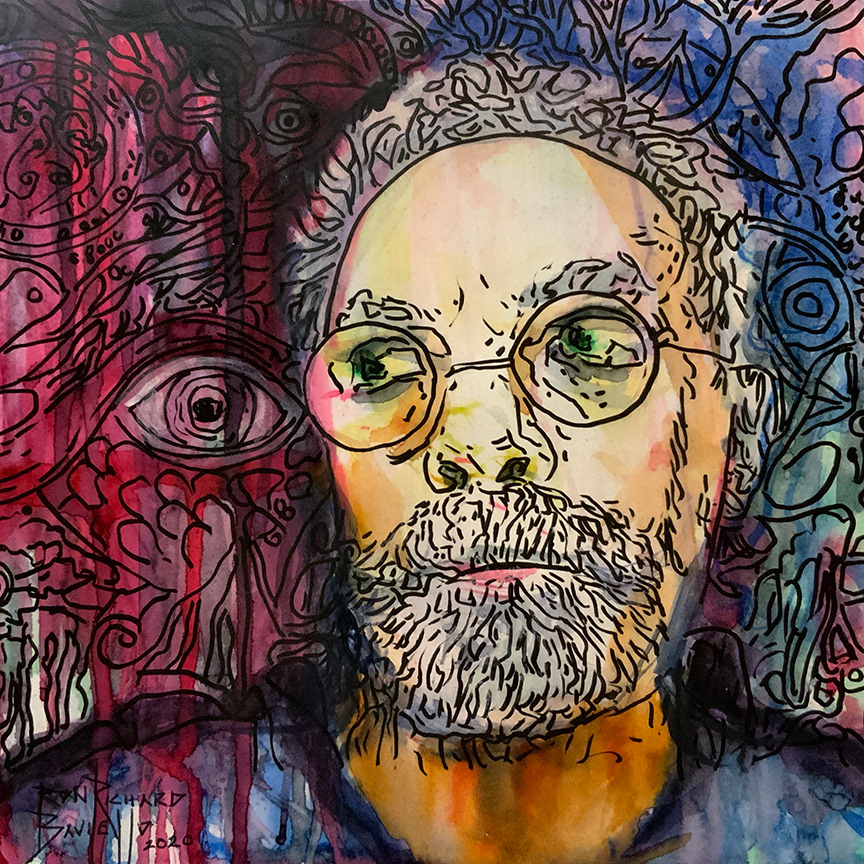 The exhibits at Eastside Artists' Gallery rotate monthly so be sure to visit frequently to take in the work of the artists above.
To view the other galleries and take the self-guided walking tour, visit downtownfrederick.org/gallerytour for your materials and the interactive map that guides you through the route.