Whether you're looking to keep things cool by venturing indoors to enjoy a charming musical or a fun indoor thrift market with repurposed goods (and beer too!), or want to revel in the warmth of summer by taking in a historic walking tour, comedy or jazz, Downtown Frederick has you covered this weekend.
Join us downtown and take in one of our Top 5 featured events this weekend, supporting the arts and local artists, as well as the AARCH Society. And while you're here, don't forget to visit one of our amazing restaurants and shops. We can't wait to see you downtown!
Peter Pan Jr. @ The Maryland Ensemble Theater
Friday, July 22, 7pm, Saturday, July 23, 2pm & 4pm (Tickets $20 & $22)
31 W Patrick St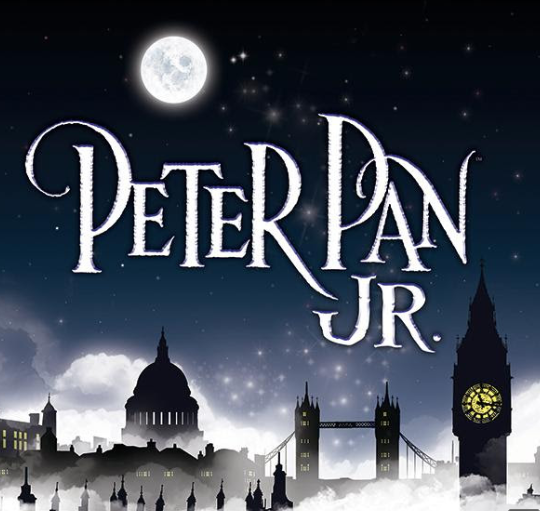 Maryland Ensemble Theatre (MET)'s FUN Company raises the curtain on local youth in Peter Pan, Jr. for the family. Peter Pan, Jr. features a robust cast of beloved ensemble characters; Pirates, Lost Boys, and Brave Girls are the mainstay of this timeless production. Peter Pan, Jr. is adapted for the youth stage and provides a unique experience for each performer to explore and create memorable characters in an ensemble, developing invaluable skills to grow as an actor. The show is adapted from the 1954 Broadway production (not the Disney version), based on J.M. Barrie's classic tale and features a memorable score by Morris "Moose" Charlap and Jule Styne with lyrics by Carolyn Leigh and Betty Comden and Adolph Green.
Peter and his mischievous fairy sidekick Tinkerbell visit the nursery of the Darling children late one night and, with a sprinkle of pixie dust, begin a magical journey across the stars that none of them will ever forget. In the adventure of a lifetime, the travelers come face to face with a ticking crocodile, fierce Brave Girls, a band of bungling pirates and, of course, the villainous Captain Hook. Featuring the iconic songs ("I'm Flying," "I've Gotta Crow," "I Won't Grow Up," "Never Never Land") and a rousing story full of magic, warmth, and adventure, Peter Pan, Jr. is the perfect show for the child in all of us who dreams of soaring.
Patrons of all ages can see Peter Pan, Jr. at Maryland Ensemble Theatre (31 W Patrick St. Frederick, MD). Performances will take place July 14 through July 23 with evening performances on Thursdays, Fridays, and Saturdays at 7PM and a 2PM matinee on Saturdays. For the safety of all guests patrons are required to wear facemasks inside the theater. Order tickets in advance due to limited seating. Tickets are $20 to $22 and are available to purchase at https://ci.ovationtix.com/35900/production/1128399
Comedy Night @ FAC's Sky Stage
Friday, July 22, 7:30pm-9:30pm
59 S Carroll St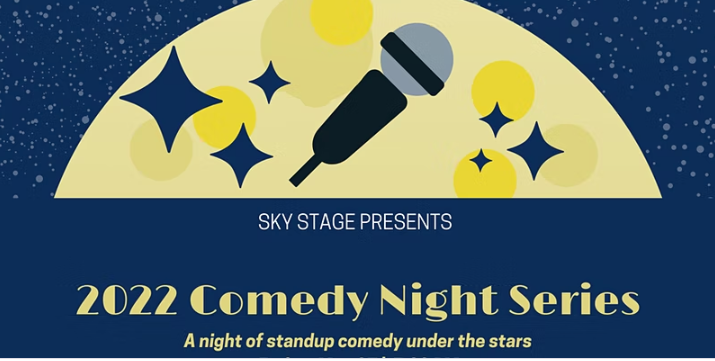 Enjoy a night of stand-up and/or improv comedy under the stars! The July show features Laurent Amzallag, Stacey Axler, Sandy Bernstein, Mike Brown, Josh Dreeben, Davine Ker, Walter Gottleib, Sammie James and Lauren Smith.
All-ages* welcome, beer/wine w/ID, other concessions available for purchase to benefit Sky Stage/FAC.
Tickets are available on Eventbrite with some also available at door, cash or cards accepted. Doors open 30 min before start time.
*Parents please note there may be PG-13 + content.
AARCH Society African American History Walking Tours
Saturday, July 23, 11am-12:30pm (Tickets $10 & $5)
Meet at 125 E All Saints St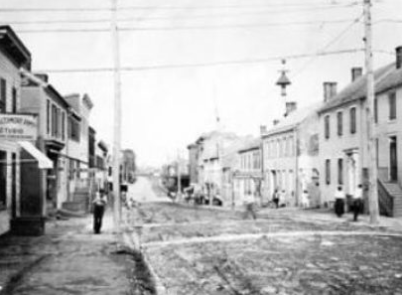 Explore the History of the Southern Section of Frederick City From the African-American Perspective!
Join us for our 60-90 minute unique walking tour as AARCH tour guides take you on an informative exploration of local history on All Saints Street and the surrounding area. Learn about the cultural and historical importance of the neighborhood that was the center of the African American community up until the early 1960s.
Tours start at the AARCH Heritage Center, 125 East All Saints St, beginning at 11 AM. Tours run from 60 to 90 minutes.
Tickets information available here. Advance registration required.
Thrift Market Pop-Up @ Olde Mother Brewing Co
Saturday, July 23, 1pm-5pm
526 N Market St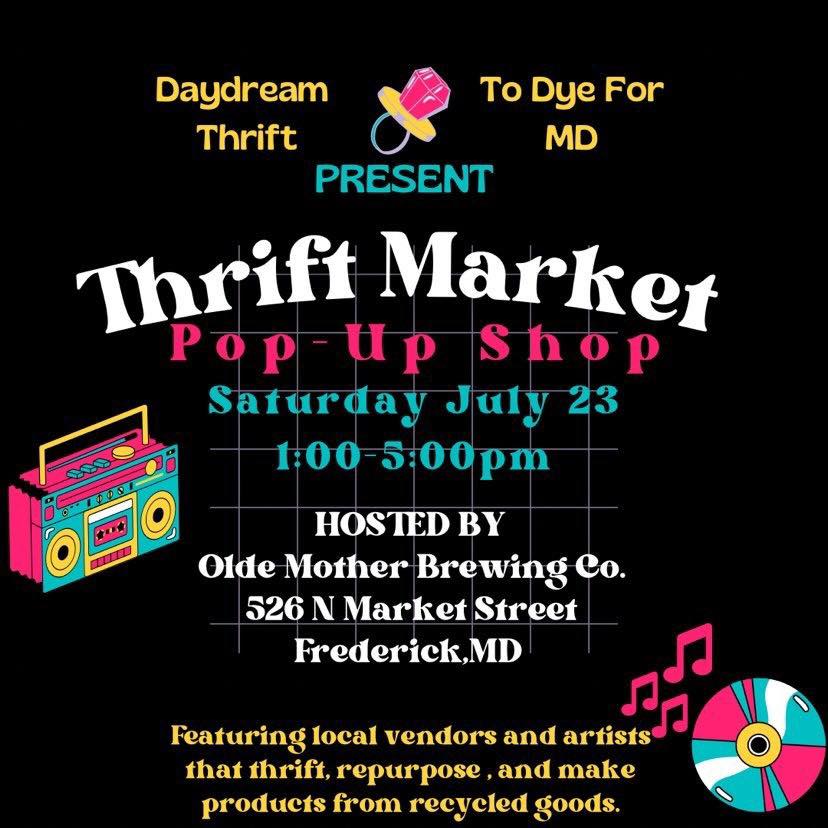 To Dye For MD & Daydream Thrift are proud to present the very first Frederick Thrift Market Pop Up at Olde Mother Brewing! Featuring 12 incredible vendors/artists that thrift, repurpose, and create products from recycled goods. The event will be rockin' from 1-5pm! It's gonna be great time!
PARKING: Parking is available on E 6th St at Gravel & Grind, with street parking also available.
VENDORS:
To Dye For MD
Daydream Thrift
Fred & Co
Twisted Tailsmans
Sage by Paige
Stinging Nettle Stichery
Mama Said
Charm City Threads
Naptown Vintage
Goods Resurrected
Fully Bloomed
Retro Neek
Frederick Jazz Festival @ FAC's Sky Stage
Saturday, July 23, 7pm-9:30pm
59 S Carroll St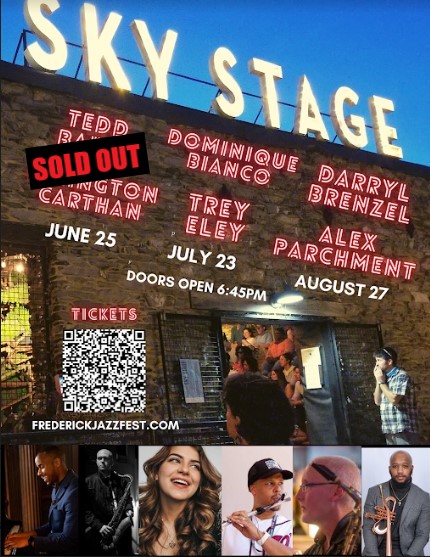 Jam to live jazz, brought to you by the great folks at Frederick Jazz Festival. This show features musicians Trey Eley & the Dominique Bianco Quartet. Tickets are available on Eventbrite with a limited number of seats available at the door*.
Rain location at 5 E. 2nd St. in downtown Frederick.
*Doors approximately half-hour before start time. Please double-check this entry with Facebook events pages for possible rain updates.
All-ages welcome, tickets available online and/or at door, under 12 free. Beer/wine may be available for 21+ with I.D.